That's a wrap! AWE welcomed over 150 industry professionals to its AWE Expo event on the 16th and 17th of May. Held at their impressive show apartment in Epsom, attendees not only had the chance to explore AWE's recently revamped Reference and Performance Cinemas, but they also had an exclusive preview of their NEW music room. Additionally, they got an in-depth overview of the latest innovations from AWE's notable portfolio of brands and tuck into the legendary hog-roast lunch.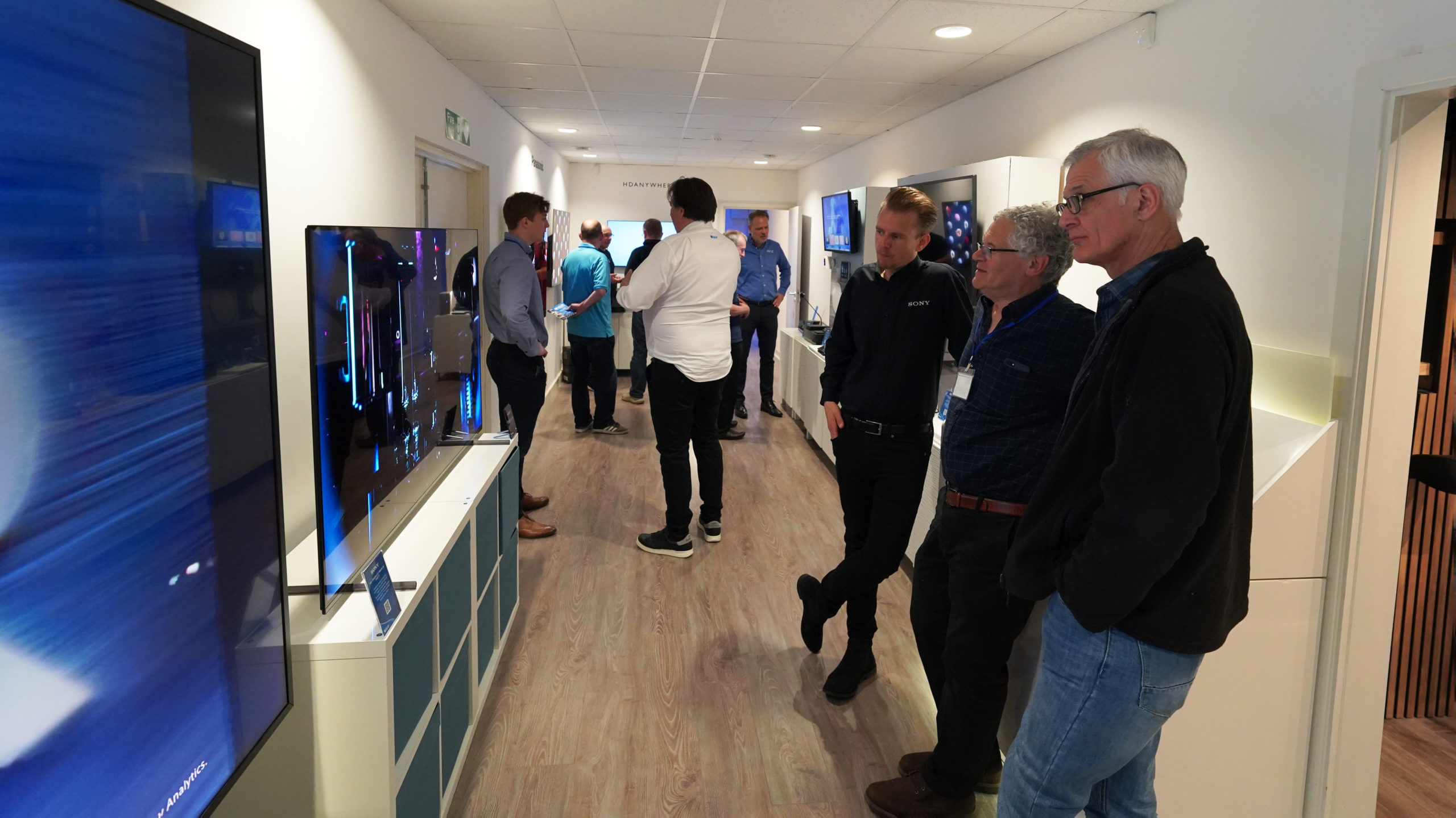 Each year, AWE Expo provides installers with a fantastic opportunity to see, hear and experience new, high-end smart home technologies as well as getting facetime with the experts from leading brands. The Show Apartment in Epsom includes a living room, games area and music room, as well as two dedicated home cinemas to showcase wow-factor installations at differing price points.
Notable Cinema Upgrades
AWE ran continuous demos throughout Expo to highlight its newly upgraded reference and performance cinemas, allowing attendees to experience their enhanced audio-visual capabilities. With significant improvements made, both cinemas offer an extra level of movie immersion, creating unparalleled viewing experiences at their price points.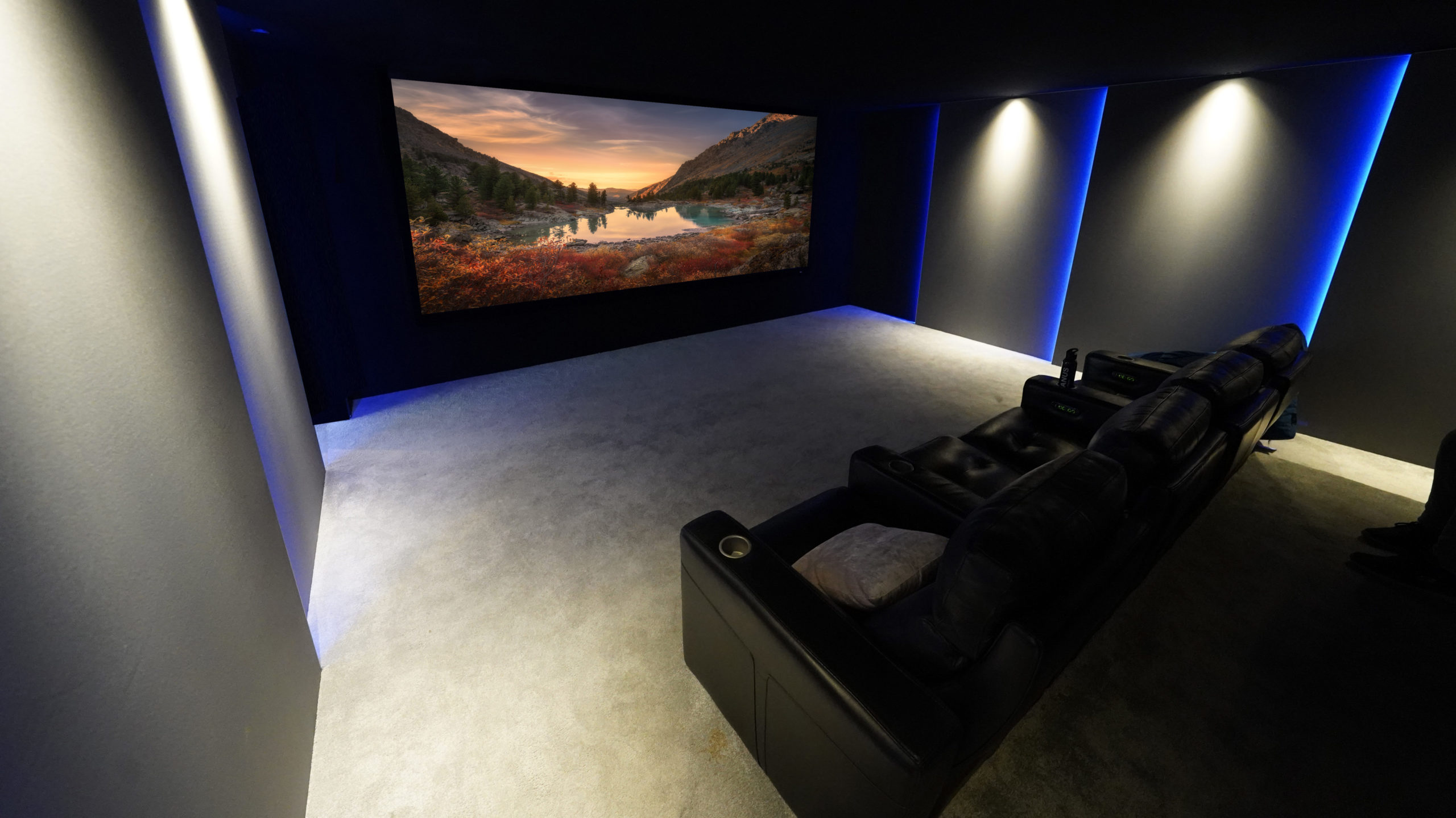 Reference Cinema – Visitors were blown away by the breath-taking audio and visual performance. The equipment which retails from around £95k upwards, includes a 15.4.6 channel audio system with five Bowers & Wilkins CWM8.3D Diamond Series in-wall speakers for the front soundstage alone, all angled towards the reference seating positions. An additional ten CI800 Diamond Series speakers complete the surround and height channels, resulting in sound that masters in clarity and balance. The power behind the bass is massive, but precisely controlled, with four B&W CDA-2HD DSP amps, each one dedicated to powering a CT SW15 15" sub with up to 1000 watts. Processing is provided by the new high-end Marantz AV 10, a 15-channel AV processor featuring DIRAC live calibration. For the picture, AWE has all three of Sony's latest native 4K laser projectors installed, including the stunning 10,000-lumen GTZ-380. A notable upgrade to the room is the ADEO MovieMask LR, a 4m wide side masking screen capable of aspect ratios from 2.4:1 down to 16:9. ADEO screens can be tailored to suit every project, with a myriad of screen types, projection surfaces and aspect ratios all available to be specified on the configurator.
Performance Cinema – This room is specified for the equipment to hit a price point of around £45k, with simple configuration options to hit either higher or lower price points. The full 7.4.4 configuration on demo shows what's possible for a smaller room at a realistic budget. The cinema has four new B&W ISW-8 12″ in-wall subwoofers, powered by B&W CDA-2HD DSP amplifiers, delivering jaw-dropping bass. Additionally, the new Marantz Cinema 50 provides upgraded processing with DIRAC LIVE calibration and powers the height speakers, with additional amplification coming from the new Marantz AMP 10. The room has also been upgraded with a 3.34m wide Adeo FramePro acoustically transparent screen. This provides a bigger, brighter, and more detailed wall-to-wall image from the Epson EH-LS12000B true 4K laser projector without compromising sound quality.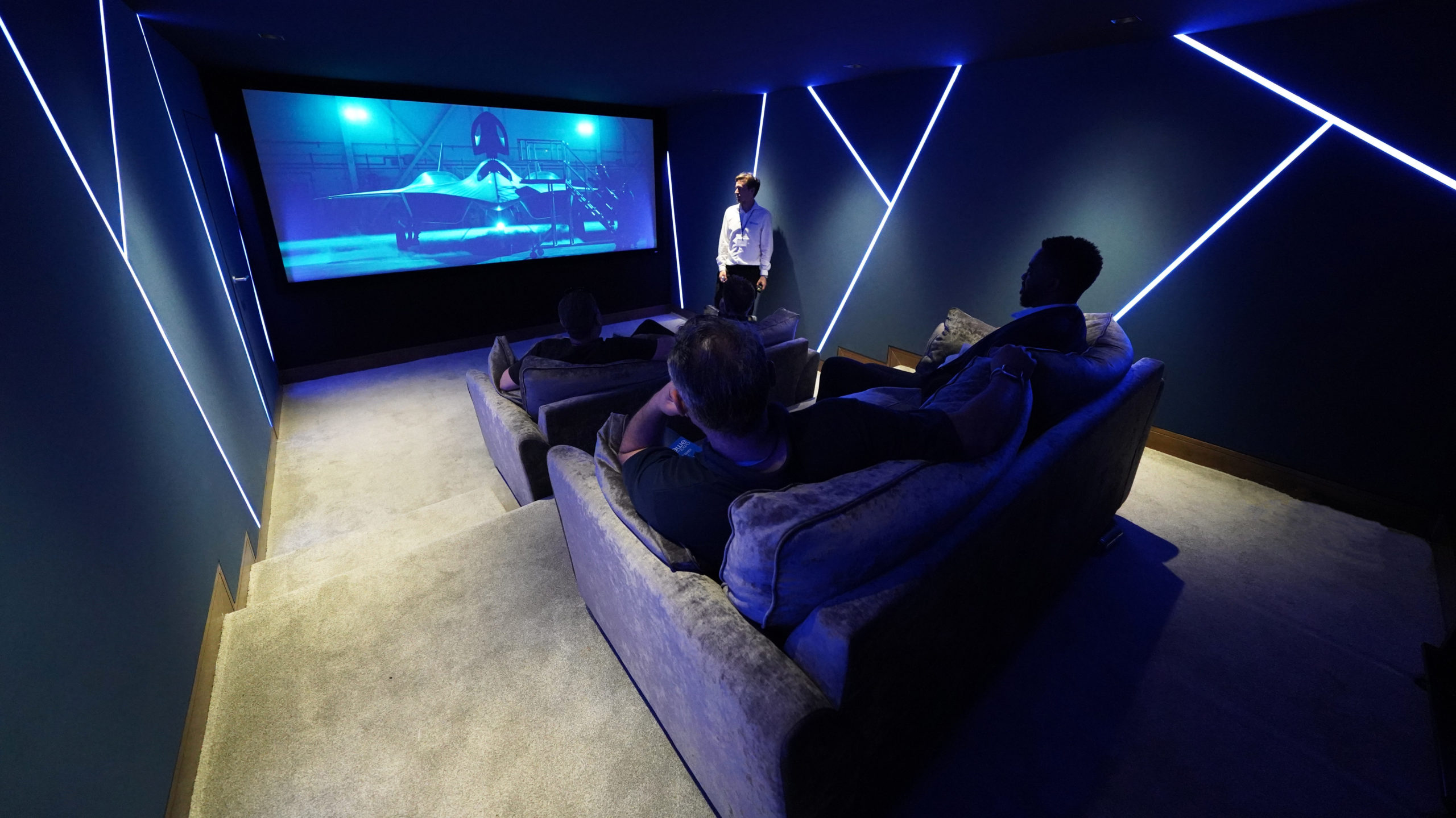 Audio Mastery in the NEW AWE Music Room
It's safe to say the Hi-Fi enthusiasts loved this room, but the biggest smiles came from those who hadn't heard how great music can sound at home! Guests had the opportunity to listen to a range of Bowers & Wilkins loudspeakers offering unrivalled clarity and detail to suit different room sizes and price points. These included the 803 D4 and 804 D4 800 Diamond Series speakers and the 705 S3 stand-mount speakers. Amplification came from Michi and Marantz. Installers were also able to experience the different performance levels available with a choice of Denon HOME multi-room speakers in this room, all of which could be operated stand-alone, or fully integrated via HEOS.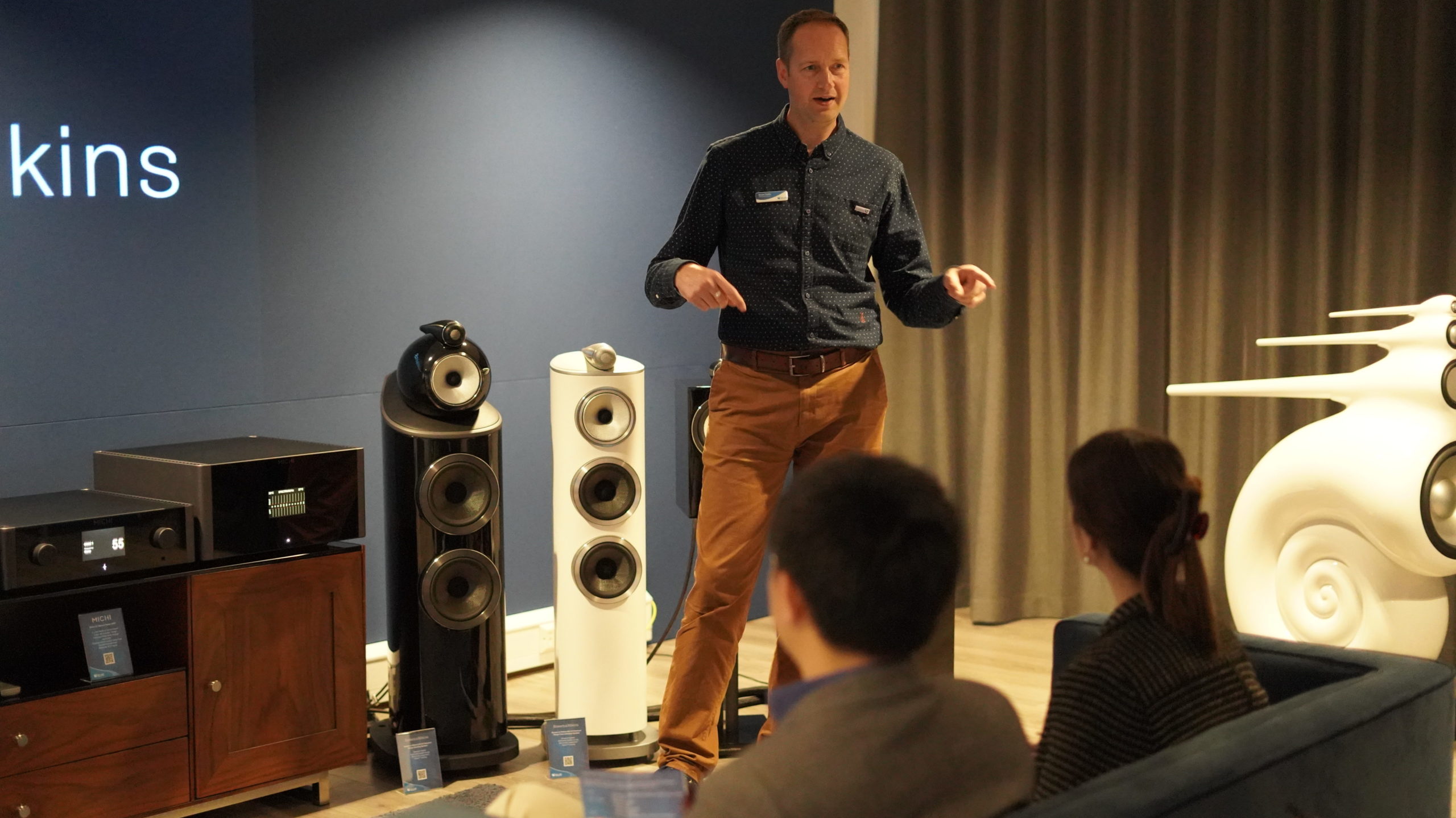 Turned Heads in the Living Room
Guests revelled at the preview of the brand new 2023 Hisense 120L9 Laser TV, impressed by its 120" ambient light-rejecting screen. For a big screen experience in any lighting condition, the Hisense L9 Laser TVs really are the perfect option for those on a modest budget for such a large screen. The quality at the price is something you really need to see to appreciate. The Kinetik UST Projector AV Cabinets (KLIF-UST1CS), an AWE exclusive, provide a stylish solution to support many UST projector installations. The cabinet comes in a variety of finishes and accommodates the projector, a soundbar or centre speaker, and has optional matching ventilated equipment cabinets too.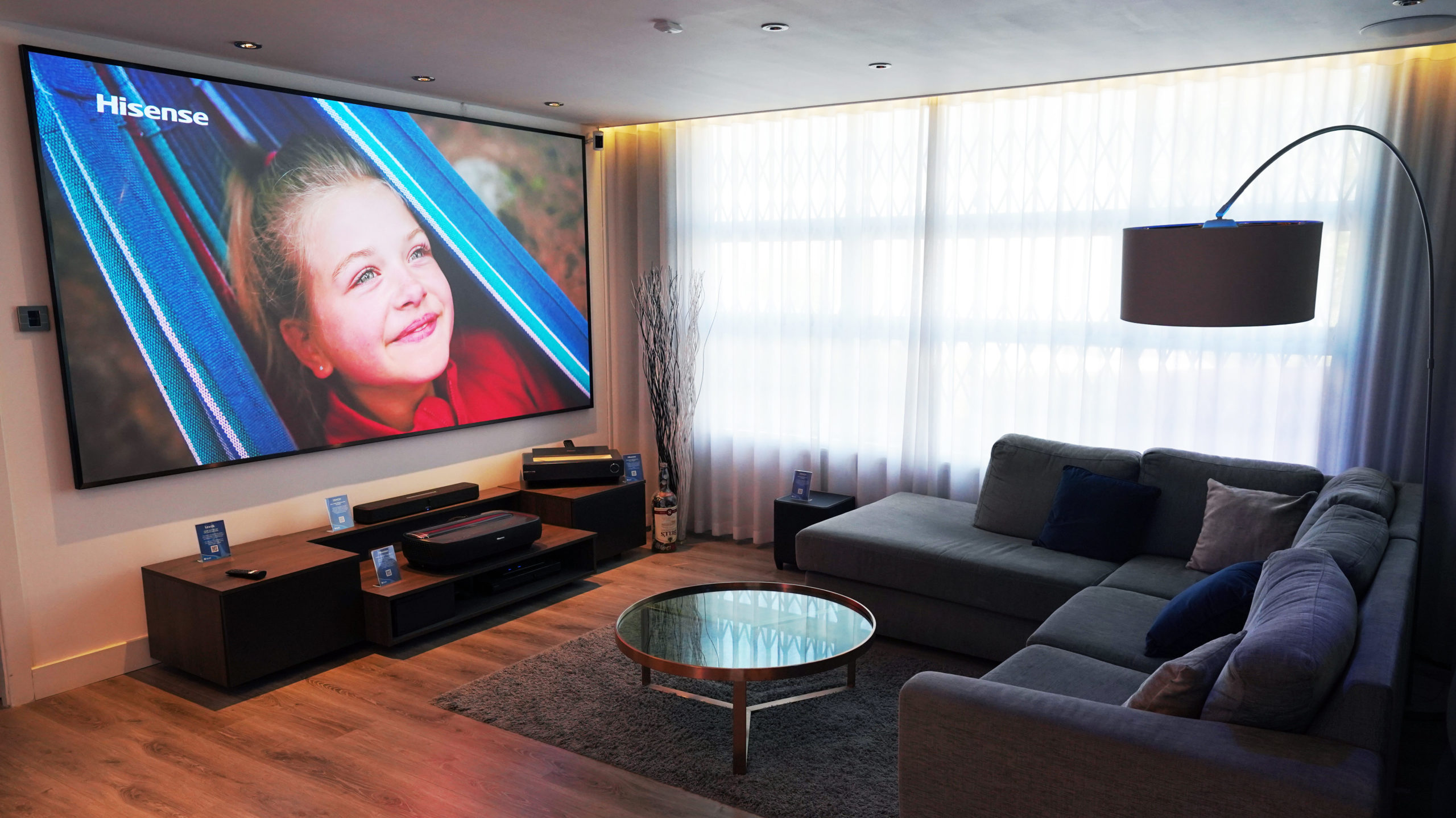 Elsewhere in the main AWE apartment, the world's largest OLED TV, LG's OLED97G29, was showcased along with the 2023 G Series & C Series TVs. With the new Brightness Booster Max, the self-illuminating LG OLED pixels are now even more expressive. It takes the picture enhancements of the α9 Gen AI processor to the next evolutionary level and provides up to 30% more luminosity. Thanks to superior light efficiency, the images now look even more brilliant than ever even in full daylight. Visitors were certainly drawn to its immaculate and expressive detail.
All Under Control
The show apartment and cinemas are all automated with URC, an easy to install and high-performance control platform. AWE Expo visitors saw the first UK showing of the new URC TDC-5100 handheld tabletop controller, a gaming-inspired UI with hard and digital buttons and fast response processing that combines tactile button convenience with the flexibility that only comes from a touch-panel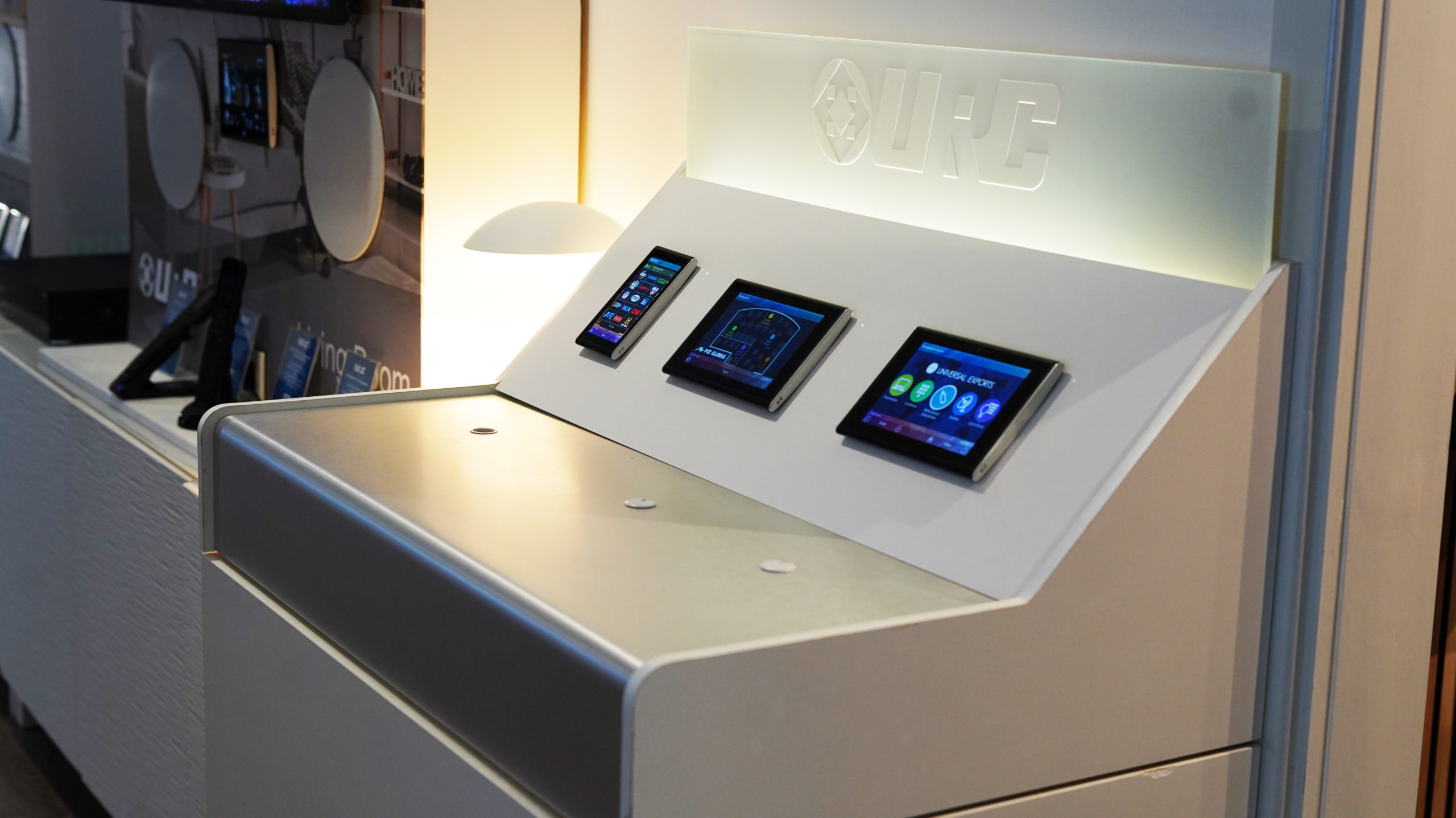 Stuart Tickle, Managing Director at AWE said: "We are hugely grateful to all those who attended Expo this year for an exciting two days of previews and demos. We have worked really hard to ensure our show apartment and cinemas are the absolutely best place for installers and their clients to discover the best custom install solutions from AWE's exceptional portfolio and the amazing feedback was truly rewarding to the whole team at AWE. If you missed AWE Expo, book a private visit as the show apartment is here for you and your invited customers! "
Missed It? Then Book a Visit!
AWE Expo gave installers a glimpse into what's possible for the year ahead. As well as the new releases, visitors saw the latest products such as reference amplifiers from Michi & Rotel, as well as HDAnywhere's brand new MHUBS stackable matrix. There were also live demonstrations from smart home security solution Ring and automated window shading with Silent Gliss – and an opportunity to beat your best lap time in the Base Performance Simulators Blade Racing Simulator.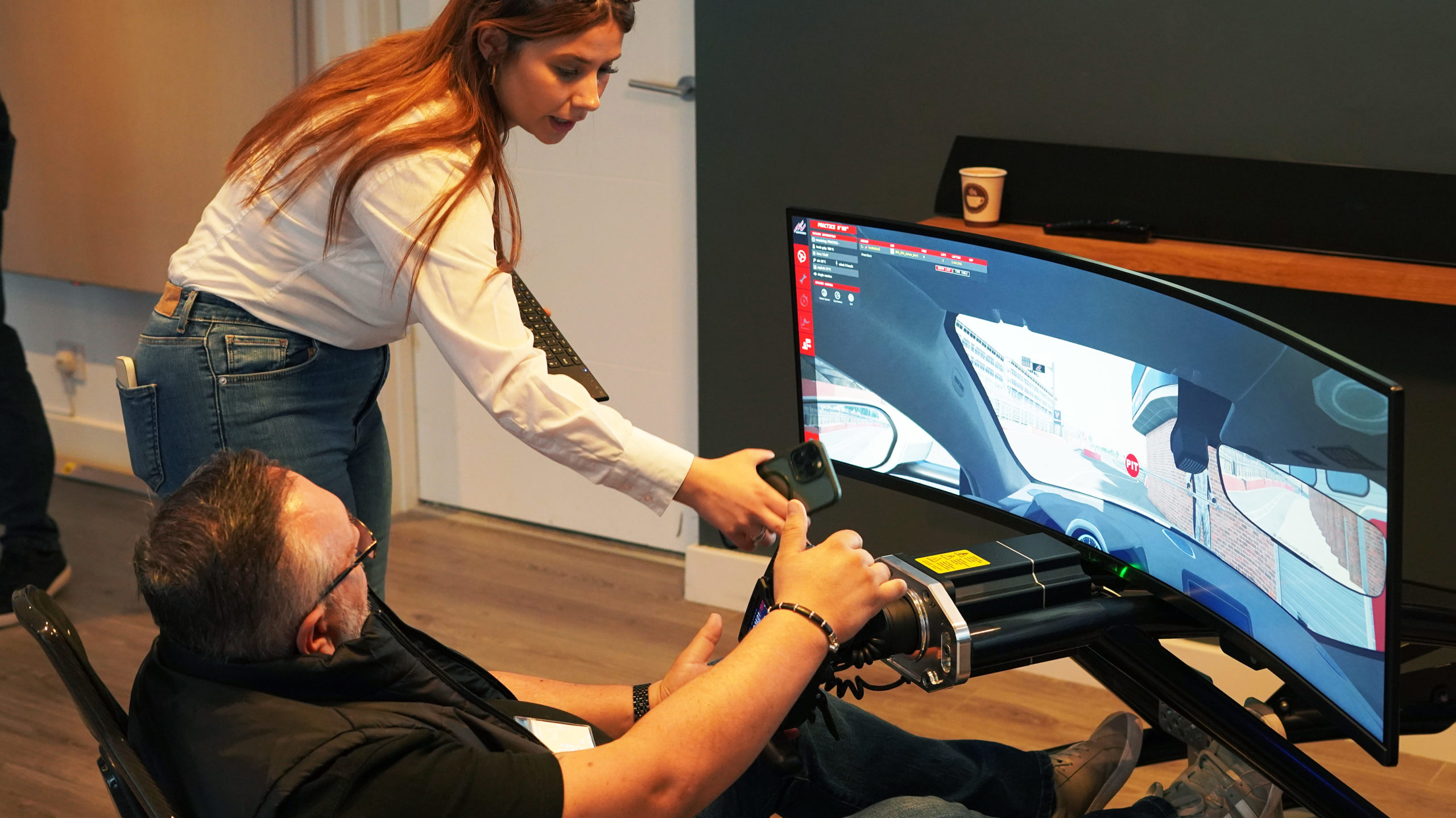 More from Corporate
---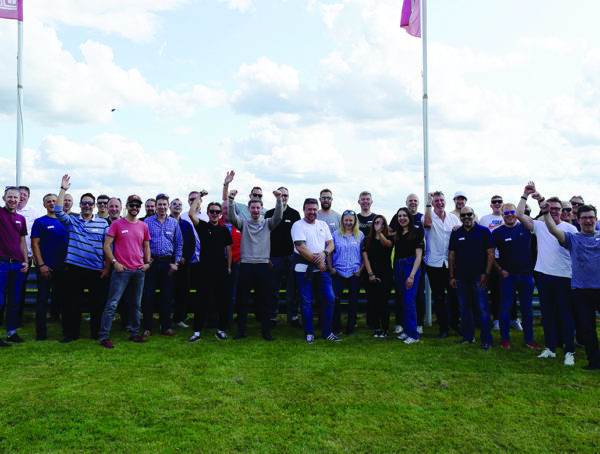 399
On Wednesday 21st June an exclusive group of integrators joined the AWE Team and a number of their brands for …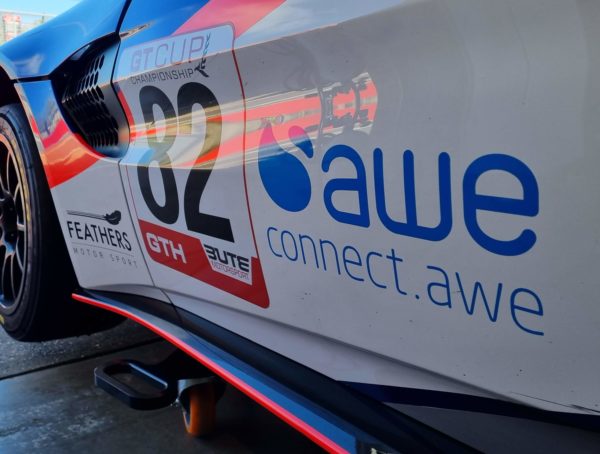 456
"The drivers were excellent once again and the Aston Martin Vantage GT4 was on form thanks to the hard work …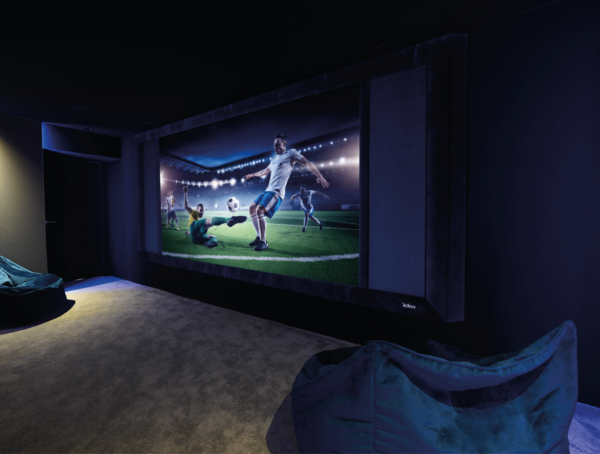 1.6K
(This article was updated 05/05/23) Registration for AWE Expo is open! But hurry, spaces are limited, secure your spot today HERE AWE's …
Editor Picks
---