Photo Gallery
AWE EXPO 2019, Part 3 – The Televisions
By Sean Hannam
Welcome back to my AWE Expo review.
Trade shows like IFA and CES are great launch pads for new technology, but, due to the huge crowds, it's often hard to get a good look at the products. One of the advantages of the AWE Expo is that you can get to spend some quality time checking out the new kit and also easily compare the features and benefits, in an intimate, compact environment – you don't have to walk from one giant hall to another to see the latest tech and TV models.
8K Gallery
A key question being asked by installers and retailers was, is 8k needed? This is why AWE had the screens on show and representatives present, to help dealers decide for themselves.
There were new 8K TVs on display within the main apartment, being the LG (75" 75SM9900PLA), Sony (85" KD85ZG9BU), and Samsung (65" QE65Q950).

Despite high quality upscaling, when the world's first 8K TVs were unveiled at IFA last year, one of the major concerns was the lack of 8K content available to watch, but, according to Samsung UK's Regional Trainer, Jo Fenwick, that's about to change: "The main thing customers are asking us is: 'when will we see 8K content in our homes?' The good news is that more 8K will be coming through. Next year, the Olympics in Japan will be filmed in 8K – the broadcaster NHK has started trialing 8K broadcasting. We'll expect to see more announcements in 2020." Samsung also claims 8K works well on smaller TV's when you take the gaming use case into account, where people are likely to be sitting closer to the screen than normal TV viewing.
Sony say that for TV viewing, anything smaller than 85″ is not necessary due to the inability for the human eye to pick out the pixels, at normal viewing distance, with smaller screens. They claim you currently make compromises in other critical image areas too. This is why they showed their 85″ Master Series screen. It was certainly incredibly impressive!
4k Gallery
In the 4K gallery area, brand new TVs on show included 4K OLED models from Sony, LG and Panasonic, as well as 4K QLED from Samsung, and I spoke to James Bayrakdar, LG UK's Product Ambassador for Home Entertainment to find out more about the brand's presence in the custom integration channel: "The CI market is becoming more and more important for LG – as we've developed the technology to support IP control in a TV and now offer a 5 year warranty, our customer base has flourished. LG is now becoming more of an optimised choice for an integrator.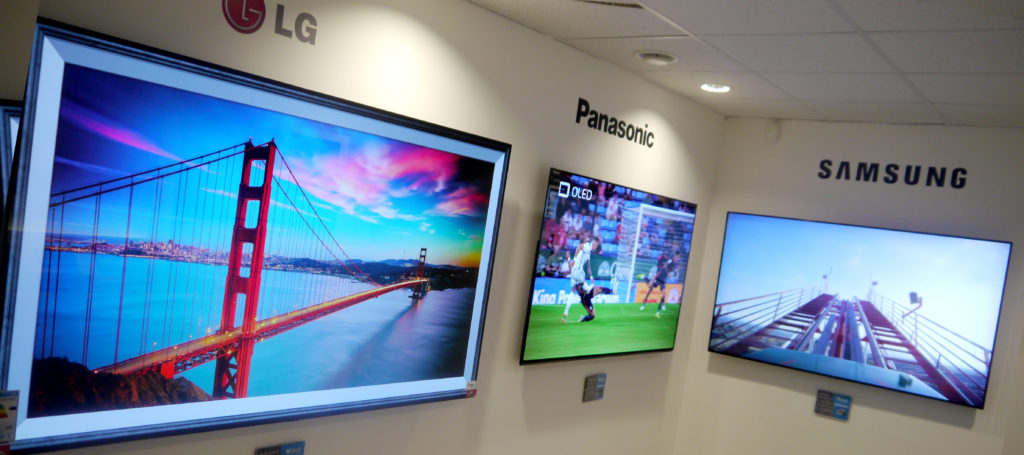 "Our 77" 4K C9 OLED – available from AWE – offers enhanced processing and AI – a 'deeper learning technique'. The TV is constantly learning and improving and optimising the picture quality. It also offers support for HDM1 2.1, which is set to revolutionise the market."
Panasonic was showcasing its 65" GZ950 4K OLED TV with Dolby Atmos – the company's Brand Development Specialist, Caleb Manning, said the product's minimalist design means it will appeal to the custom installation market, although the GZ2000 with its extra speakers built-in is a great all-in-one solution too.
The Samsung 4k QLED TV was also on display, enabling discerning integrators to see the leading brands and differing technologies side by side.
The Study

The study now features Samsung's upgraded The Frame 3.0 TV, which shows artwork when it's off and simply blends into a room. It is beautifully designed to elevate your home whether you're watching TV or not. It can reflect your style by displaying artwork or your own photos. When the TV is on, it shows off its upgraded 4k QLED technology picture.
Power and picture is provided to the TV from the One-Connect box via a single "near-invisible" cable. Integrators will most likely still want to hide this in the wall if wall mounting, as it is still visible in practice, but it is a very neat solution indeed and negates the need for mains behind the TV and multiple input cables.
Games Room
In the Games Room, pride of place was given to the 65" LG Wallpaper OLED, which was mounted to the wall and, like all the TVs in the Show Apartment was fed by the HDAnywhere MHub Pro matrix. Wafer-thin, the panel itself is stunning and is fed via ribbon cable from the soundbar, which handles all the power and input switching. When off, the screen can show artwork including frames, and so actually benefiting the interior décor.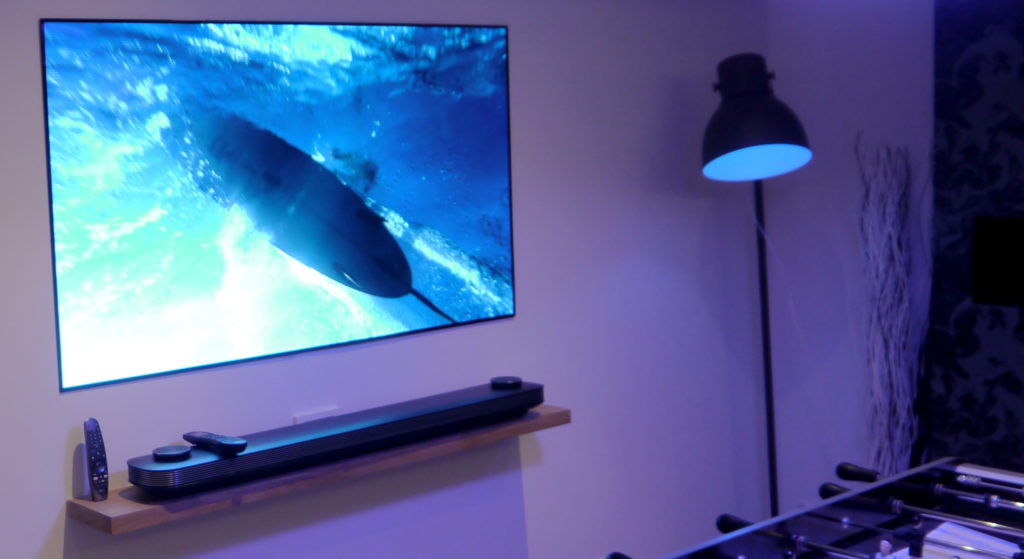 All the main screens and projectors in the show apartment were fed by an HDANYWHERE MHub Pro 8×8 matrix,
a 'one-wire' UHD/4K-capable whole-home AV hub, that hides home entertainment devices centrally and makes them universally available on every display. This seamlessly switched a mixture of sources between 4k TVs.
Lens to Living Room
Sony was highlighting its 'from lens to living room' message at the Expo – showing how it can offer solutions throughout the whole content chain, including how images can be captured and shown as the film director intended.

Christopher Mullins, Product Manager, Digital Cinema and Home Cinema at Sony Professional Solutions Europe said: "We're educating the retail channel on which core technologies we use from which areas and how they improve our products." The overall message was that only Sony are involved in the whole chain from filming and mastering, through to display in commercial and home cinema.
TV stands and mounts brand Sanus demonstrated its newest brackets and 19" AV rack cabinet solutions. The Sanus Black Series is a dedicated range of large-screen TV mounts for integrators and is available through AWE.
Read the final part of my AWE Expo review, providing feedback from manufacturers, retailers, integrators, and the man himself – Stuart Tickle.
More from Events
---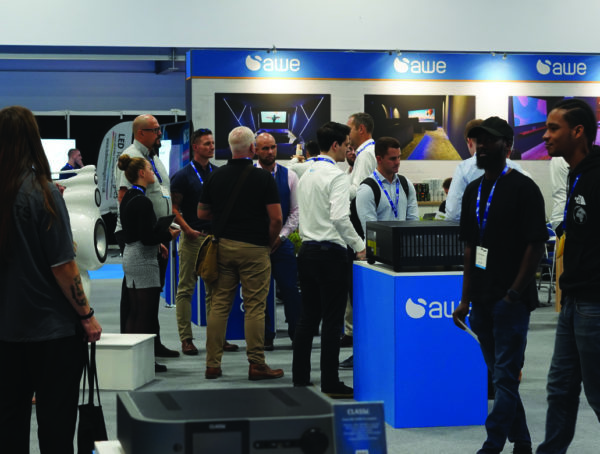 188
Following another year of hosting the epic AWE Village at EI Live! this September, AWE's Managing Director, Stuart Tickle reflects …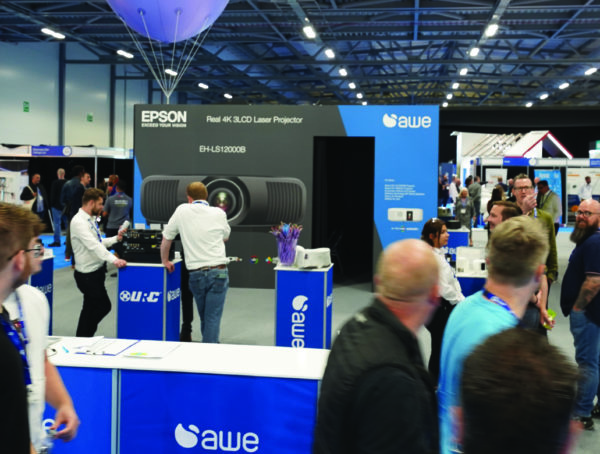 797
13th & 14th September - Register Here The AWE Village returns for 2023! This must-see show floor attraction welcomes visitors into …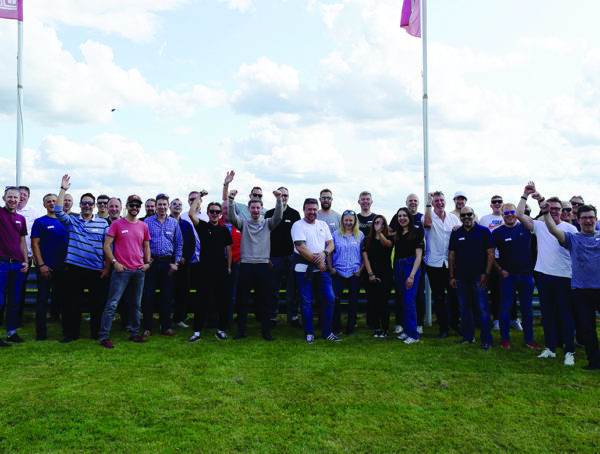 638
On Wednesday 21st June an exclusive group of integrators joined the AWE Team and a number of their brands for …
Editor Picks
---