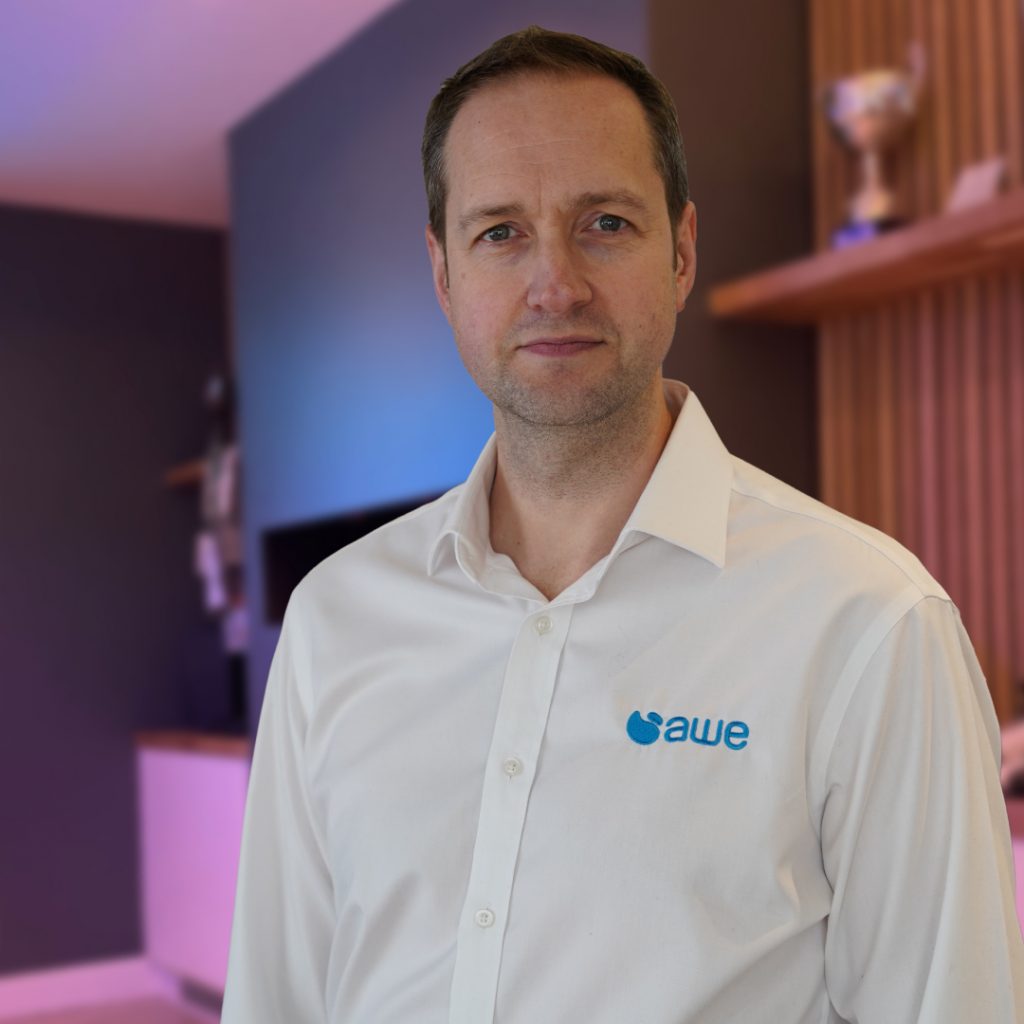 AWE is a name that is synonymous with the custom install market in the UK. With award-winning training, world-leading brands and an enviable hub of knowledge in the form of its fantastic in-house experts – Home Cinema is an area where AWE excels and supports installers with a superb offering. Here, Stuart Tickle, Managing Director at AWE, explains how integrators can work with AWE to offer cinema solutions, from a simple media room, right up to a reference standard dedicated home cinema.
Home Cinema Surge!
"The pandemic caused a surge in the home entertainment market, with more people spending time at home and investing in everything to do with their home, including media rooms and dedicated home cinema and family entertainment rooms. Homes have had to become more flexible and multi-functional to accommodate the need to work, relax and play. Hybrid media rooms may include 'hidden' cinemas with concealed projectors and screens that are revealed as required, and the pièce de résistance – a dedicated home cinema and entertainment room – has grown in popularity.
This is thanks in part to innovative technologies that have made the once untouchable dream of a cinema in your home, a more accessible reality. At AWE we cover all price points from entry and mid-level Epson projectors, through to the recently launched two new Sony Native 4K SXRD Laser projectors – VPL-XW7000ES and VPL-XW5000ES – which are not only compact, high brightness and suitable for a wide variety of home cinema projects, the picture quality for the price point (starting at £6k) must be seen to be believed. Both are on demo at AWE HQ as is the top end £100k projector solution, the 10,000 lumens Sony VPL-GTZ380.

We also have plenty to thank the streaming networks for. Content is king and all the main services are providing cinema-quality film and TV, so we can view our favourite box sets and so many more movies at home in 4k HDR & Dolby Vision – in fact, the level of detail is stunning on either a big screen TV, or a full projection system.
Even with this growth, we know there is even more growth potential in the market so how can we support installers to tap into this and build a strong home cinema business? Well, that's kind of what we do actually…
Knowing the Market
Home cinema has always been an important market and as such many brands are competing to be the 'first', the 'best', the 'brightest', the 'most advanced'. We have seen impressive technical developments in the projector market as well as some incredible advancements in TV, with OLED, mini-LED and Micro-LED providing some major fuel for the 'Projector vs TV' debate.
The reality is differing technologies suit different environments, so at AWE we encourage our customers to come along and experience the products first-hand at the show apartment in our Epsom HQ. Only recently we hosted our annual AWE Expo – our biggest yet – where we welcomed hundreds of industry professionals through the doors to get hands-on with the latest product launches, technology updates and demos from leading brands.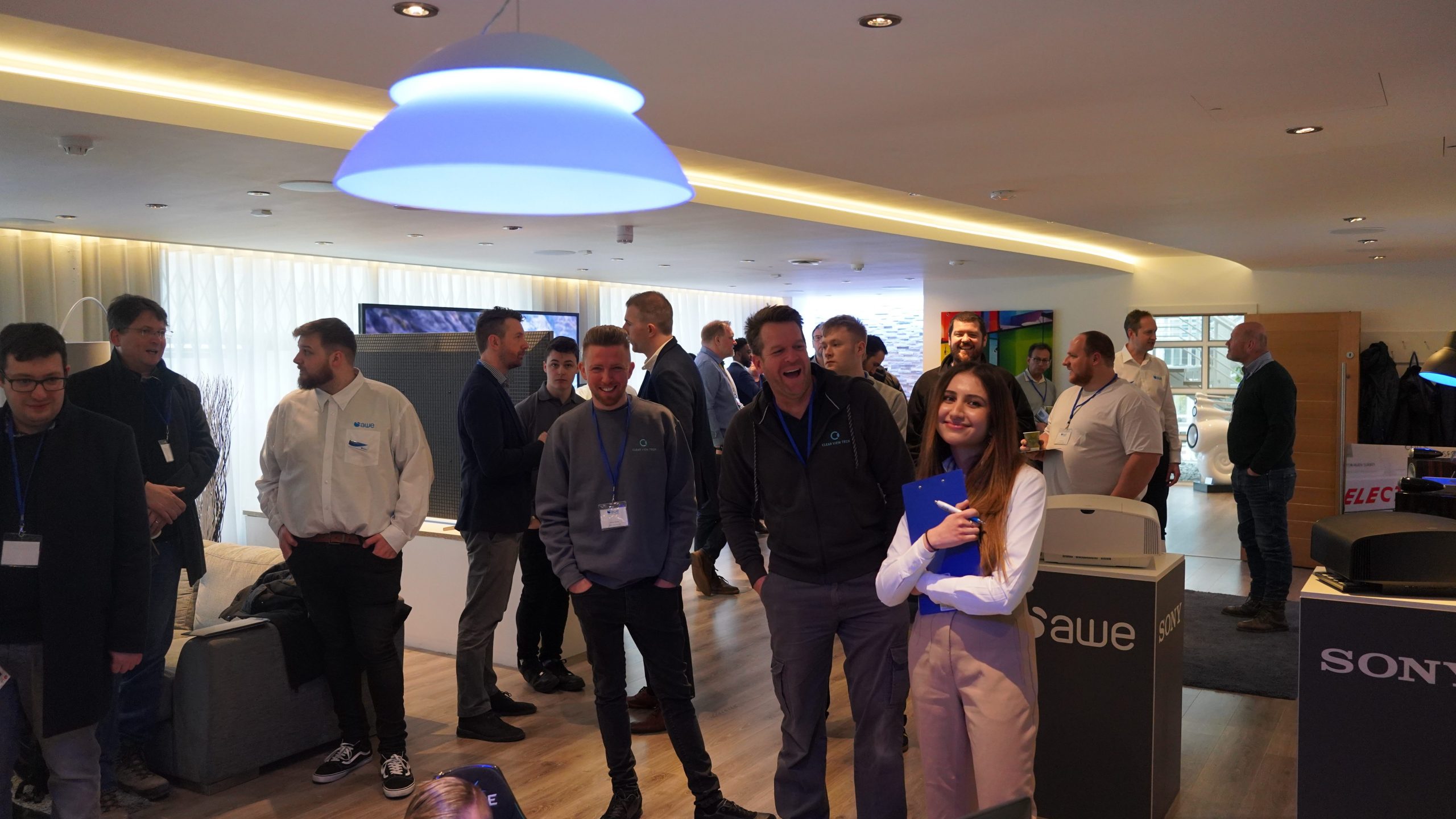 We love welcoming installers and their clients along to the Show Apartment, which features all the latest products from our impressive list of partner brands, including Sony, Bowers & Wilkins, LG, Rotel, URC, Denon, Marantz, Base Performance Simulators, Silent Gliss, Ring X-line, Panasonic, Philips Hue and Definitive Technology.
For home cinema projects, we would encourage installers to check out our recently revamped Reference and Performance cinemas. Two amazing cinemas at different price points – one at £25K and the other at between £65K and £150k dependent upon how specified. They both offer incredible performance credentials.
Seriously Good Home Cinema Demos
Let's start with our new Reference Cinema. This home cinema set-up is at the top end of home cinema whilst still being relevant to most integrators, with a configuration that clients with a big healthy budget will be thoroughly impressed by.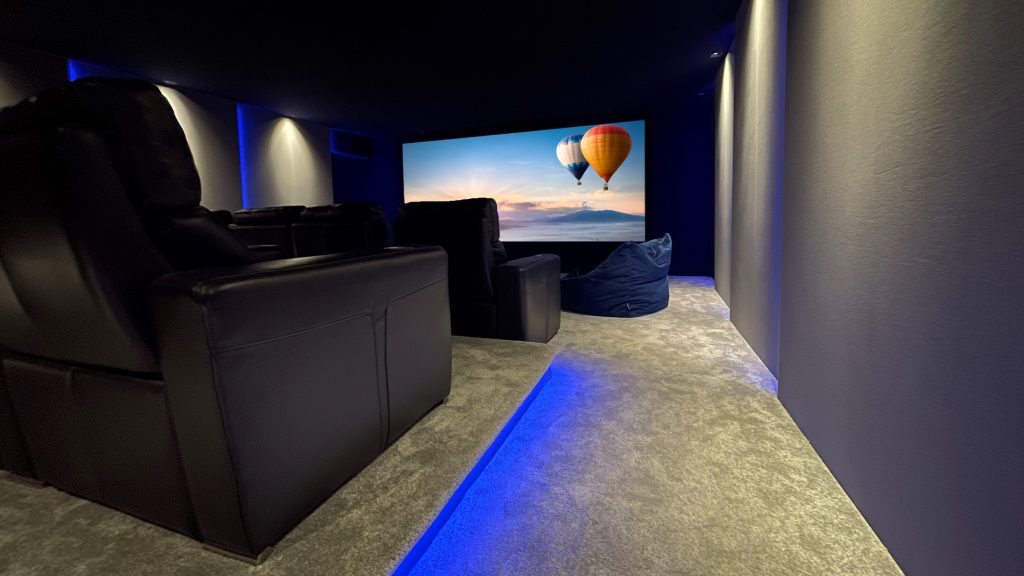 The audio is incredible, thanks to a combination of Bowers & Wilkins architectural loudspeakers and subwoofers driven by an immense stack of Rotel Power Amplifiers. We've fitted Bowers & Wilkins CI 800 Series Diamond speakers and Custom Theatre subwoofers in a 7.4.6 configuration – ideal for an 8-seater room of this size. A Marantz Processor feeds into a stack of five Rotel Power Amplifiers housed in a new Sanus 44U rack located in the adjacent comms room. Four cabinet subwoofers (CTSW15) with 15" bass drivers with additional dedicated amplification provide the heart-thumping bass that completes this high-performing and versatile loudspeaker set-up.
This powerful, immersive audio system is matched by the incredible 4m wide HDR picture provided by a choice of Sony projectors, including the 10,000 lumens and 100% DCI-P3 wide colour gamut Sony VPL-GTZ380 Native 4k laser projector providing an image that once seen, can't be unseen! It's Sony's flagship home cinema projector for a reason and leaves a lasting impression on clients. The latest native 4k laser models from Sony are being fitted too and, having seen them, are sure to set a new benchmark from just £6k.
We've also completely upgraded our smaller Performance Cinema. Here we have a superb combination of Bowers & Wilkins 700 Series architectural loudspeakers and in-wall cabinet subwoofers, all driven by a single 11-channel Marantz AV Amplifier and sub amps located in the room. Epson's recently launched EH-LS12000B projector, which features a high 2,500,000:1 dynamic contrast ratio, 4K resolution (8.3mil pixels on-screen), HDR10+ support, 3LCD and a laser light source, delivers picture quality that is hard to beat at its price point. It is also ideal for gaming, offering 4K resolution at 120 frames per second, along with input lag times below 20ms. This cinema is just £25k and can be specified up or down to suit requirements.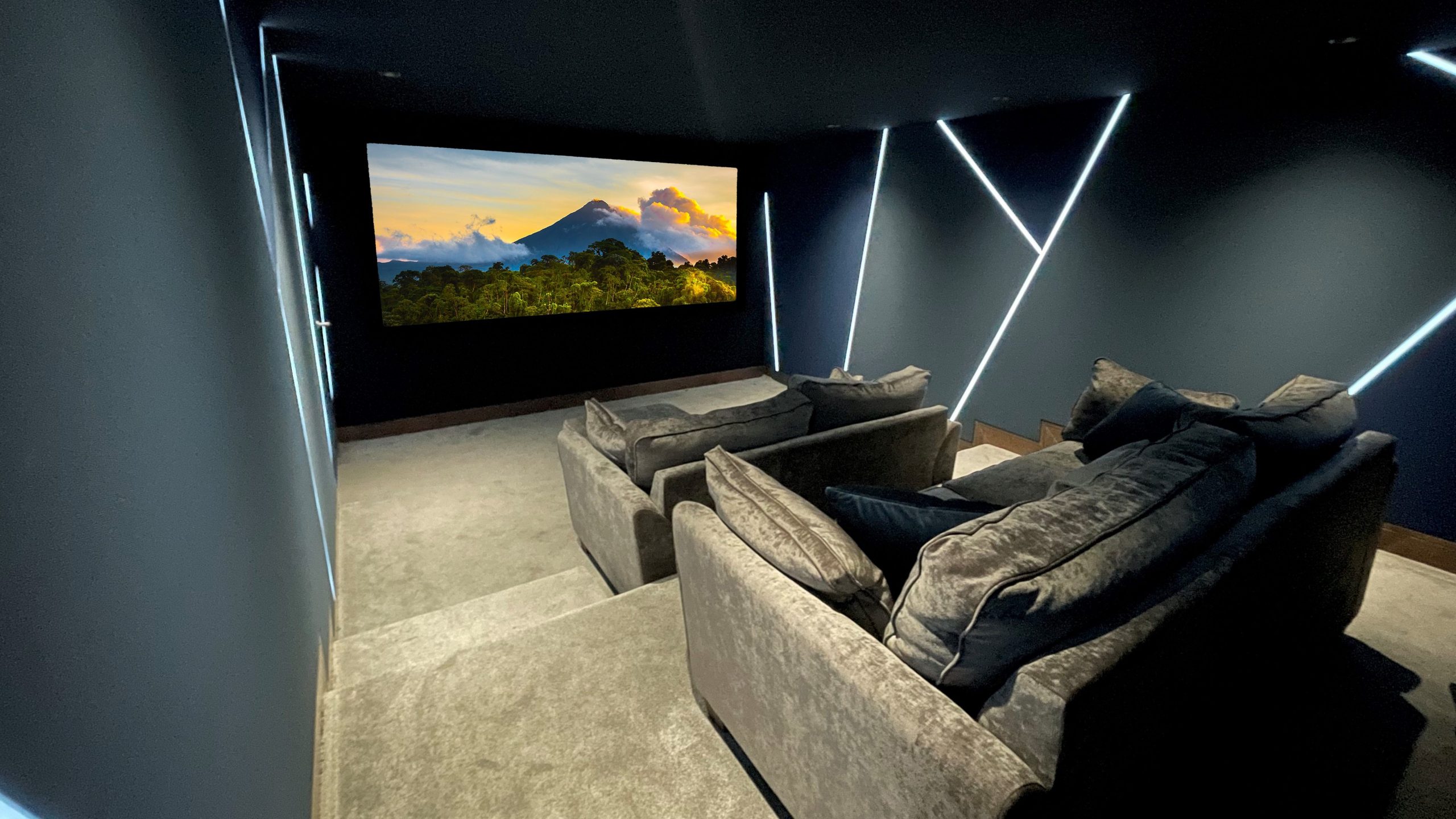 Underpinned by Award-winning Training
As we all know in this industry, this bit is important. The market is ever-changing and the technology we are seeing is advancing at such a rapid pace that you can quickly fall behind if you do not stay one step ahead with regular training.
Over the years, AWE has established a reputation for providing industry-leading training under the Smart Home Academy banner. We train people on the home cinema products we sell, of course, but we also explore the technologies, trends and techniques behind them, and how to specify the right product for each project. For us, it is important that our educational offering is just as valuable as the products we distribute – there is no sense in selling products if they are not enabling success for our customers.
This is something we are really passionate about and we're proud to have won awards, including CEDIA awards, for our training courses. For the Home Cinema market, our programme includes focused courses: 'Home Cinema Projection Technologies' and 'Home Cinema Audio Technologies'. As well as a dedicated programme of courses for 'Learning with Sound United' which covers 'Room Calibration' and 'Acoustic Treatments' among others, highlighting the fantastic AWE brands under the Sound United umbrella (including Denon, Marantz, Heos…).
We are also a training partner for CEDIA and host a range of CEDIA courses at our Smart Home Academy HQ in Epsom. You can find out more about upcoming courses at smarthomeacademy.co.uk or by visiting the CEDIA website.
So now you know!
At AWE we have built our reputation by presenting industry-leading technologies in a way that excites and inspires the custom installation market. By offering a wide variety of high-performance concepts, from media room set-ups to full-scale Home Cinema configurations – with competitive pricing and great support at the core – we are more than 'just a distributor'."
If you want to find out more about AWE, check us out online or in person. To book a visit to experience the new Reference and Performance Cinemas at AWE, click here.
More from Features
---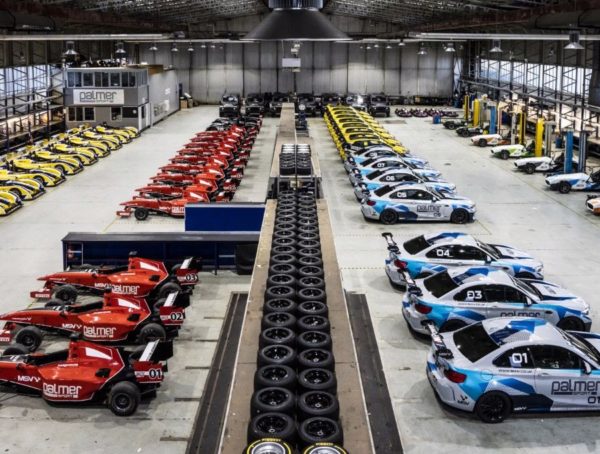 786
Winners have been notified! A select group of lucky integrators will be joining AWE and their brands at the AWE Motorsport …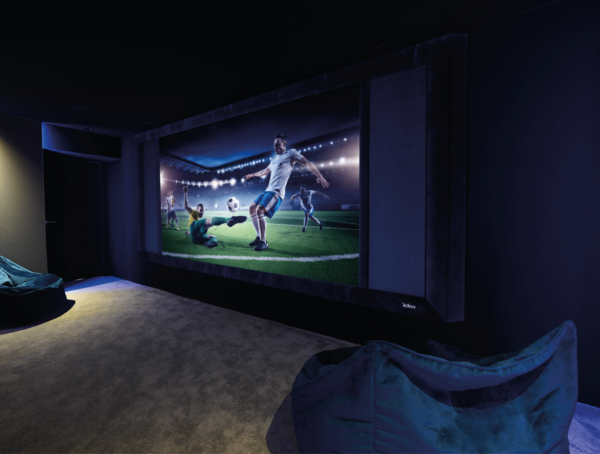 1.8K
(This article was updated 05/05/23) Registration for AWE Expo is open! But hurry, spaces are limited, secure your spot today HERE AWE's …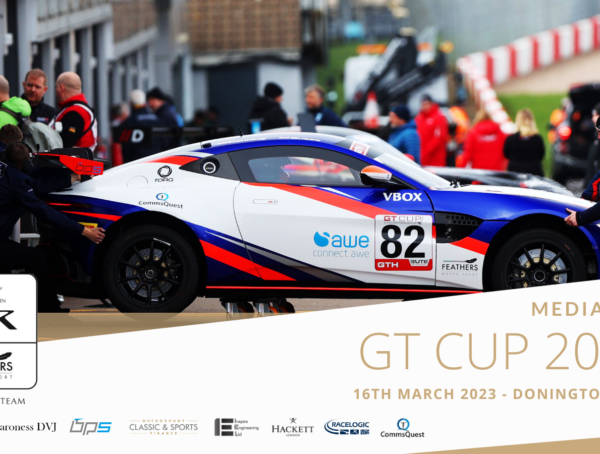 828
The GT Cup multiple class race-winning team, Feathers Motor Sport (FMS), will return to the British GT Cup for a …
Editor Picks
---