Photo Gallery
Dorset-based integrator, Maven AV, recently completed work on its most unusual project to date – a 17-room themed mansion in Northamptonshire, which is now known to the team as the Sony House.
The owner of this Grade II period property had been a client of Maven AV for around six years prior to this complete refurbishment. During this time, the integrator gained a good understanding of the client's preferences and their future requirements, so were able to come up with a complete cabling infrastructure as part of the build, which now catered for the new systems the client wanted implemented.
Working closely with the interior designer and architect for the renovation, every room in the property has been themed. This meant that the Maven team had to design a totally sperate system for each space, whilst still achieving a consistent experience for the client throughout.
As you might expect, the visual side of the solution played a key role in elevating the experience for the client and unifying this project. As the distributor for Sony TVs and projectors, AWE was top of Maven AV's list when seeking a supplier.
The main living space comprises a kitchen and day room. These spaces feature Sony 55″ 4K HDR OLED TVs hidden behind artwork and TV frames. The TV boasts the Picture Processor X1™ Ultimate for accurate detail and contrast. The TV comes to life with the super-wide viewing angle, precise contrast and absolute blacks. For the ultimate in picture quality, this TV pairs the brilliance of 4K clarity with the brightness, colour, and detail of High Dynamic Range (HDR).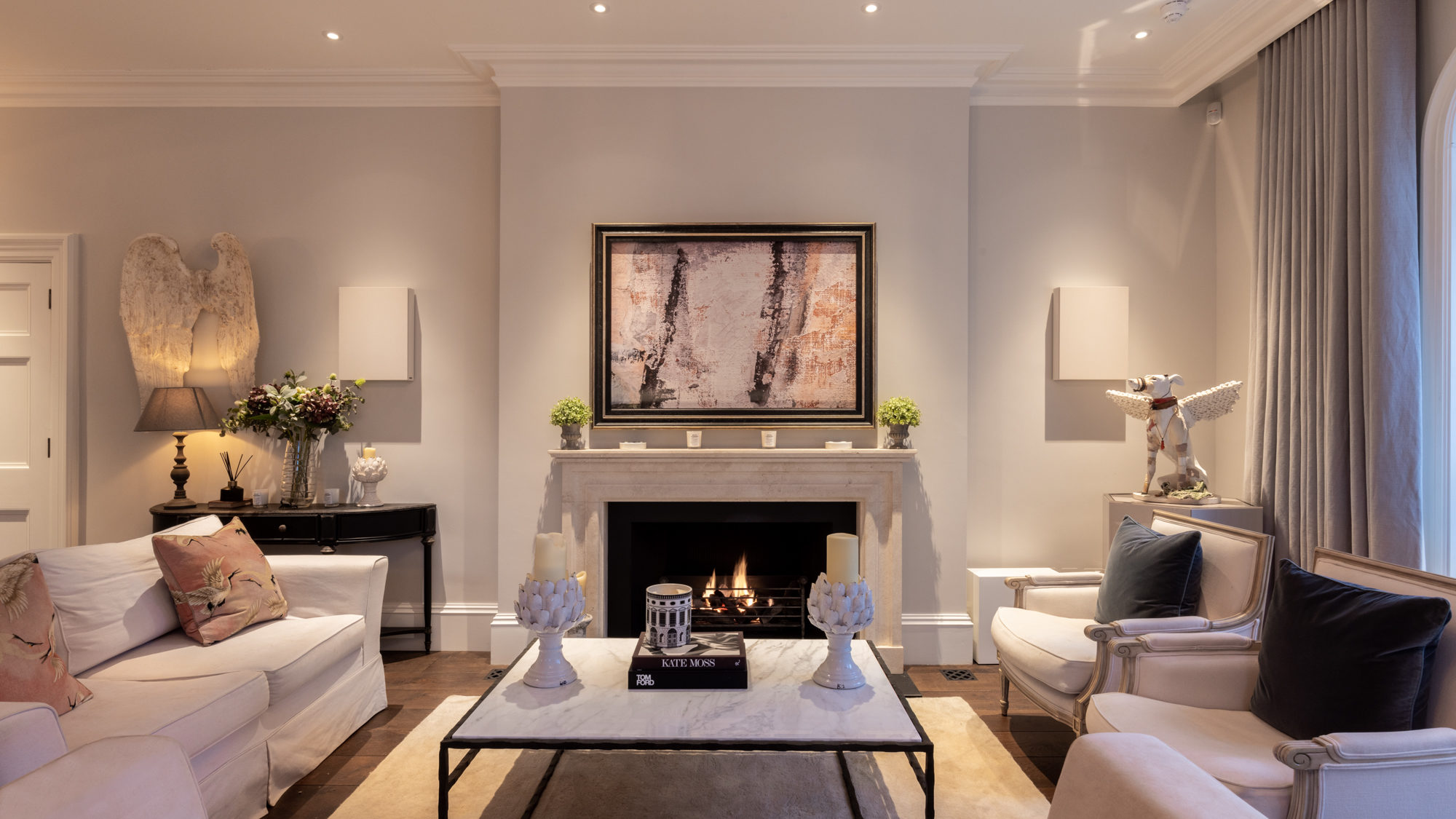 "With the kitchen TV being located in a thoroughfare, an existing cob wall had to be reinforced with a concrete lintel," comments Rob Simmonds of Maven AV. "This allowed for the TV to be recessed and fitted with an automated TV bracket that extends through the artwork frame to preset viewing positions. This has never been done before and I now know why – it's not easy!"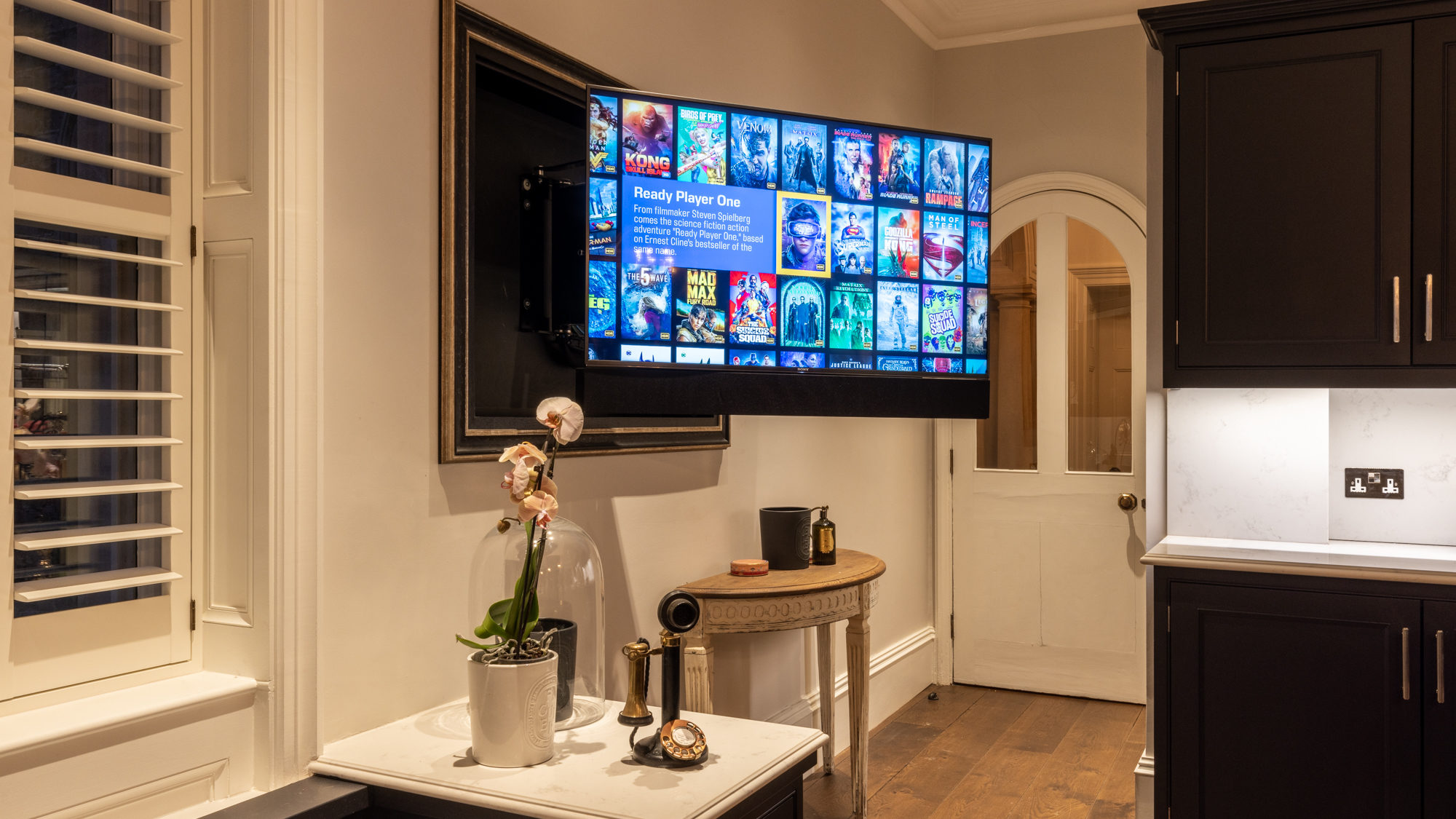 The 'TV room' is a 70's themed space that harks back to the classic look and feel of the era with a vibrant orange and cream colour scheme, sensuous curves and reflective surfaces throughout. The space features Europe's first Sony 98" Master Series screen. This 8K HDR TV screen delivers a more immersive viewing experience with extra resolution, creating the ultimate super-large screen experience in the home. The result is a TV that looks incredibly clear up close with virtually no pixel differentiation. Weighing a whopping 180kg, the screen is hung on a pull-out bracket that is reinforced with a steel-rod and chemical fixings with installation support provided by the AWE team for this major installation!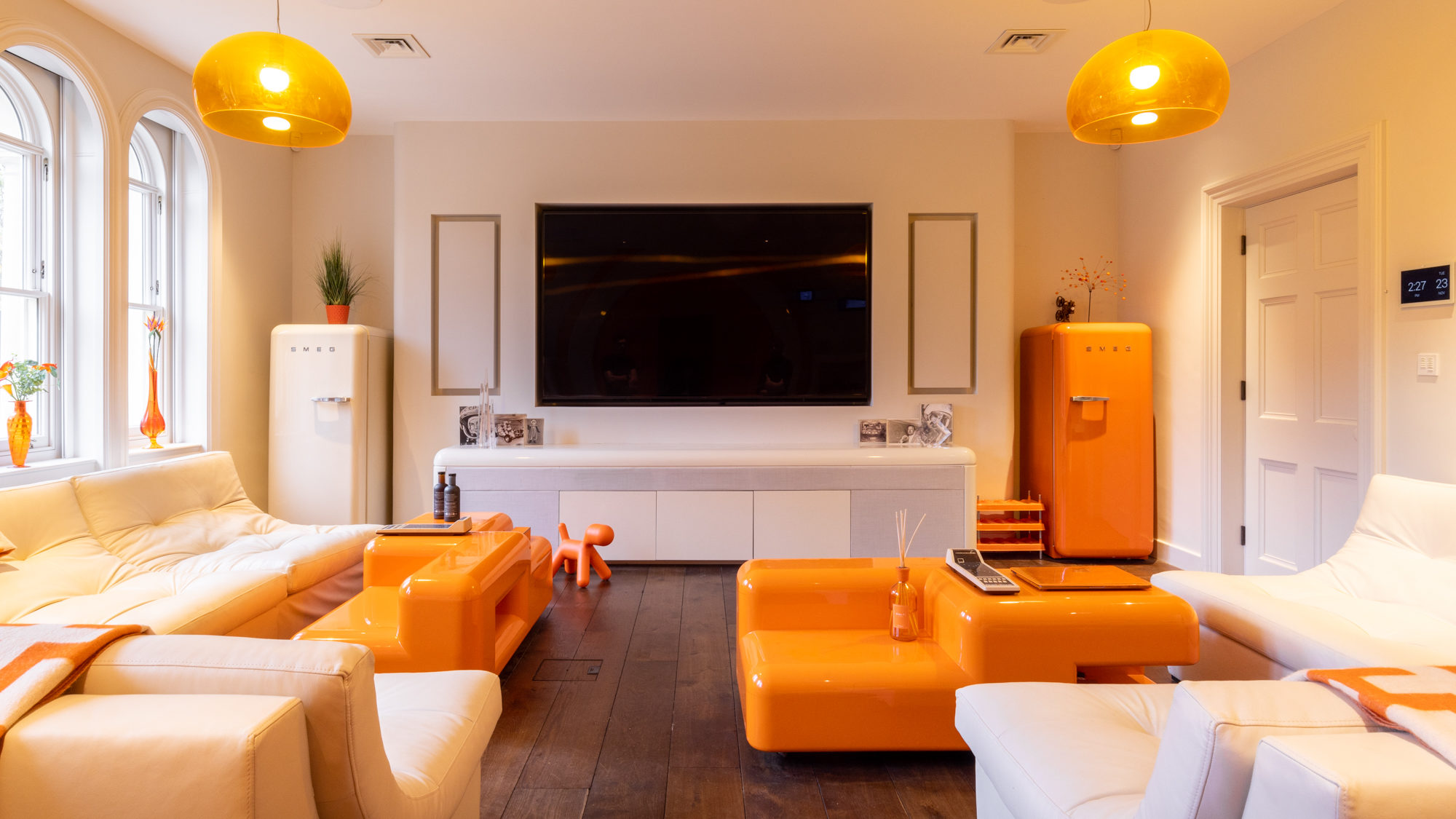 One of the many jewels in the crown is the large conservatory, which has to be stood in to appreciate the size and scale, and the unusual polar bear and dinosaur! In one of the corners of the room, Maven AV designed a dedicated area for TV viewing. Another Sony TV is hidden behind a Renaissance canvas and frame. With an abundance of light streaming into this space, automated roller blinds have also been installed to ensure viewing on the TV is unaffected.
All the upstairs master rooms – including a 'black bedroom' – feature Sony 49″ Full Array LED TVs on rise and fall TV lifts housed in custom joinery. These TVs include X-Wide Angle technology to provide vivid real-world colours from any angle while retaining more colour and brightness than other conventional LED TVs.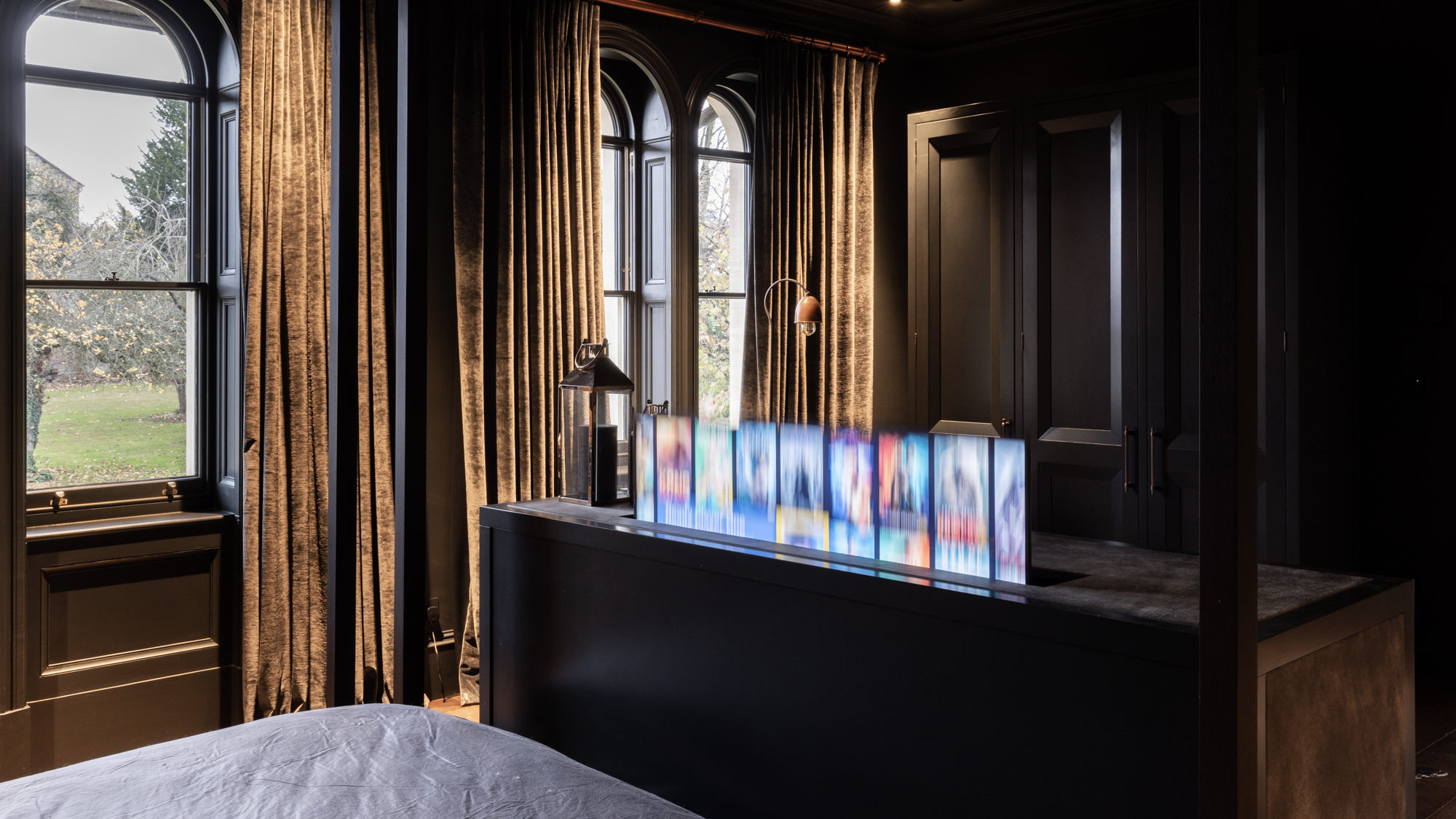 The guest bedrooms also benefit from high quality Sony screens, with either a Sony 43″ LED TV or 50″ LED TV installed, and access to all global video sources as well as local media for privacy.
Formal areas such as the dining room and sitting room have extremely discreet systems that include a 50″ OLED TV disguised as a mirror, while the Snug or 'Monkey room' has a 50″ LED TV hidden by a unique monkey artwork and frame.
The basement can be accessed either via a spiral staircase on one side of the house or via the existing panelled staircase leading visitors down to a vintage telephone at the bottom of the stairs, which is used as faux intercom system. The underground space consists of a secret hidden cocktail bar with a projector that presents video images onto a small custom projection screen hidden behind framed canvas artwork, a temperature-controlled wine cellar with separate wine-tasting room and a games room.
The games room – which appears to be the ultimate man cave with various arcades, pool tables and unique artwork – features a full nightclub spec audio system and multiple 32″ LED TVs located behind the bar area, as well as a corner snug area with a separate TV and audio system for playing retro games consoles.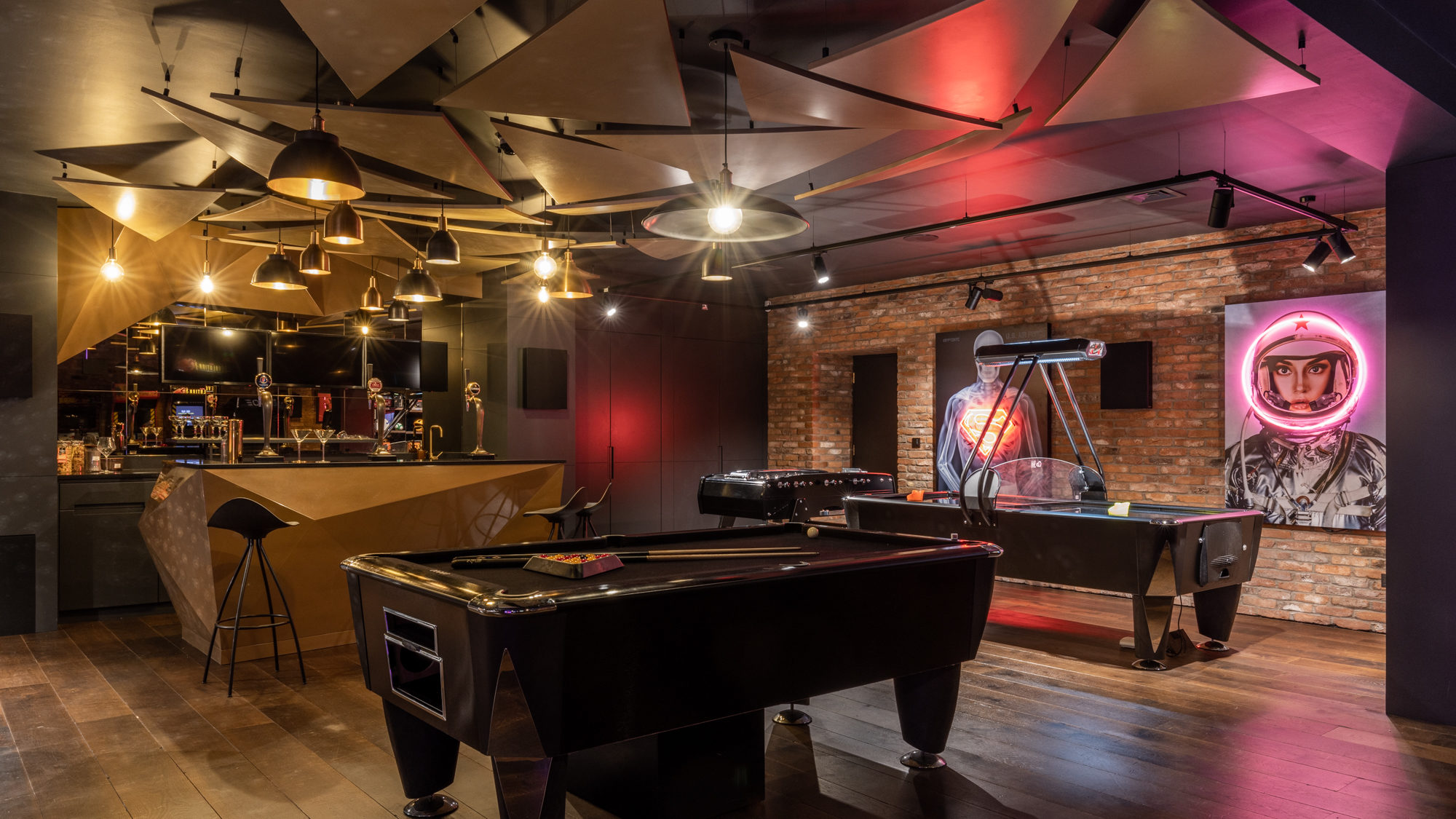 The basement is also home to the cinema room. The idea in this room was to have a traditional look, so a deep red theme is consistent throughout. Two daybeds form the front row, with a raised rear row of four upright seats. High-end video performance is achieved with the Sony laser projector, with all video sources sent at full resolution via a HDMI over fibre. This 4K HDR projector delivers incredible home cinema entertainment, and the long-lasting laser light source boasts 2,200 lumens output for cinema-quality picture performance. It also offers great flexibility for smooth integration in any home cinema set-up.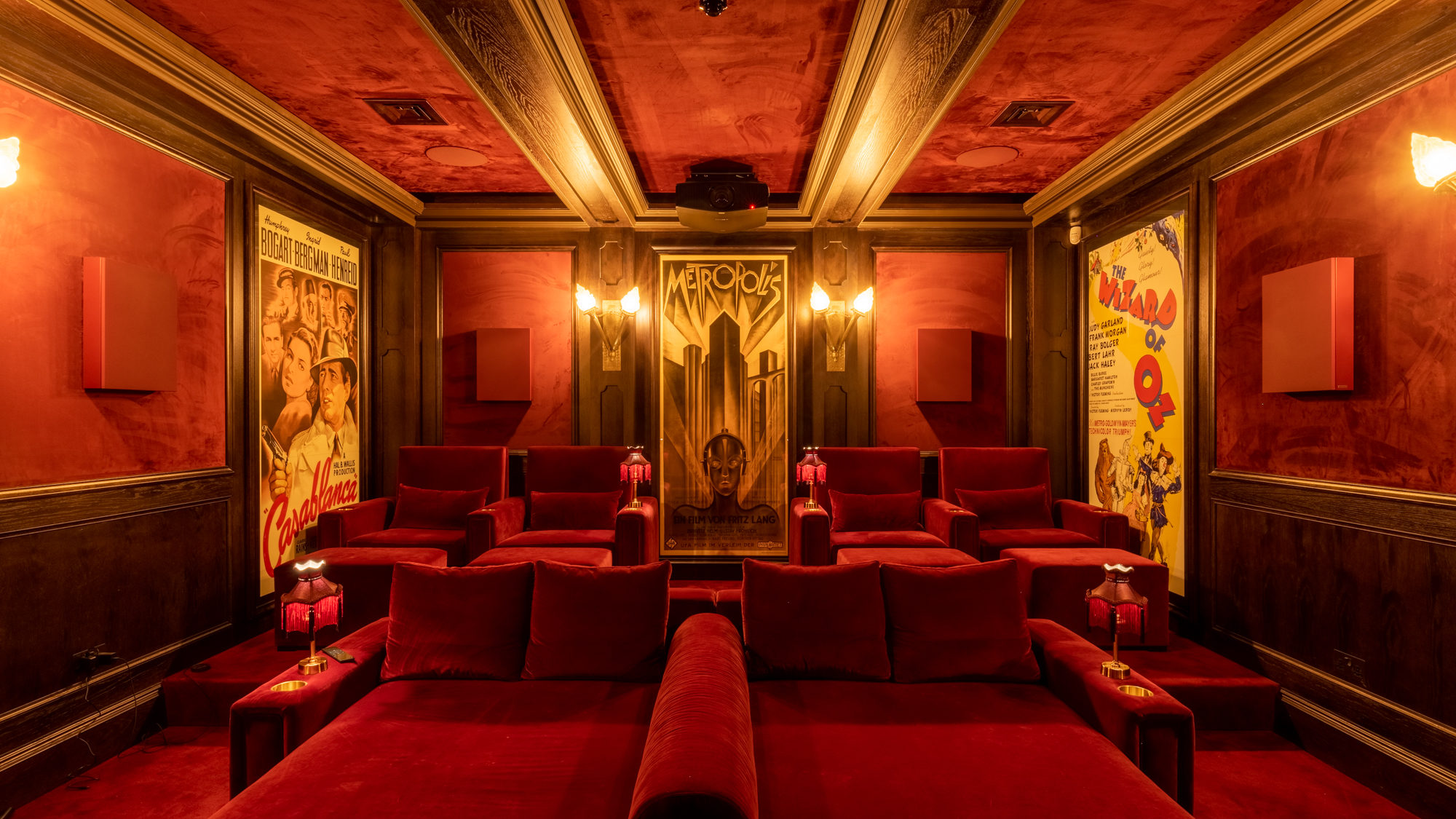 "This is without doubt the best project we have ever had the pleasure to work on, not only for the quality of equipment used but also the attention to detail we were able to achieve," adds Rob. "Each room has an individual theme and along with this, we have been able to add some quirky features to suit. On many occasion the client would have an idea, and we would go away and work out a way to achieve this. To keep all parties happy, we have managed to install a huge amount of technology in this home for the ultimate experience but without impacting the interior design. With clever use of automation this can either happen automatically or at the simple touch of a button or voice command."
More from Case Studies
---
For over 30 years, AWE customer IDES has been a leading provider of professionally installed home automation in Scotland. Based …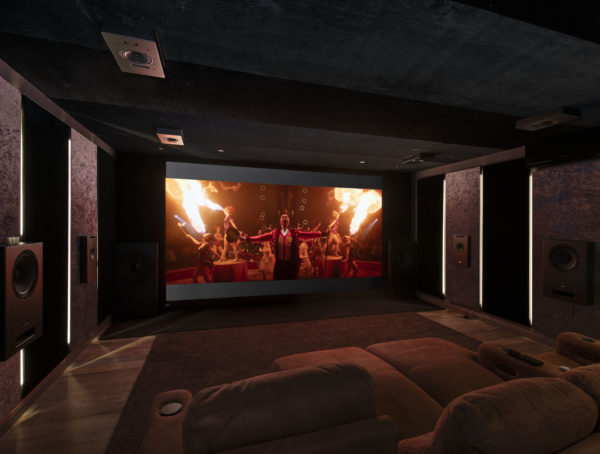 401
When a movie connoisseur approached integrator The Sound Counsel to upgrade his self-built dedicated home cinema, Nick Wearmouth – Director …
Photo Gallery Situated in the heart of Borough and just minutes from the bustling South Bank, Brigade Court is a new …
Editor Picks
---