Photo Gallery
AWE EXPO 2019, Part 1 – The Cinema Rooms
By Sean Hannam
Immersive 4K home cinema, the latest 8K TV tech, home control & networking, and multi-room audio were just some of the highlights of this year's AWE Expo.
Electrical retailers, technology integrators, electricians, and press were invited to the event, which took place at the company's headquarters in Epsom, Surrey.

There was an impressive line-up of products and technologies on display in AWE's Show Apartment, which had been upgraded ahead of the Expo. Product experts from AWE and manufacturers' representatives were also on hand to talk visitors through what was being demonstrated in each room of the apartment.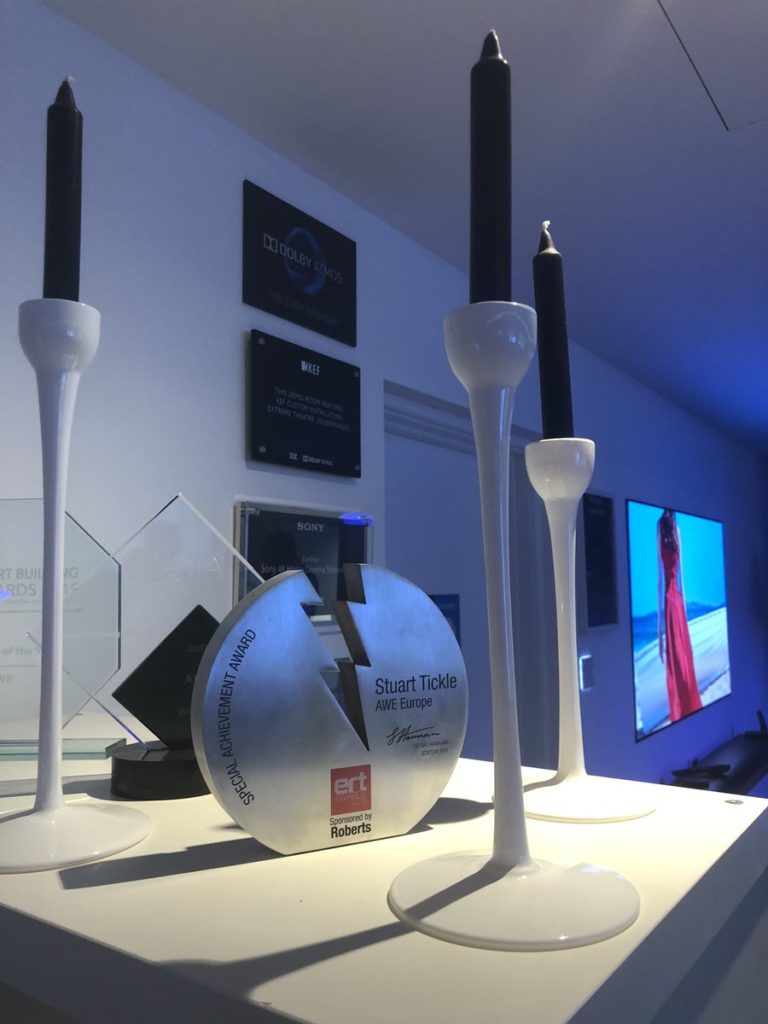 As a journalist in the electrical retailing market, I've been closely following AWE's progress over the past few years. In 2018, in my former role as editor of trade magazine ERT, I even presented AWE's Managing Director, Stuart Tickle, with a Special Achievement award for all his hard work on educating independent retailers on the benefits of selling smart home technology and evangelising about the opportunities it can offer.
It was great to attend this year's AWE Expo to find out how the company is developing. One of the key messages I took away from the event was the sheer breadth of tech and custom integration options that AWE and its partners are able to provide – from high-end cinema installations to more intimate media rooms and affordable, lifestyle, multi-room speakers, AWE can provide products and services that will meet a wide range of needs – and price points – for retailers, integrators, and their customers.

Reference Cinema Room
AWE's stunning, eight-seater Reference Cinema Room had been reconstructed to offer the most immersive experience available at that price point.
It features a 4m wide ALR Euroscreen and Sony's flagship VPL-VW5000 4K laser projector, as well as the brand's VPL-VW870 more compact-size model. Thanks to URC's control system, switching between the projectors, screen ratios and lens memory setting is totally seamless.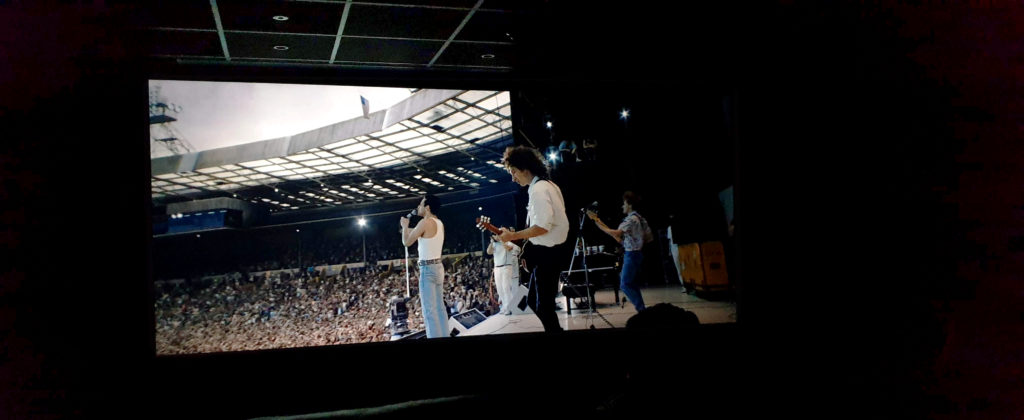 High-performance audio in the Reference Cinema Room was provided by KEF THX and Reference in-wall speakers, as well as four active subwoofers from Definitive Technology, Classé power amps, and a Marantz MM8077 power amplifier driving the height speakers. A Marantz AV8805 pre-amp performs 13-channel immersive-audio processing.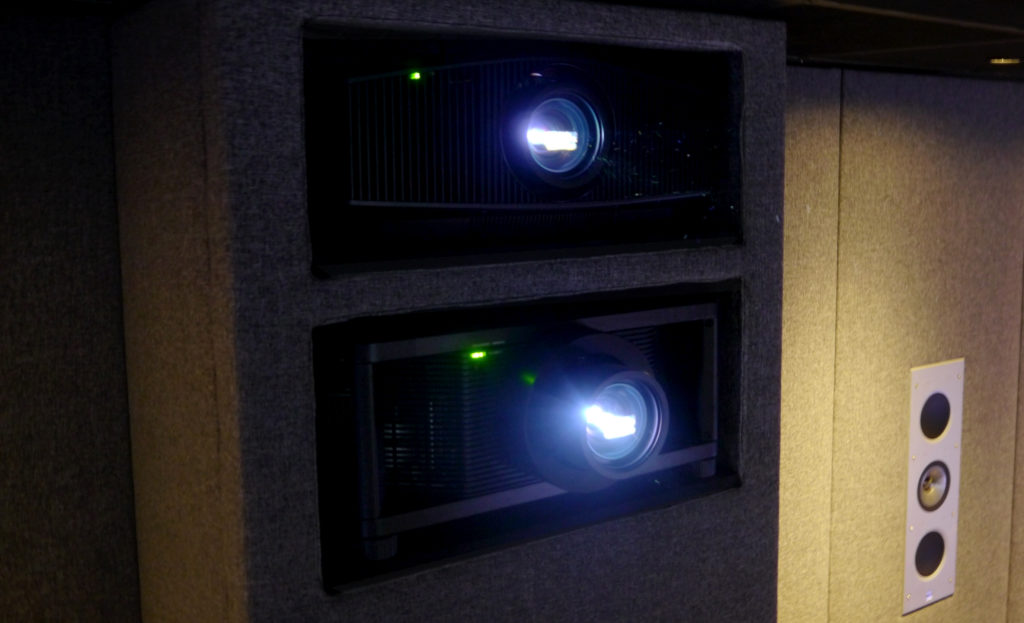 AWE's Home Cinema Product Manager, James Drummie, provided demonstrations of the Reference Cinema Room throughout the Expo – I sat in on one and was hugely impressed – apart from the fact that I had to watch a scene from Bohemian Rhapsody… I'm not a Queen fan, but don't stop me now…
I asked Adam Dover, Trade Marketing and Home Cinema Account Manager at Sony Professional Solutions Europe, to tell me more about what his company was demonstrating: "The AWE Expo is a showcase for Sony's flagship laser home cinema projector range. AWE's show apartment offers a unique opportunity for dealers to experience the range for themselves, but also share that experience with their customers – the VPL-VW5000 and the VPL-VW870 offer exceptional image quality and should be seen first-hand."
Performance Cinema Room
The smaller Performance Cinema Room in AWE's Show Apartment had also been upgraded, so visitors could experience an IMAX Enhanced demonstration, thanks to a 4K Sony VPL-VW570 projector with a Euroscreen 113" acoustically-transparent, fixed-frame screen.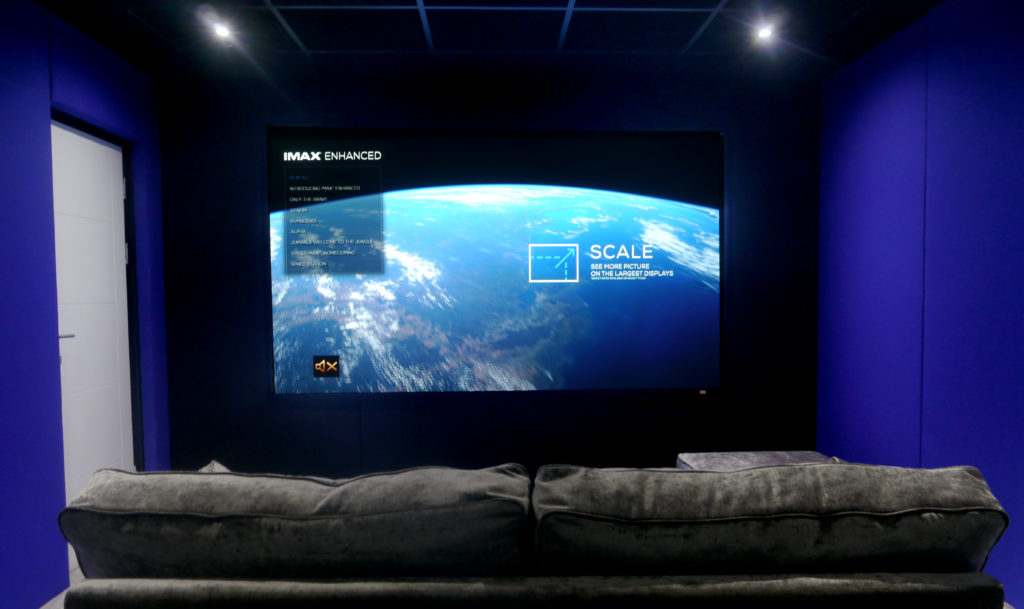 Adam continued: "It shows that Sony has projectors for a wide range of applications, including those for a smaller cinema room and a media room – AWE has done an exceptional job at upgrading the facility and Sony is lucky to have them on board. They add value."
Designed to replicate a converted garage or spare room, complementing the great visuals were the AWE Exclusive Reference In-Wall speakers from Definitive Technology in an immersive 7.4.4 configuration. These speakers are fully enclosed units with a depth of less than 10 cm. This even includes the awesome subwoofers, each of which houses two 10" drivers. The Marantz SR8012 AVR has enough amplification to drive all 11 speakers, with the subs powered by dedicated KEF KASA500 amplifiers.
The Living Room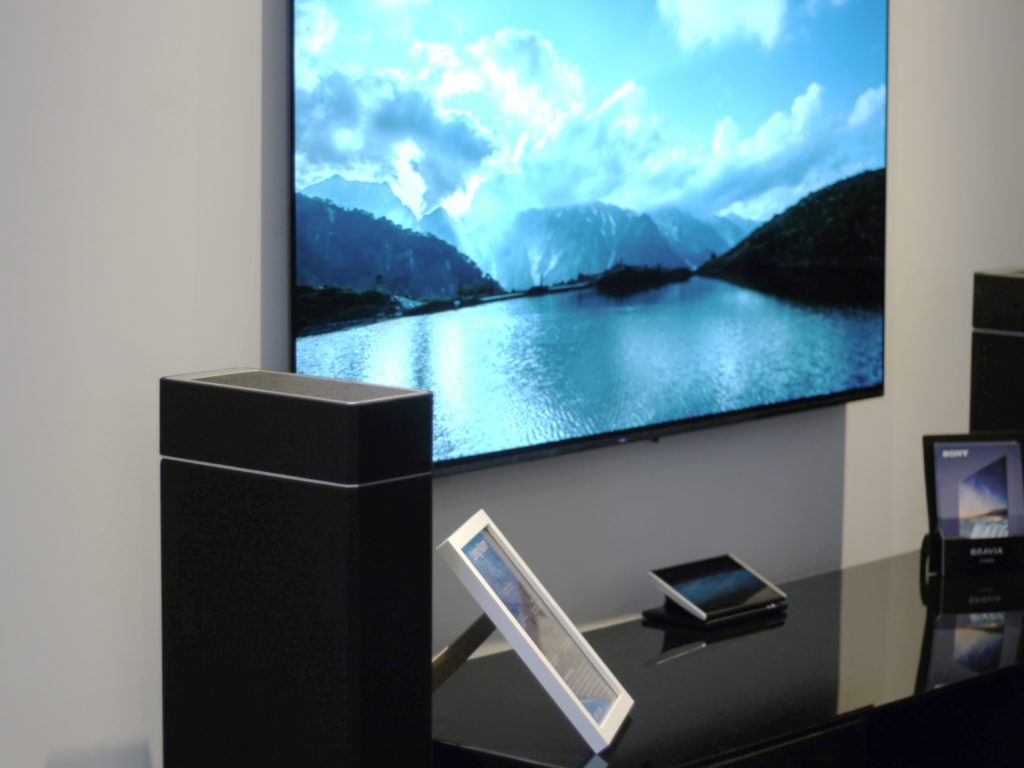 One of the highlights of The Living Room was the clever integration with Sony's flagship 65in AG9 OLED TV. Sony's Technical Product Manager, Nick Roos, said: "We're here to show off the latest and greatest technology and also engage with integrators – they're the people who decide which unit is right for the job. We can show them how our units can be more effective at making their job easier and also how the units can be integrated into a system. Our flagship and entry-level TV models all have the same level of IP control."
The room was using the Sony OLED's Acoustic Surface technology to act as the centre speaker in a 5.2.2 system. This was being driven, along with the slim floor-standing BP-9060's and matching height speakers, and in ceiling surrounds, by the AWE Exclusive Marantz SR5014 AV amplifier. It made for a very clean looking, yet powerful media room solution that's great for music and movies.
The Den
New for the Show Apartment was The Den – a cosy and comfortable space to relax in and enjoy the sound of a pair of KEF R Series speakers, driven by the new Marantz NR1200 two-channel receiver. Audio performance is impressive and at first glance this is all you can see.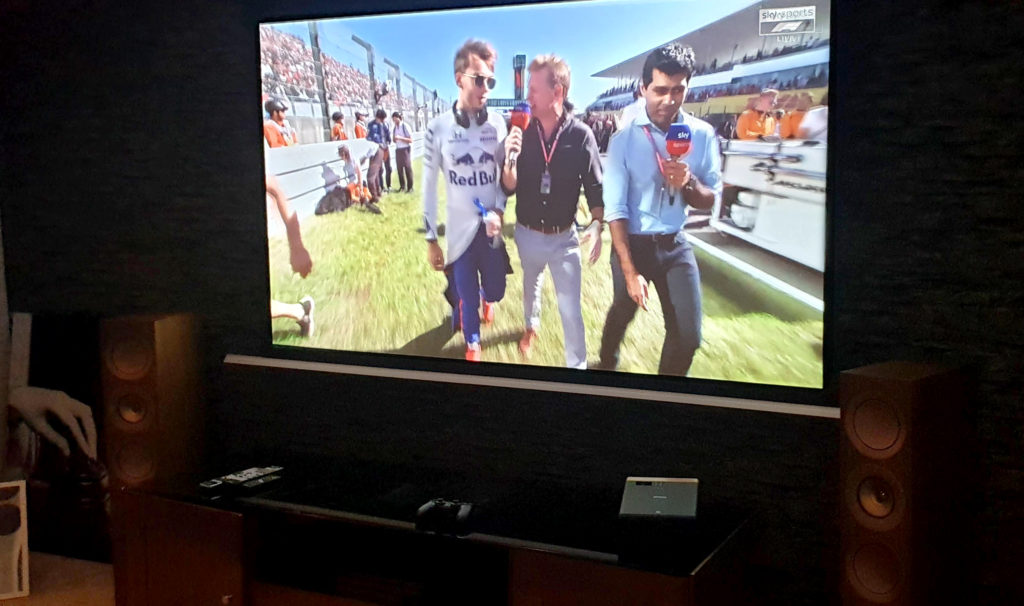 Other highlights of The Den – my favourite room in the show apartment – included an electric 104" Euroscreen in-ceiling projection screen, the new Epson EH-TW7100 4K PRO-UHD projector and the new EH-LS500 ultra-short throw 4K PRO-UHD laser projector, Philips Hue and Qmotion blinds. All this activates when you press a button on the very pretty TDC-7100 desktop controller from URC. I must also mention the comfy beanbag chairs – I could've spent all day sat on one of them enjoying the performance, hiding away in The Den, but needs must…
Read Part 2 – Audio Control & Accessories
More from Definitive Technology
---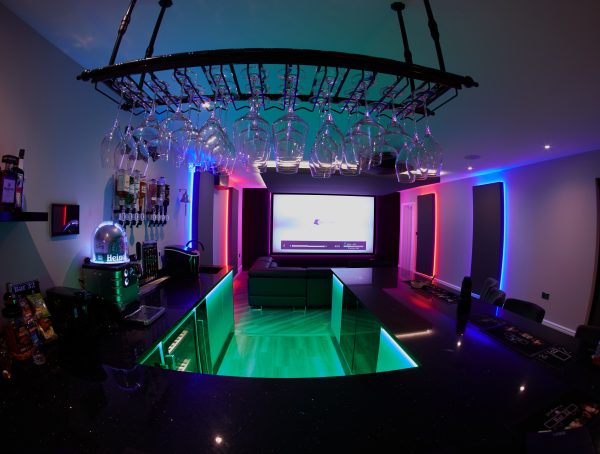 1.8K
For one fun-loving couple in Maidstone, creating the entertainment space of their dreams was made simple thanks to integrator DPP …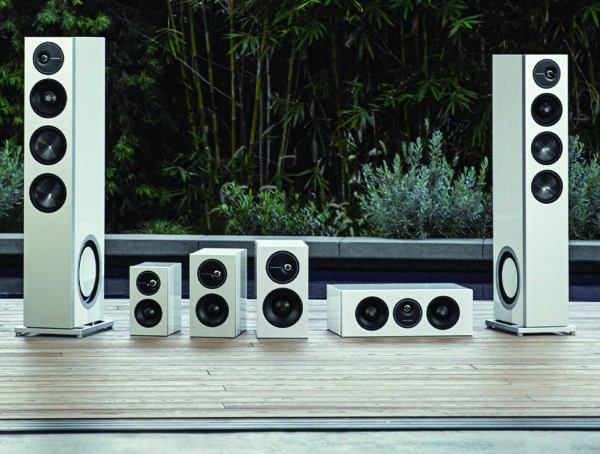 1.5K
Sound & Vision Top Pick 'A handsome system that sounds very good with just about everything, and with enough bass …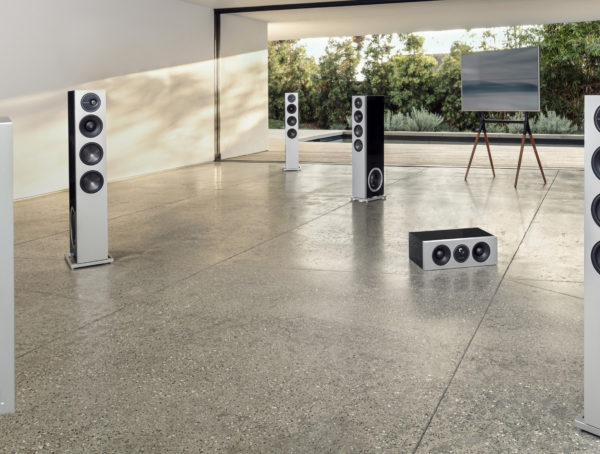 1.6K
Definitive Technology has added the Demand D15 and D17 Floorstanding Speakers and D5C Centre Channel to the Demand range. The Demand …
Editor Picks
---