Installed by Immersive Cinema Rooms
A family in Flitwick, Bedfordshire now has a fun cinema space in their home rather than an unloved box room thanks to integrator Immersive Cinema Rooms, utilising numerous products from AWE.
Earlier this year, Stuart Burgess, Director of Immersive Cinema Rooms had a chat with a client about turning an odd room that was borne out of an extension to their home into something a little bit different.
"The owner had bought a house and put a big extension with a kitchen and indoor swimming pool on the back, but it had created an unusual space in one area," he says.
"He talked to us about making it into a TV room, but he told us that he already had two 65in TVs in his home, so we said to him 'how about doing something exciting with a bigger 100in screen, home cinema projector and surround sound, with the speakers hidden behind fabric walls?'"
So, given the go-ahead Stuart and his team did just that – creating a cosy cinema space complete with four striking, orange-coloured reclining seats from FrontRow and a shag pile carpet.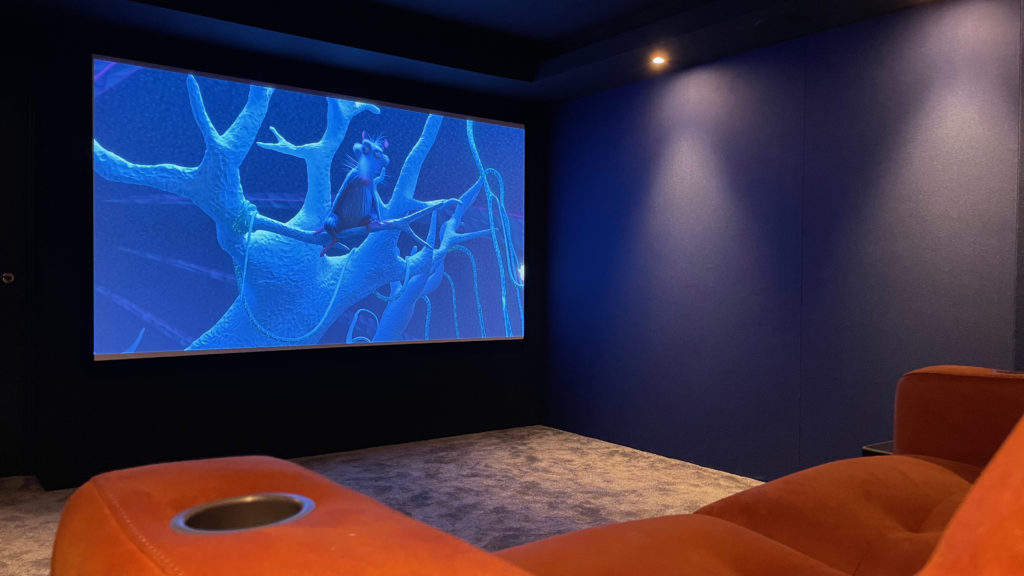 "We even put a raised platform in there, even though it didn't really need it, to make it feel a little bit more special," says Stuart. Fittingly, Immersive Cinema Rooms uses the strapline, 'Creating Fun Family Spaces', to advertise its business.
Challenges
The project, which after the initial planning in April this year only took 13 days to complete, wasn't without its challenges.
Measuring roughly 5×4 metres, the room had a structural beam in the way of where one of the speakers had to go as Stuart explains. "We had to bring out a column slightly because it was where the recommended placement for a Dolby Atmos speaker was, and then we had to mask it on the other side of the room."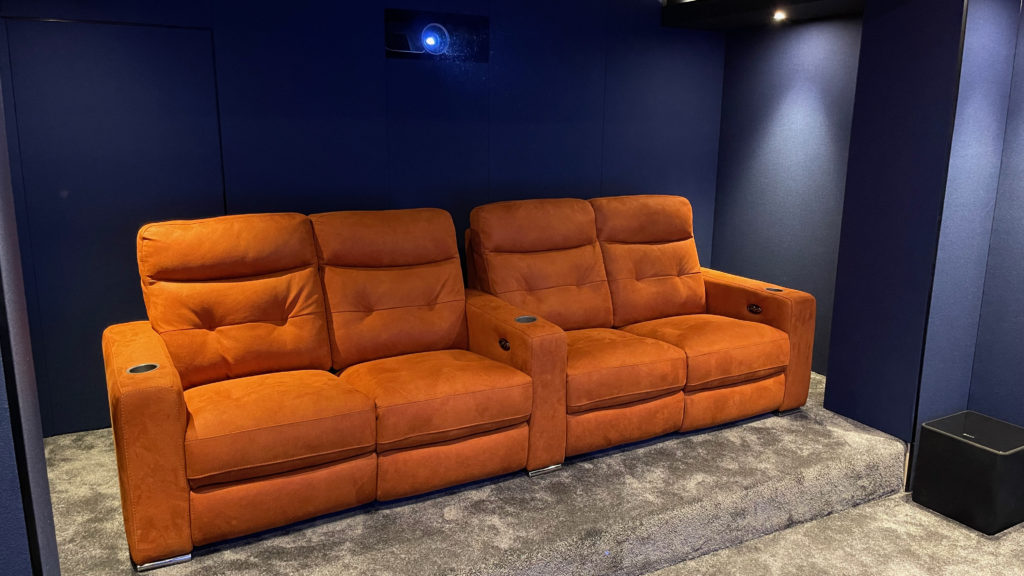 For the projector, Immersive Cinema Rooms chose an Epson EH-TW9400 model, supplied by AWE.
"It's a great performing projector, pound for pound, but one of the main reasons we chose it was for the very versatile lens shift – because of where the door into the room is, the screen is off-centre," says Stuart. "We wanted the projector to be in the middle of the back wall for best aesthetics – with the Epson, we could site it there, and lens shift it – you can't do that with some of the other projectors."
Immersive Cinema Rooms also worked with AWE to select a suitable AVR and specified the Dolby Atmos and DTS-X enabled Denon AVC X-6700.
"It had the right number of channels and suitable power output we wanted, and it was on budget for the client. It also has simple and reliable IP integration for a control system," says Stuart, who specified Control4 for the project.
The 100in screen came from Cinema Build Systems and had a 16.9 aspect ratio, as the client was a big sports fan so wanted the biggest screen in the best ratio that could fit within the compact space.
"We were limited by budget because the client didn't want to spend too much as was not a top priority. We got it finished in time for him to watch a big Vegas boxing match and he phoned me up the next day to say thanks, and that it was now his new favourite room in the house! He said he could see him and his family spending a lot of time in there," says Stuart.
Friends
On working with AWE, Stuart says: "I've known AWE for most of the years we've been in business – we see the whole crew there as friends and they're a great distributor. They usually have good stock levels, although that is tricky nowadays for anyone. It doesn't matter who you speak to there, they'll have your back – whether that's on budgetary or technical specifications. They go out of the way to help their customers."
He is also impressed by AWE's home cinema rooms at its Epsom HQ: "Until we opened our demo room, we always took our clients to AWE to see their amazing facilities. They also give great after-sales service and because of the brands they stock, there's something for every budget – from Epson entry-level to high-end Sony Native 4K projection, as well as speakers, multiroom audio and TV."
Investing
Stuart says that since lockdown, he's seen more of a trend for people investing in their homes – particularly cinema rooms.
"At the end of the day, if a wealthy family comes to me and wants a 15-seater home cinema, I'll happily build it, but we get so much pleasure out of taking awkward, unloved spaces, chatting to the clients and creating fun little home cinema rooms."
He adds: "We're not saying 'don't go to the cinema' – if you really want to see the latest Bond movie, do that – but if you want to enjoy something in the comfort of your home, then a cinema room is a great family investment. And it's not just dedicated for movies – we're seeing a trend for 16:9 aspect ratios rather than 21:9, as families want a room where they can watch sport, or the Strictly final, or play games. Cinema rooms are becoming social spaces that people want in their homes. We've learned that we don't always need to go out to have fun."
Take a deeper look at this project below:
More from Case Studies
---
Photo Gallery Situated in the heart of Borough and just minutes from the bustling South Bank, Brigade Court is a new …
Photo Gallery Dorset-based integrator, Maven AV, recently completed work on its most unusual project to date – a 17-room themed mansion …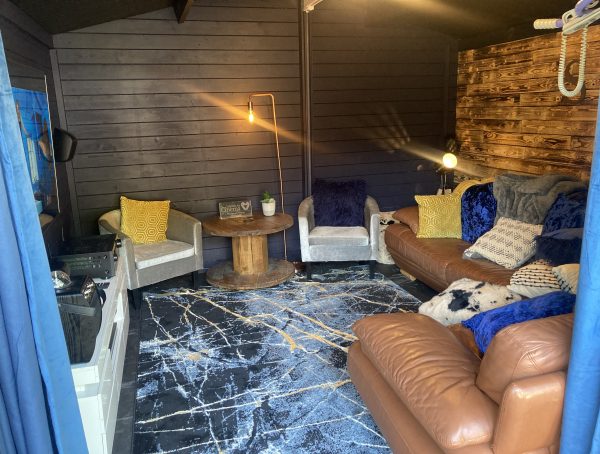 1.4K
As proud supporters of Together For Cinema (T4C), a wonderful charity that works with the AV industry to install cinema …
Editor Picks
---