"The room is a light and colourful space that could be distracting, but the brightness, colour and contrast levels provided by the Sony projector give an amazing picture that demands 100% attention."
We're pleased to have supported Guildford-based technology integrator and Sony dealer, PJ Hi-Fi, in the transformation of an empty basement at a family home in Sussex into a thrilling, multi-purpose cinema room, featuring native 4K projection from Sony.
The client approached PJ Hi-Fi with the brief to convert the large space beneath his double garage into a family cinema area. So far, so good. But this room would also have to do double-duty as a gaming space for the kids and a work-out zone for the family, all within a design scheme not naturally sympathetic to watching movies.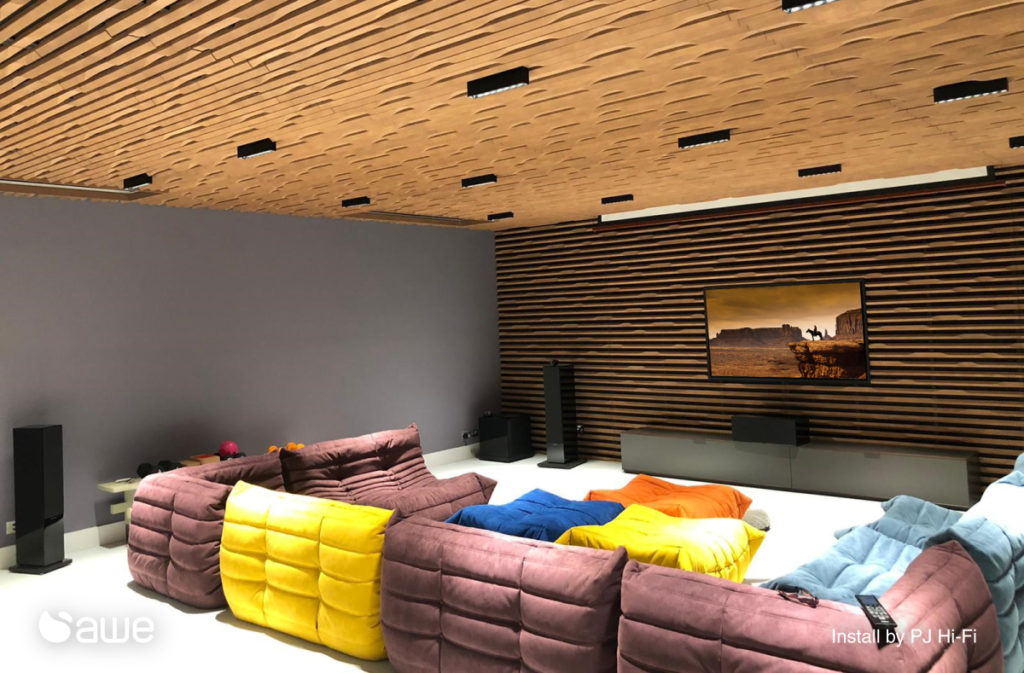 Andy Taylor from PJ Hi-Fi takes up the story. "Our customer really enjoys watching movies and listening to music. He made it pretty clear to us that he wanted a knockout, audio-visual experience and, for us, that made the choice of a Sony native 4K projector an absolute must. But, at the same time, this was not just a room dedicated to cinema. It was a space for all the family who were using it for different things. He also had a strong sense of how he wanted the room to look with a special slatted wood panelling system used on the ceiling and the wall behind the screen, and brightly coloured walls, furniture and flooring. All in all, we're delighted with the result – we've created a room that looks and sounds amazing, whatever it's being used for."
PJ Hi-Fi approached us for support and, working together, we were able to demonstrate the capabilities of different models within the Sony 4K range for the client to make their choice. A 4K SXRD™ (Silicon X-tal Reflective Display) Home Cinema Projector was selected from the Sony range with 1,800 lumen brightness. This met the client's demands for an exceptionally crisp and lifelike 4K picture, delivered sufficient brightness for a great image even in this light room and came in at the right price to fit his budget for the project.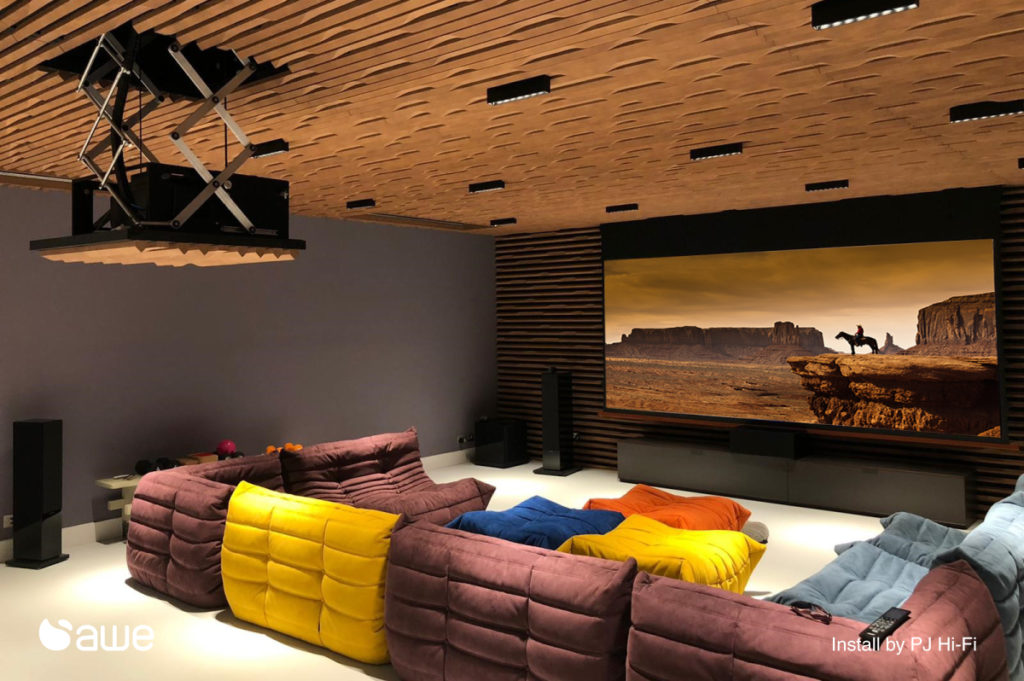 The result is true 4K resolution, richly detailed images, deeper blacks and clear and smooth cinematic motion thanks to Sony's native 4K (4096 x 2160) SXRD panels and 4K Motionflow technology. The projector also offers high dynamic contrast at 350,000:1 with advanced Iris control, and features Picture Position Memory. This has been especially important considering the different uses the projector is put to in this space, making it capable of adapting effortlessly to different screen ratios including 16:9 for gaming and 2:35:1 for the true cinematic experience, all at the touch of a button and without the substantial extra cost and complexity of incorporating an anamorphic lens.
The projector is housed within the ceiling, automatically appearing on a Future Automation lift when cinema mode is activated on the control system. At the same time, the 3.5m wide screen drops over the room's Sony 65" OLED TV screen, installed for those times when the room is being used as a gym. PJ Hi-Fi has installed an immersive audio 5.1.2 Dolby Atmos sound system for the space using an AV receiver and front, centre, rear and height channel speakers to complement the projector's fine picture with two free standing sub-woofers for extra bass and impact. A Sony professional UBP-X1100ES 4k Blu-ray player, Apple TV, XBox and a Sonos Port act as sources for the system.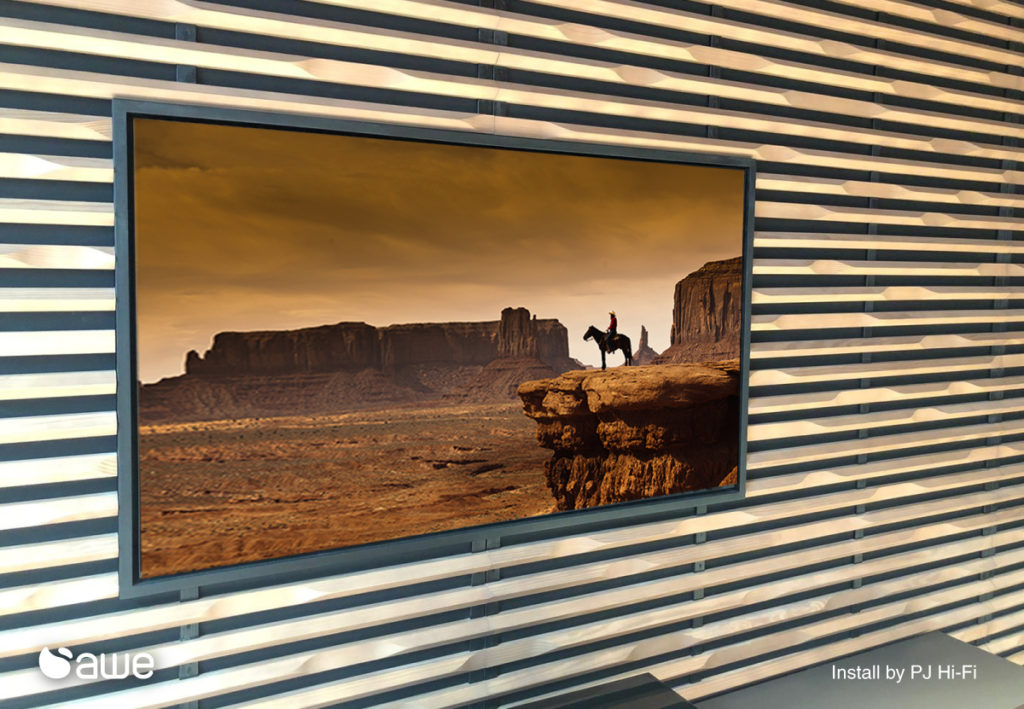 PJ Hi-Fi insisted on acoustic treatment for this multi-purpose space because of the harsh, hard surfaces required for the gym equipment. Working with the client, a slatted wood panelling system was found that would deal effectively with the acoustics and look fantastic in the space. These slats help break up and disperse the sound waves, whilst an acoustic wadding between the slats adds further sound absorption. This panelling system allowed PJ Hi-Fi to flip the room acoustic treatment rule book on its head and provide the best of both worlds for the customer.
Elsewhere, PJ Hi-FI integrated Rako smart lighting control together with Somfy motorised skylight blinds, Cool Plug Pro air-conditioning to the control solution and a fast and stable wired and wireless network system.
And how happy is the customer with his new multi-purpose room?
"Everyone loves it," sums up Andy. "The Sony projector and TV are seeing plenty of action in 2020, especially with the family at home for so much of it because of the COVID-19 situation. The picture quality is just so good. Of course, it's used for movie nights, but also for watching box sets, playing games like Minecraft and when Mum or Dad are taking part in virtual yoga classes and other shared activities. The room is a light and colourful space that could be distracting, but the brightness, colour and contrast levels provided by the Sony projector give an amazing picture that demands 100% attention. It's fantastic."
More from Case Studies
---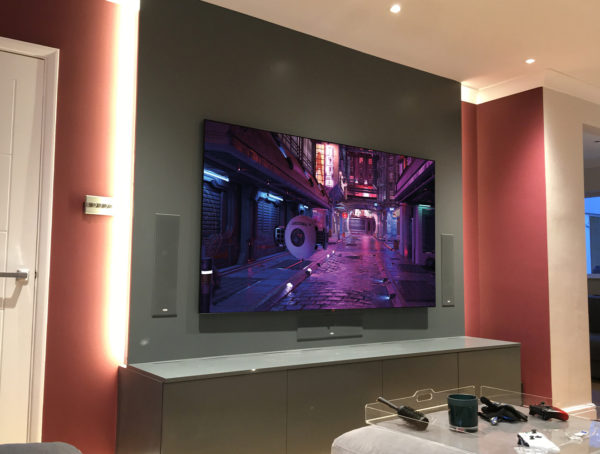 692
When a husband and wife duo started to modernise the detached family home that they share with their three children …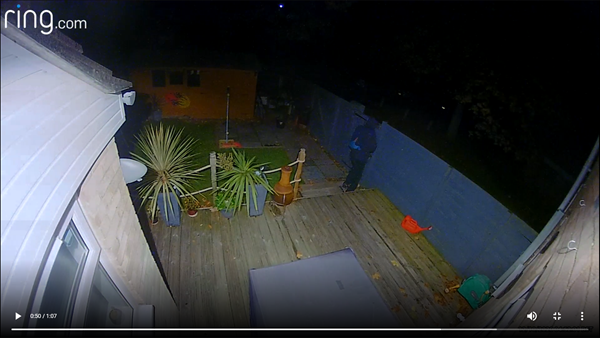 741
When a homeowner installed a new Ring X Line security system, he didn't expect it to prevent a break in …
CASE STUDY: Retirement peace of mind in the Surrey Hills Dealer: SMC Products: Ring Video Doorbell Elite X, Ring Floodlight Cam X, …
Editor Picks
---