Photo Gallery
Award-winning CI distributor, AWE, has worked with Worthing-based technology integrator, Aktivworld, to create a cutting-edge basement home cinema that not only achieved, but exceeded the homeowner's expectations.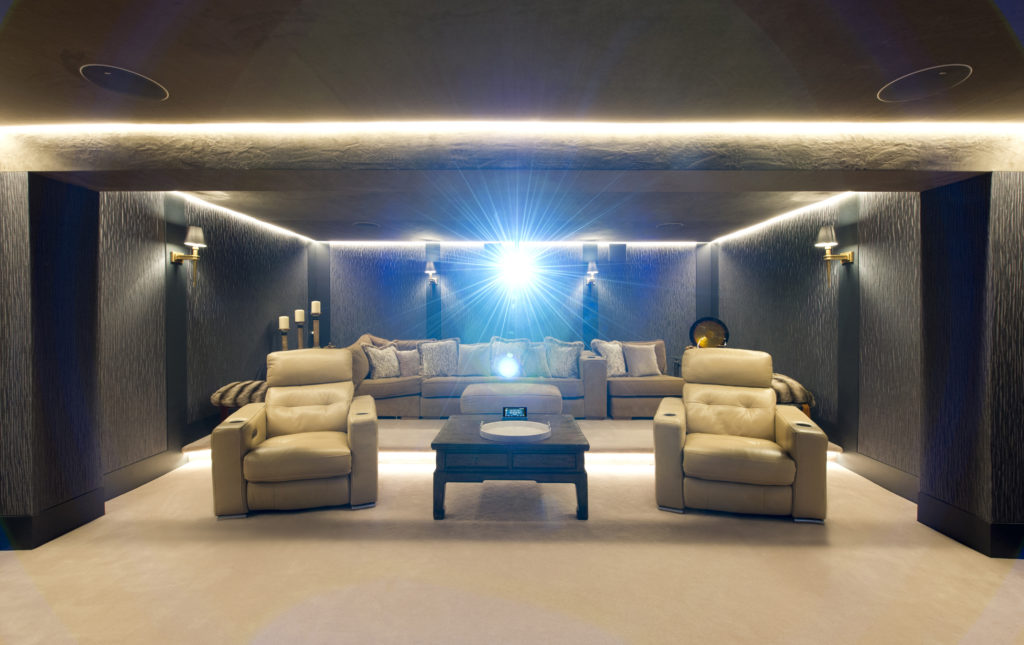 The residential property in Esher, Surrey, was undergoing a major refurbishment, which involved the design and execution of a brand-new dedicated home cinema in the existing basement storage area.
The integrator was faced with an initial challenge to identify exactly what level of home cinema was required, resulting in a visit to the AWE Showroom in Epsom so that the client could experience a range of technologies and solutions for themselves.
Following a demonstration, the homeowner opted for a large screen and professional projection system, alongside a high-performance audio system with a single point of control. With the level and quality of home cinema set up confirmed —a Dolby Atmos 7.4.4 system with a fixed screen and a 16.9 ratio — Aktivworld specified a number of products from AWE that would provide the ultimate wow factor.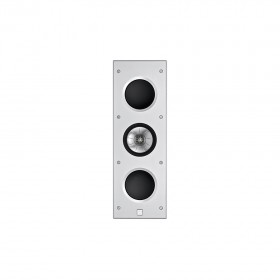 For powerful, mind-blowing audio to match the display, Akitvworld installed three KEF Ci5160RL speakers for the LCR channels, two KEF Ci3160RL for left and right surround, two KEF Ci3160RL for rear surround channels, and four KEF CI200QR for the front and rear height channels. These THX-certified full range speakers ensure jaw-dropping sound is heard from any location in the home cinema, no matter where the homeowner or guests are sitting, thanks to enhanced dispersion characteristics much wider than in-wall speakers typically achieve.
Given the nature of the basement construction and room size, Aktivworld installed the in-wall and in-ceiling speakers into custom-built sealed cabinets, made in accordance with the KEF optimum internal volume specifications for the best possible audio experience. The homeowner also specified that the speakers were hidden from view, so the walls were finished in acoustically transparent fabrics with a suede ceiling, as well as custom-painted speaker grills.
Aktivworld installed a Marantz AV8805 pre-amplifier, two Marantz MM8077 power amplifiers, and two KEF KASA500 amplifiers. Together, these products redefine the listening experience with thunderous bass and unparalleled precision, especially when paired with four Definitive Technology IWSub10/10 in-wall subwoofers for the ultimate audio boost.
In addition, the whole cinema room, including the walls and ceiling, was acoustically treated to remove any echo and provide the optimum audio isolation and reproduction properties.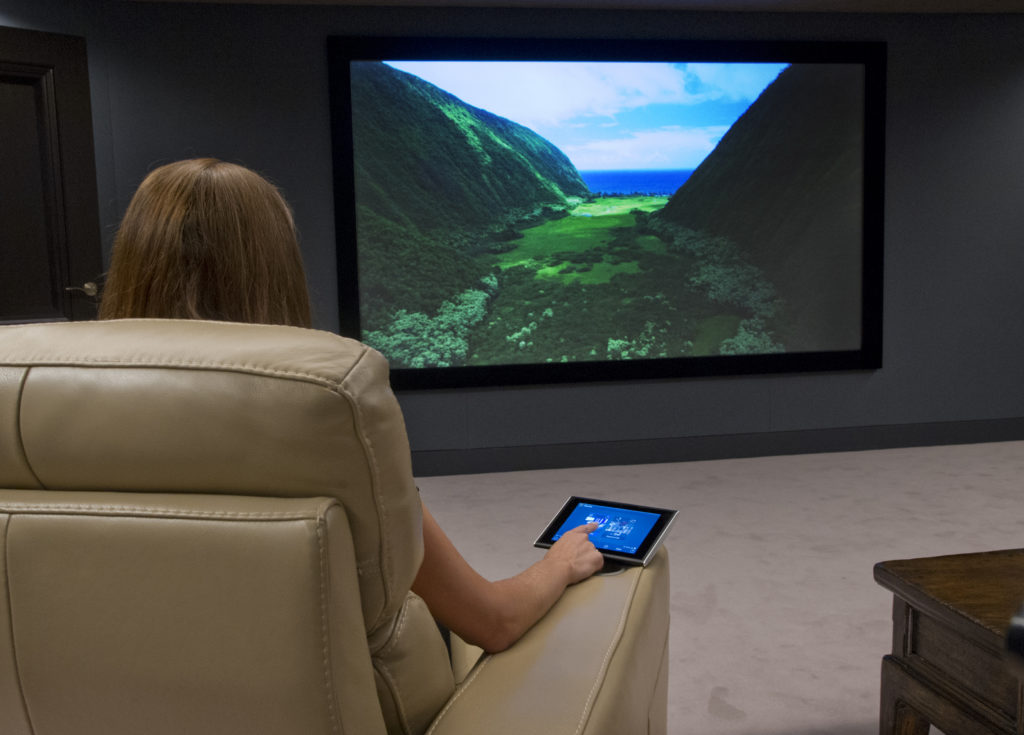 For the display, Aktivworld installed a custom-made 119" 16.9 Euroscreen Vision Vel-Tex ReAct 3 projection screen, which achieves an optimal flat viewing surface with enhanced light control, combined with an Epson 4K laser projector provided by AWE, a stand-out solution that produces vivid colours and absolute blacks. Delivering crisp, smooth lifelike images with superb brightness, the Epson projector provides the ultimate movie-watching experience, mounted onto a ceiling mounted drop pole projector mount.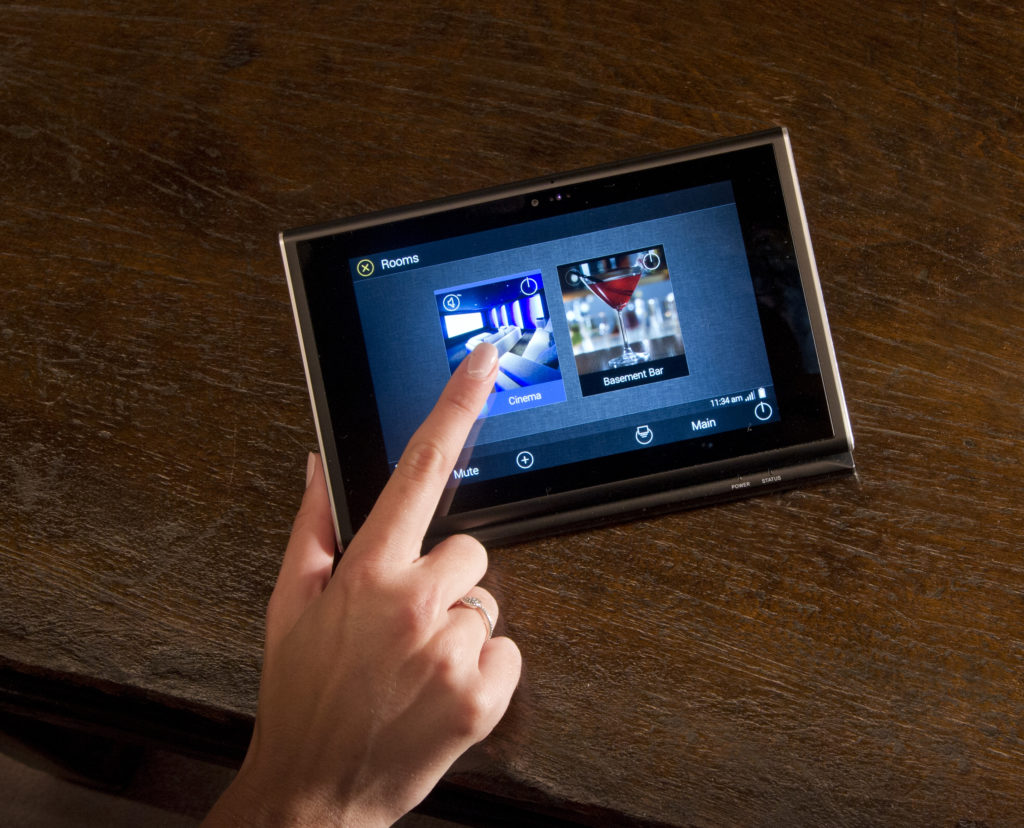 Whole-room control was achieved using the AWE-supplied URC MRX-10 Total Control 2.0 system hub, along with a URC TDC-7100 table top touchscreen. This intuitive and versatile solution allows the homeowner the simplicity in control they were looking for. The whole cinema is controlled via a bespoke custom user interface. The unique 7″ TDC-7100 desktop controller provides elegant, responsive control over the system with added security and room-to-room connection benefits, as well as a camera and speaker to work alongside the intercom system.
To finish the install, the home cinema also benefits from an intelligent lighting system, made up using lighting control components, which support the scene control via the installed URC TC 2.0 system.
Kevan Mcloughlin, Director of Aktivworld comments: "Overall, the installation is a stunning state-of-the-art home cinema with exceptional audio and video reproduction that I am very proud of. The interior design and finish of the room complements the technology to provide a truly stunning home cinema. From the initial demo and throughout the project, AWE provided exceptional support and service, with special thanks going to the sales and technical teams."
Please visit www.awe-europe.com and www.aktivworld.co.uk for more information.
More from Case Studies
---
For over 30 years, AWE customer IDES has been a leading provider of professionally installed home automation in Scotland. Based …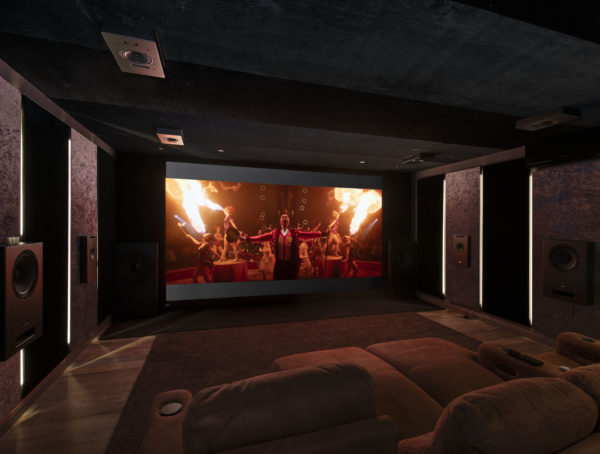 401
When a movie connoisseur approached integrator The Sound Counsel to upgrade his self-built dedicated home cinema, Nick Wearmouth – Director …
Photo Gallery Situated in the heart of Borough and just minutes from the bustling South Bank, Brigade Court is a new …
Editor Picks
---