Steve May reports on the recent AWE Expo, back and better than ever after a pandemic enforced hiatus…
Wow! AWE certainly made up for lost time with its spring 2022 Expo. Mothballed due to COVID, but back this year in the rudest of health, the popular trade showcase boasted a string of sound and vision exclusives for attending CI professionals.
CES may have misfired in January, but AWE Expo provided the perfect opportunity to catch up on the tech that mattered.
This year's showcase offered integrators an early look at the hottest new display technologies, QD-OLED and Mini LED, all-new home cinema solutions, and Hi-Fi to die for.
Yes, the first AWE Expo since 2019 opened with a bang. I dropped in on Day Four, and while MD Stuart Tickle and his team were sounding a little hoarse after a week of enthusiastic banter, the place was still buzzing.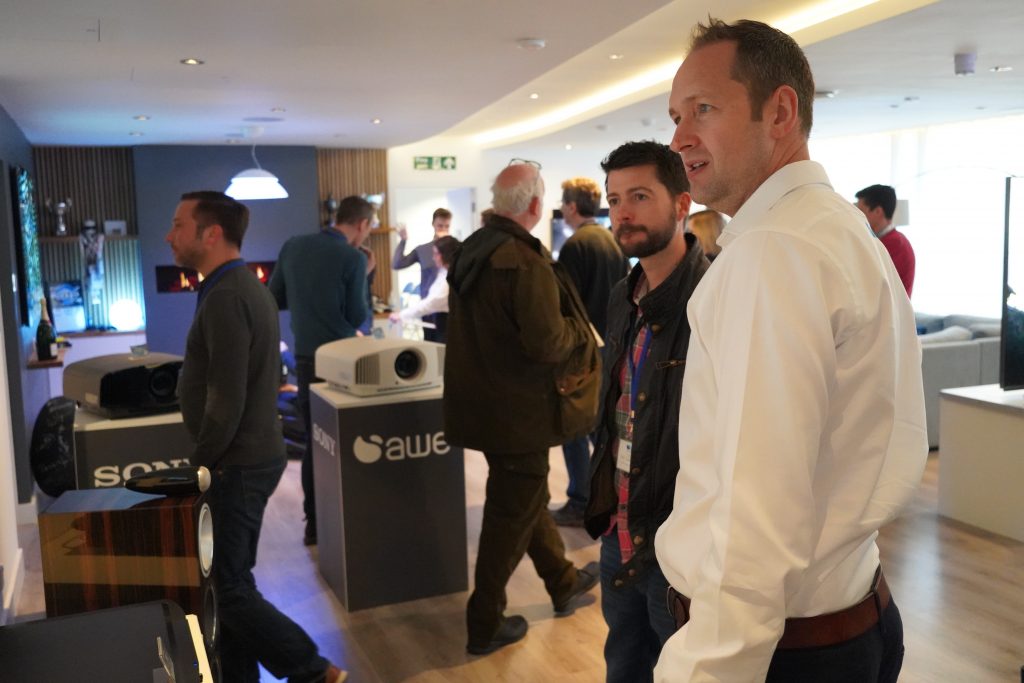 Let's cut to the chase, here are my five AWE Expo 2022 highlights:
AWE Reference cinema
Sony 65-inch QD-OLED BRAVIA A95K
AWE Performance Cinema
Rotel Michi X3 stereo amplifier
LG 42-inch C2 OLED
Bowers & Wilkins CI Series speaker range
Let's unpack this hit list a bit…
The most obvious change in the AWE portfolio is the arrival of Hi-Fi legend Bowers & Wilkins. The sheer breadth of Bowers & Wilkins product offering has allowed Stuart and his team to offer so many more solutions, from architectural speakers capable of true audiophile performance to Hi-Fi floorstanders able to match any calibre of amplification.
"Offering Bowers & Wilkins and Rotel alongside our Sony portfolio has created an incredibly strong offering," Stuart told me. "It gives us options with price points for installers. We can now partner Bowers & Wilkins with Marantz electronics, or Rotel, with Michi slotting in at the high-end…"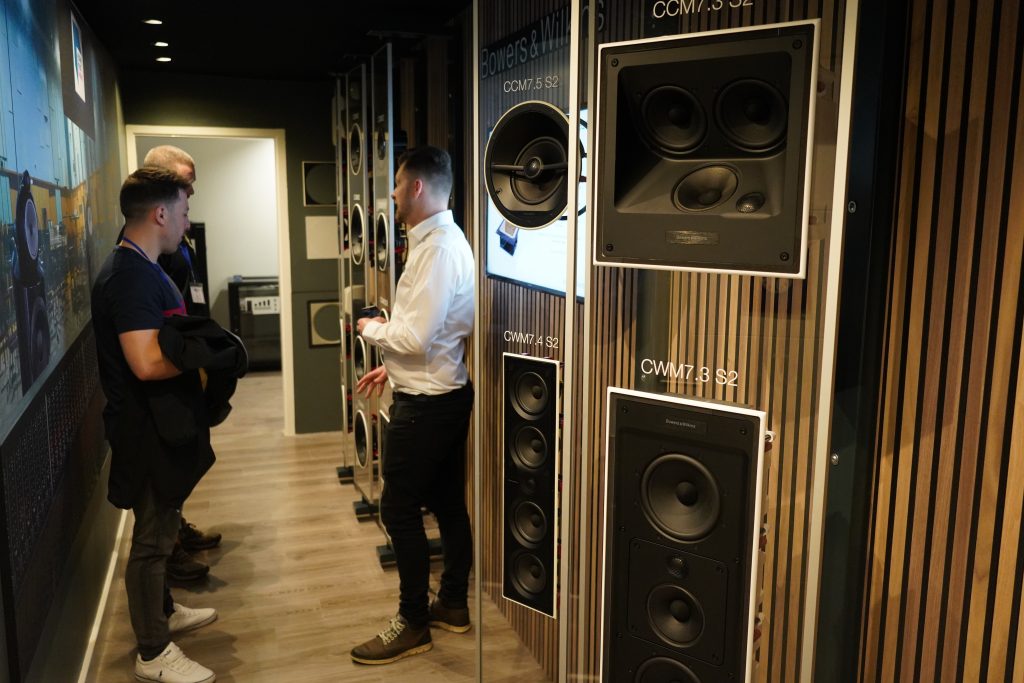 The impact of Bowers & Wilkins can most keenly be felt in the AWE Reference Cinema. Now home to a high-performance Bowers & Wilkins speaker system, arranged in a 7.4.6 Dolby Atmos configuration, the whole room comprises CI 800 Series Diamond speakers, which tonally are as close as you'll find, in-wall wise, to what's resident at Abbey Roads Studios.
Providing the muscle is a five-strong stack of Rotel power amps, housed in one of three Sanus 44U racks in the adjacent comms and control room.
Images in the Reference Theatre come via a Sony VPL-GTZ380 native 4k laser projector. This beast is something else. Capable of 100 per cent DCI-P3 colour gamut and 10,000 lumens output, it's one of the few projectors on the market able to do justice to HDR content (projectors don't do the same job as an HDR flat panel display, obviously, but there are stunning dynamics on view here). For integrators to compare and contrast, the theatre also has a Sony VPL-VW790 4k laser projector in position. The front of the house is a 4m Euroscreen screen.
To show the system off, I was played bits from Bohemian Rhapsody and Jumanji The Next Level. The unstressed audio, immersive and so powerful, and the sheer clarity and punch of the picture, was jaw-dropping.
"With Bowers & Wilkins, we now have an audio brand that complements Sony's Lens to Living Room story," Stuart told me. "Movies are shot on Sony cameras, mastered on their monitors, and come to living rooms and home cinemas via Sony projectors and screens. Likewise, with Bowers & Wilkins, film soundtrack scores are mixed on B&W speakers and then played back in the home with speakers that share the same DNA."
The total cost of the audio outlay in AWE's Reference space is £65k, with video adding £88k to the bill. Pricey, sure, but the value is evident in the experience; small wonder dealers who bring clients in report an enviable conversion rate.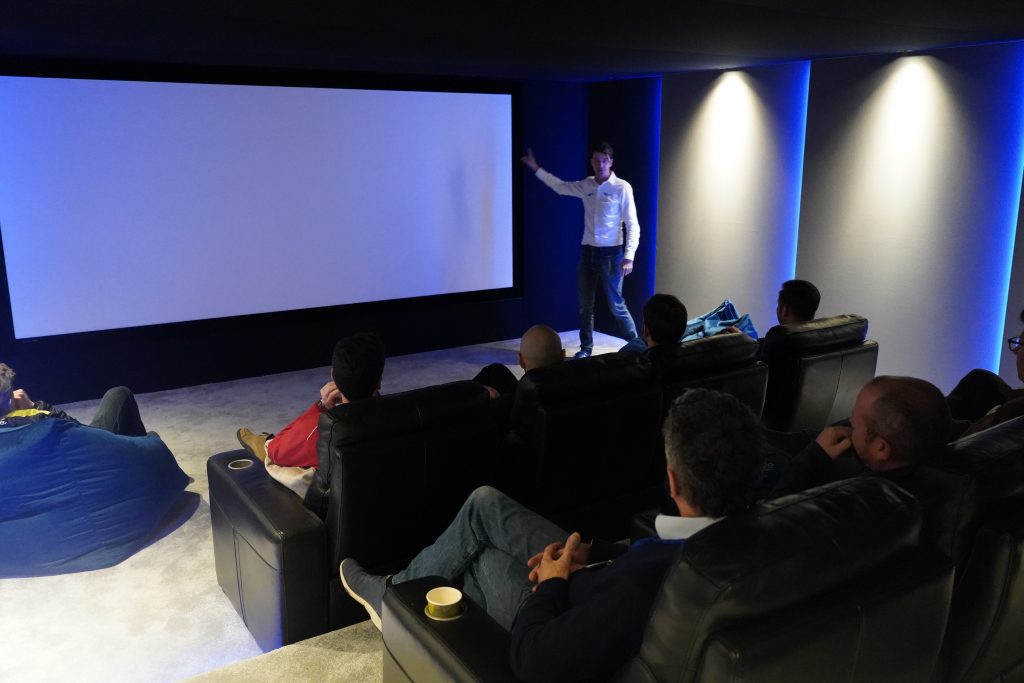 AWE's cost-effective Performance Cinema solution has also had a make-over, with Bowers & Wilkins 700 series architectural speakers and complimentary in-wall subs, powered by a single Marantz AV receiver and two sub-amps. Providing the picture here is an Epson EH-LS12000 laser projector and 3m wide Euroscreen screen. A high-octane race sequence from Le Mans 66 (aka Ford Vs Ferrari) proved suitably thrilling, the projector surprisingly cinematic. The room even sounded great with music.
Amazingly, the AV hardware bill for this compact theatre is just under £25,000, a near irresistible sweet spot for buyers. Installers with project budgets in that ballpark really need to check it out.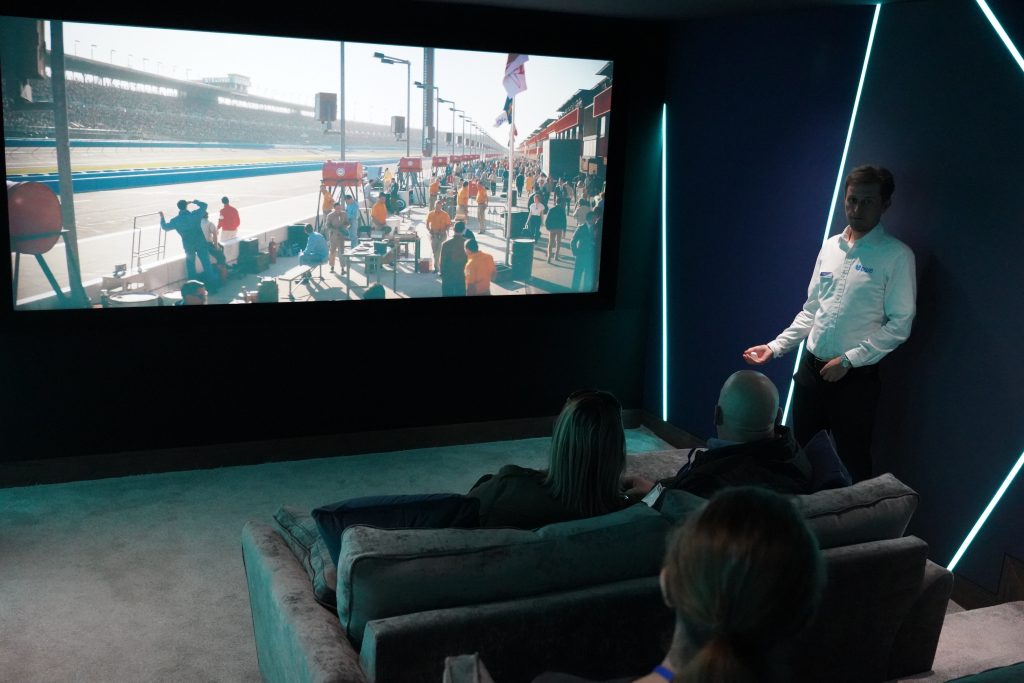 Elsewhere, Sony provided two huge exclusives for the Expo: the first trade showing off its new QD OLED (Quantum Dot OLED) Master Series BRAVIA A95K, and the Mini LED 8k Z9K.
Even if you had managed to get to Las Vegas in January, you wouldn't have seen the Sony QD OLED there, so this was quite the scoop. QD OLED is capable of a significantly brighter picture than conventional OLED, and offers superb colour performance and uncompromised off-angle viewing. It's likely to be one of the most talked-about televisions of the year.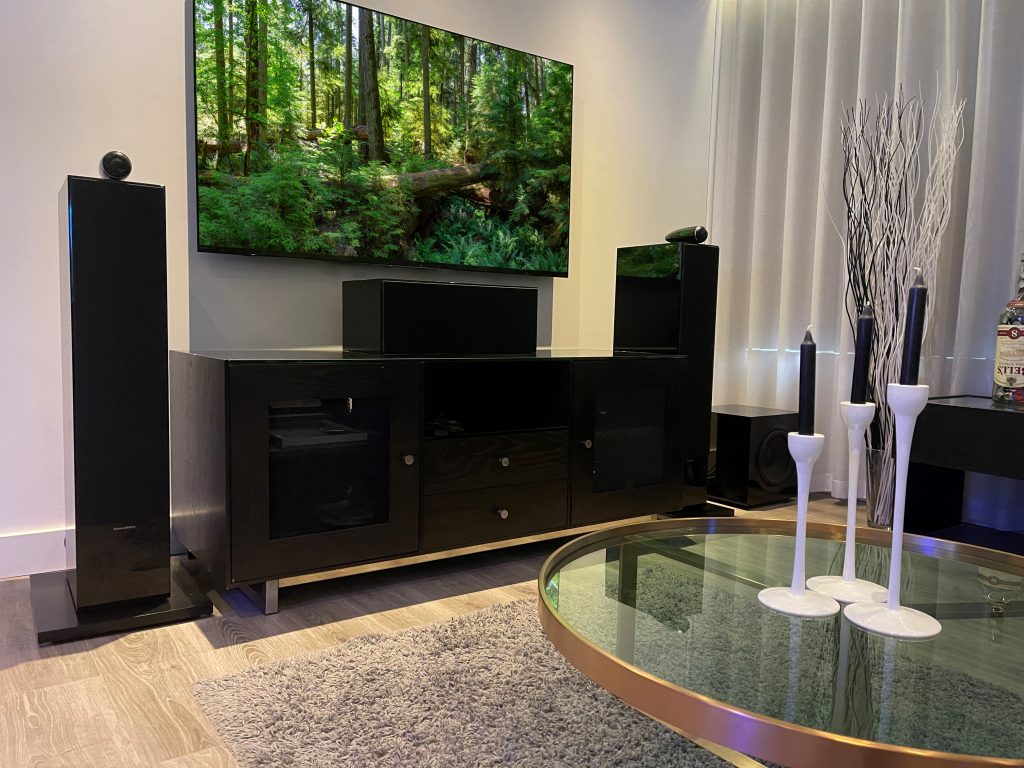 The new Mini LED 8k Z9K screen is just as noteworthy. Combining outstanding luminosity with high precision HDR, it's destined to be a genuine crowd-pleaser and looks perfect for gaming-centric media rooms.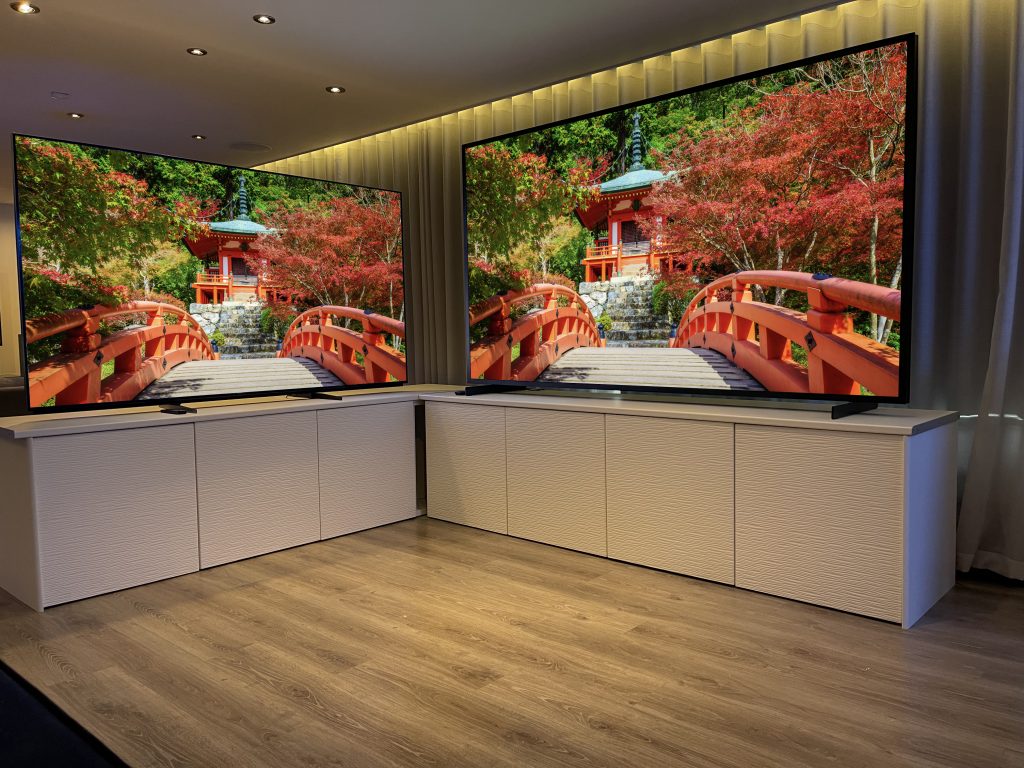 Of course, if you need to specify something a little more extravagant, AWE also offers LG's premium 77-inch Z2, an 8k OLED model with Signature branding. The image was superb.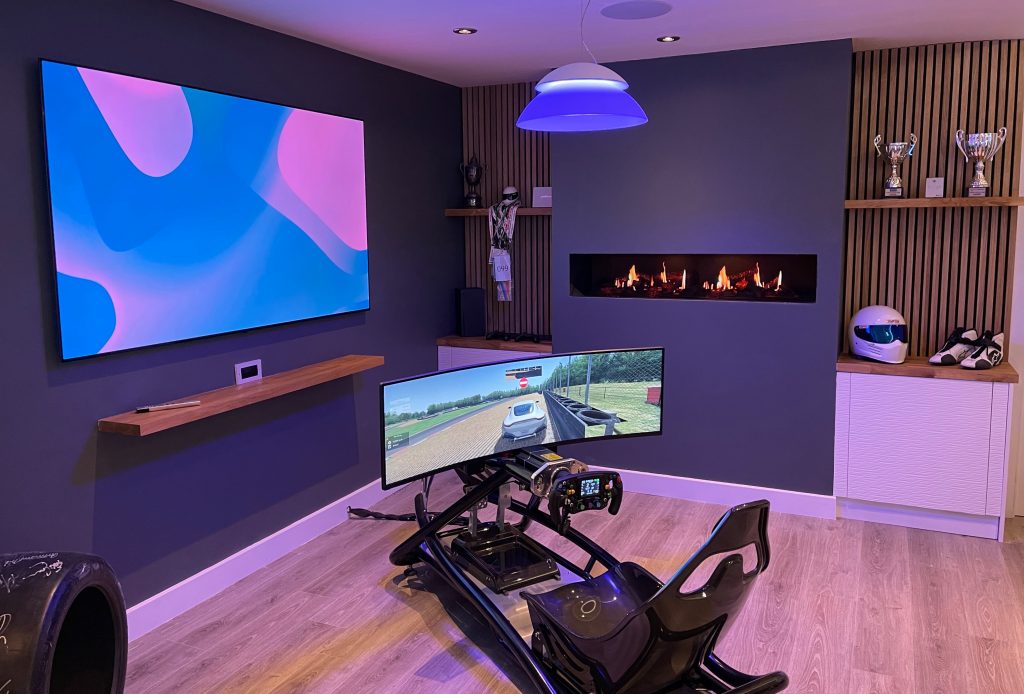 Rather more modest, there was also a 42-inch LG C2 OLED wall-mounted nearby, the smallest OLED panel from LG yet. I think this small screen has wide appeal, as you can literally pop it into any room, as well as use it for close quarter gaming.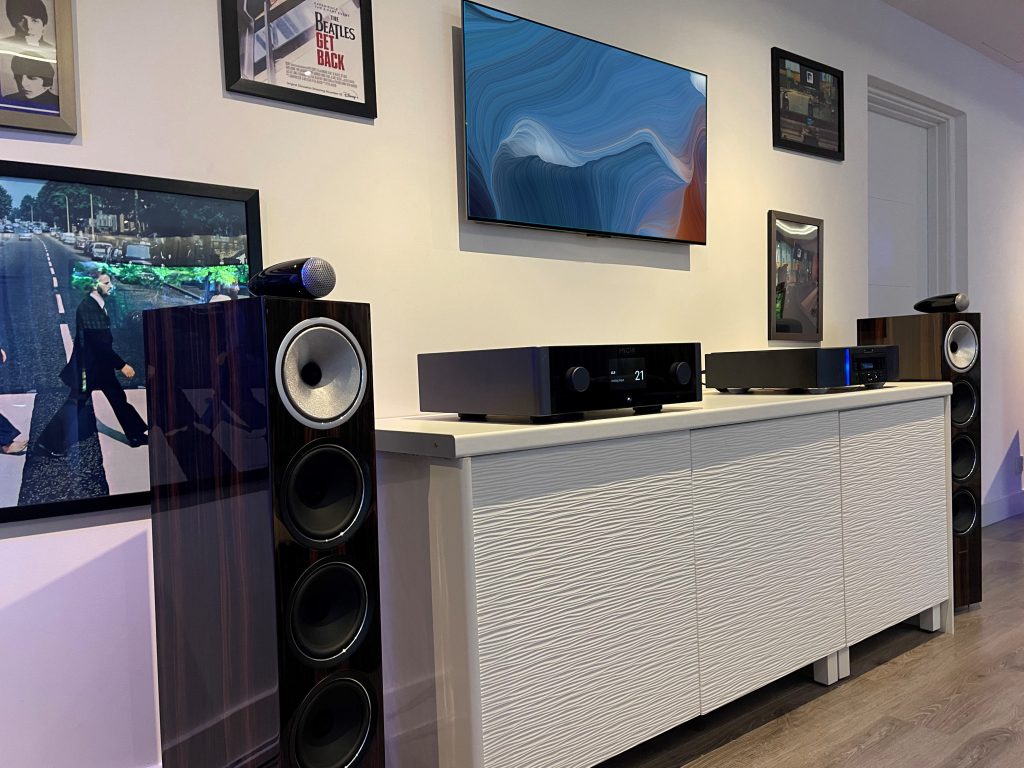 Rotel was also a big Expo winner. The brand looks like it'll finally attract the CI attention it deserves. Distributed by Bowers & Wilkins in Europe, the brand finally has the channel to market it deserves within the UK in AWE.
I particularly like the look of Rotel's new C8 and C8+ eight-channel multi-zone audio amps, and a snatched listen to the two-channel Michi X3 stereo amp, coupled to Bowers & Wilkins Signature towers and high-end Marantz CD player, sounded ridiculously fine, despite the competing bustle of the busy showroom.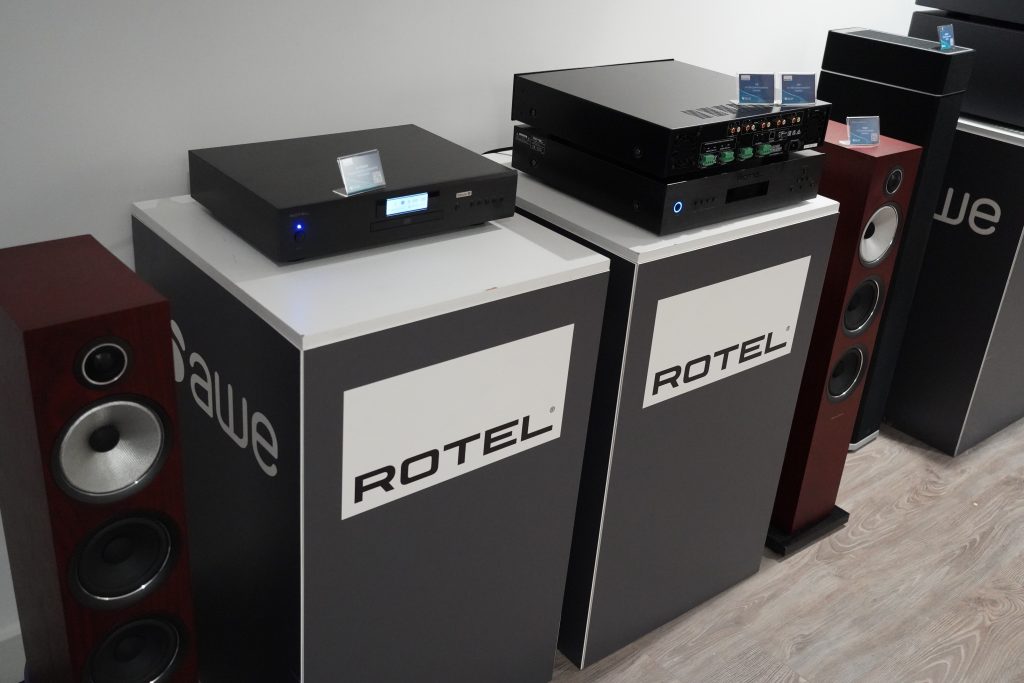 There was more at the AWE Expo, of course. The URC range of touchscreens, wall mounts and control options go from strength to strength, and AWE also offers an Epson Ultra Short Throw option, if conventional projection doesn't cut it. Finally, who could resist a go on the BPS Blade racing simulator? I hear it was a big attraction throughout the event, with attendees vying to win a Magnum of Moet in a fastest lap competition.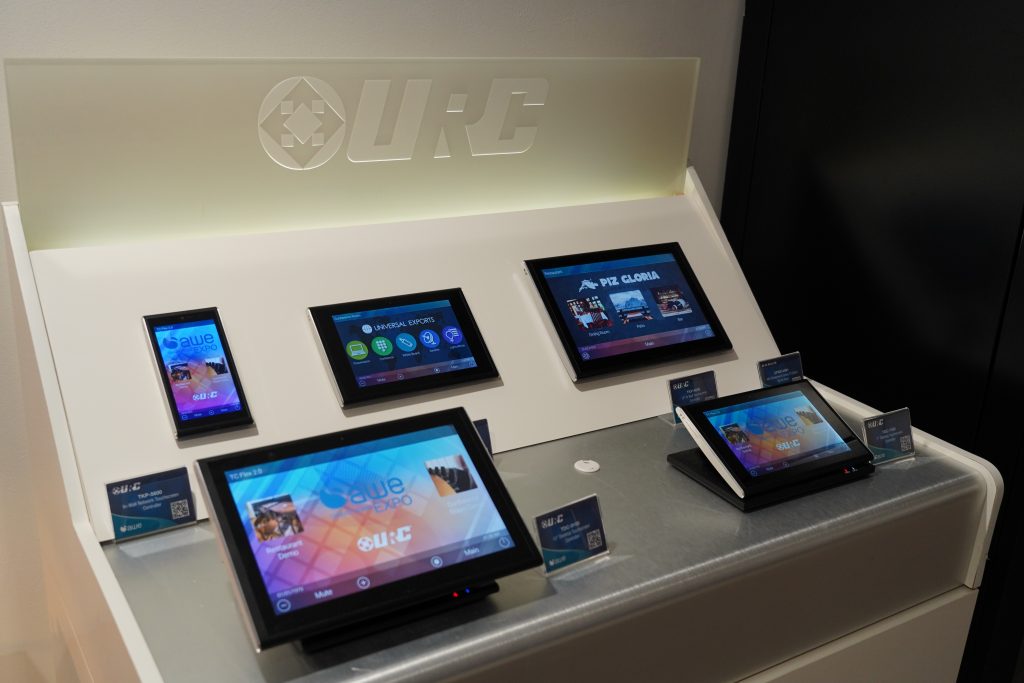 In fact, I had only one disappointment: I missed the traditional hog roast! Guess I'll have to budget even more time when I visit the next AWE Expo. You should too.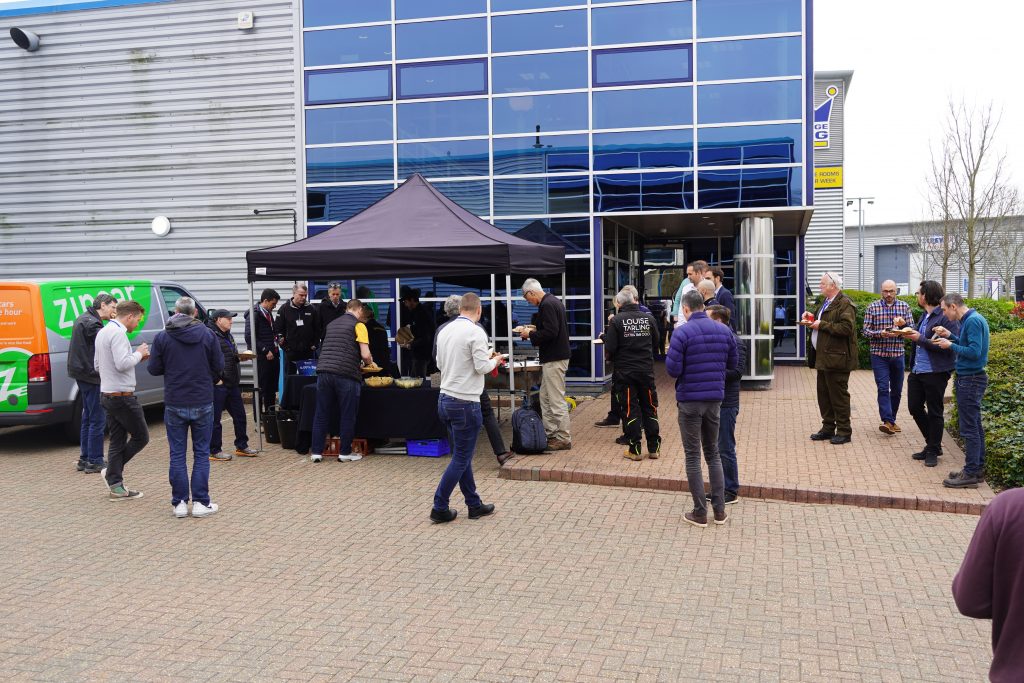 More from Bowers & Wilkins
---
How do you improve on a multi-award-winning loudspeaker range still considered as the best-in-category? Bowers & Wilkins have built upon …
Superb Subwoofers The long-awaited new in-wall subwoofers have arrived at AWE: the ISW-8 and ISW-6. The ISW-8 subwoofer has been extensively …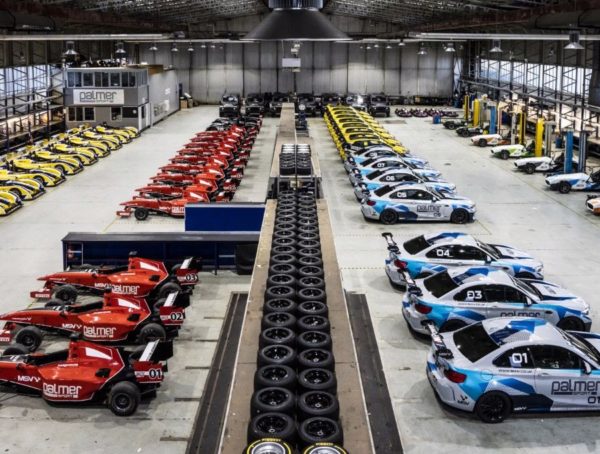 786
Winners have been notified! A select group of lucky integrators will be joining AWE and their brands at the AWE Motorsport …
Editor Picks
---