AWE's two cinema demo rooms, show apartment and training area have been overhauled with the latest AV equipment from its key brands. Richard Stevenson heads to Surrey for a day at the movies.
The last time I visited the Epsom, Surrey offices of AWE, half of the large ground floor area was a polished demonstration and training zone. The other half was a building site. A second, smaller, home cinema demonstration room was being installed, and the complex matrix of stud-work and dangling wiring looms brought flashback nightmares of my cinema build.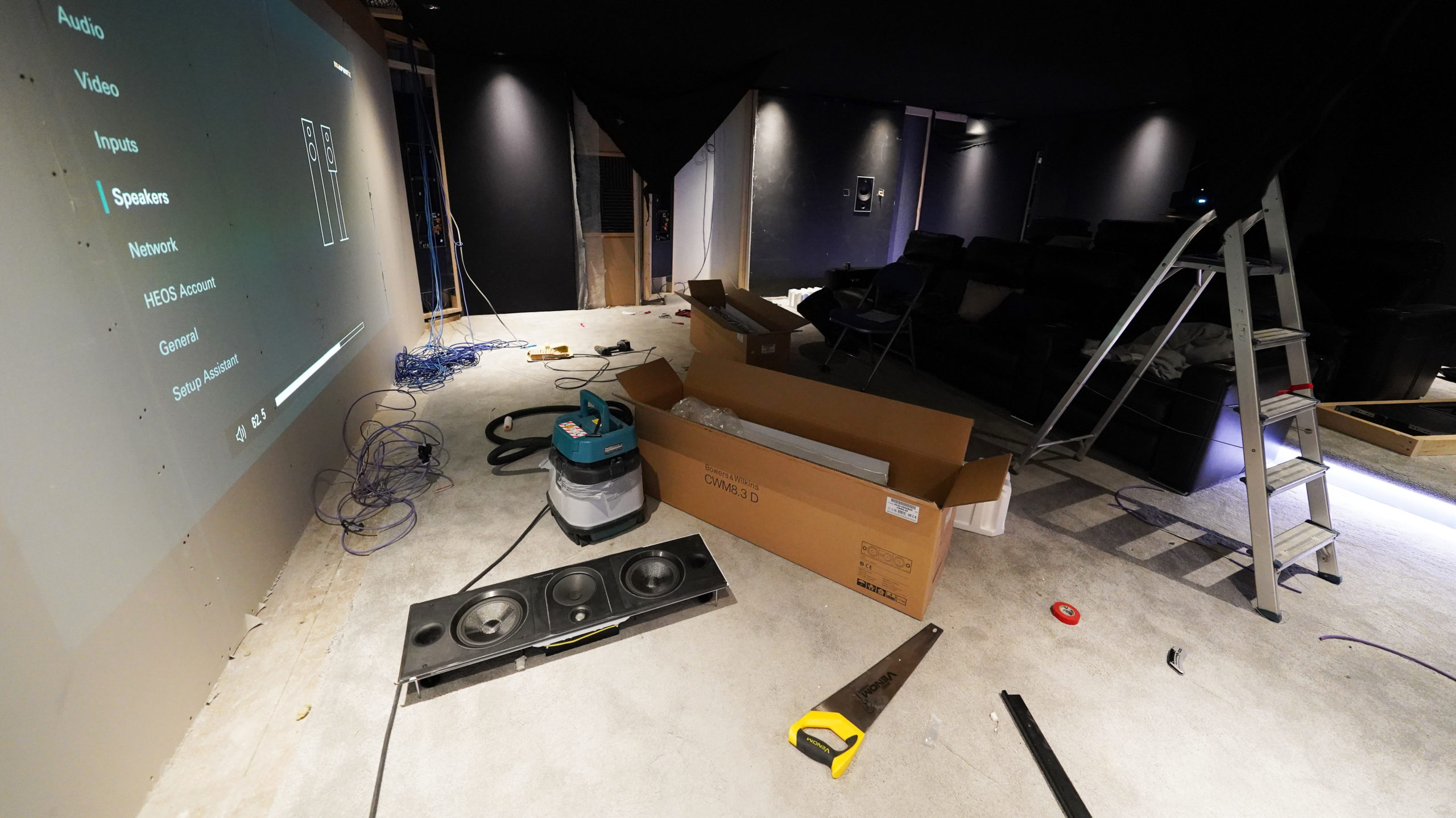 Now fully complete, AWE's demonstration and training area is an impressive mix of living room areas, a large stereo music listening room doubling as the training centre, and two fabulous home cinemas. The sizeable original room has been given an extensive refresh as the Reference Cinema, AKA Screen 1, while the new smaller room is the more affordable Performance Cinema – Screen 2.
Décor in both rooms is nearly identical, with stretch fabric walls fitted out with diffused RGB LED strip light channels to create a perfect 'neon' light effect. With matt black ceilings, downlights highlighting the wall panels, and black Front Row cinema seating in the larger room on a luxury mid-grey carpet, the aesthetic is pure home cinema. It works too. With AWE's integrators regularly bringing in their consumer customers for demonstrations, nailing a 'realistic' home cinema vibe was essential for showcasing what is possible in their own homes.
Starting with a tour around the large open demo area, this looks great with automated Silent Gliss blinds and curtains on the windows and a neat vertical blind wall separating a couple of small areas into a living room, lounge cinema, gaming area, kitchenette and study. LG's stunning OLED97G29 takes pride of place scrolling 4K HDR content with breathtaking clarity and colour, with a wall-mounted Sony XR-65A95K demonstrating what is possible with a slightly smaller screen.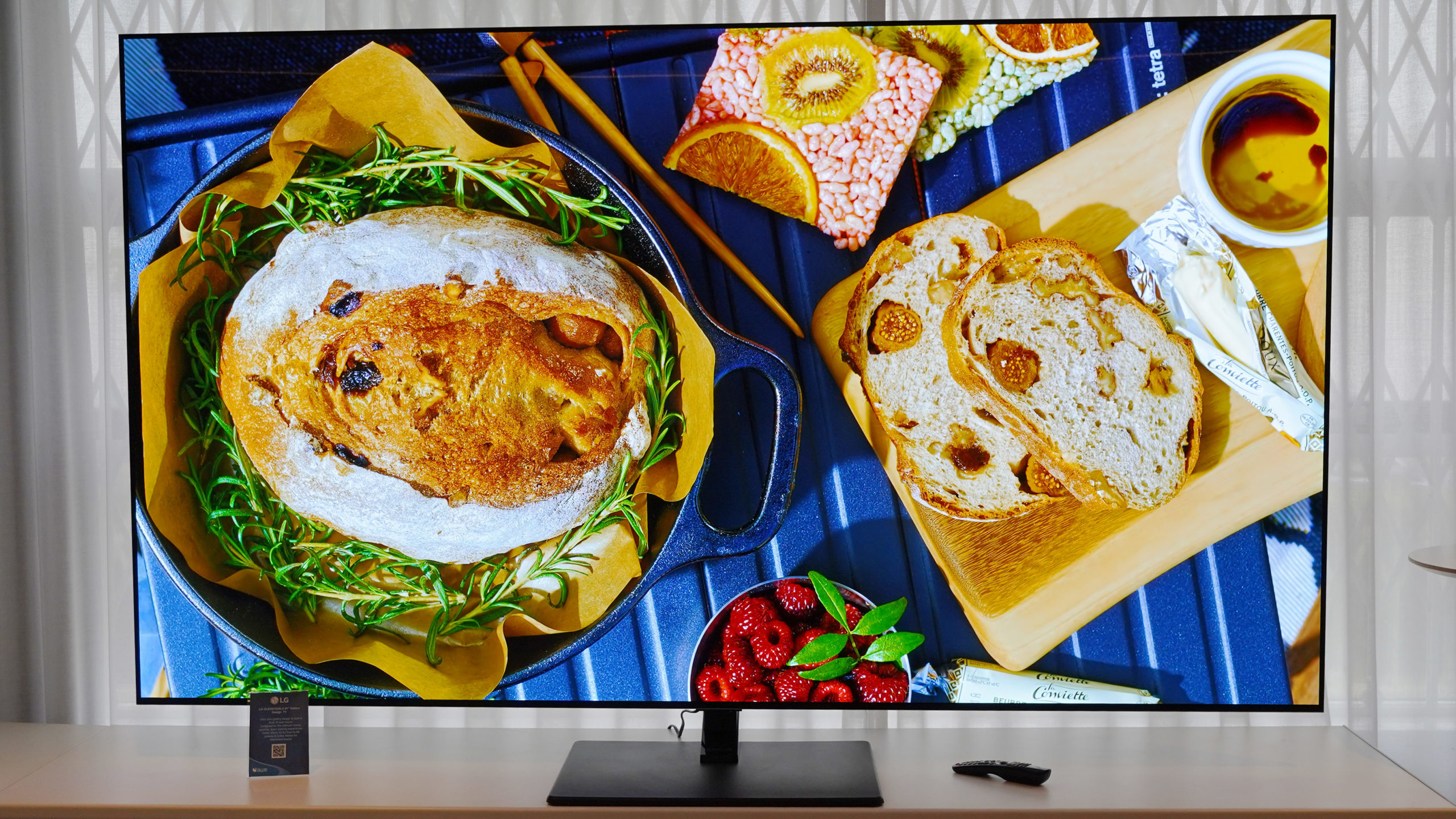 To one corner, there is what initially looks like a living room projector and 120" screen setup playing a vivid 4K demo disc. The image is bright and punchy despite its position beside the window and with overhead lighting switched on. What witchcraft is this? Is this a new projector based on lasers so bright they were probably repurposed from Regan's Star Wars project? No. In fact, it is Hisense's new 120L9HTUKA Laser TV ultra-short throw projector and dedicated ambient light-rejecting (ALR) screen, set up using AWE's custom Kinetik UST Cabinet designed for the purpose. So impressed was I with that setup it's getting its own review in Essential Install magazine.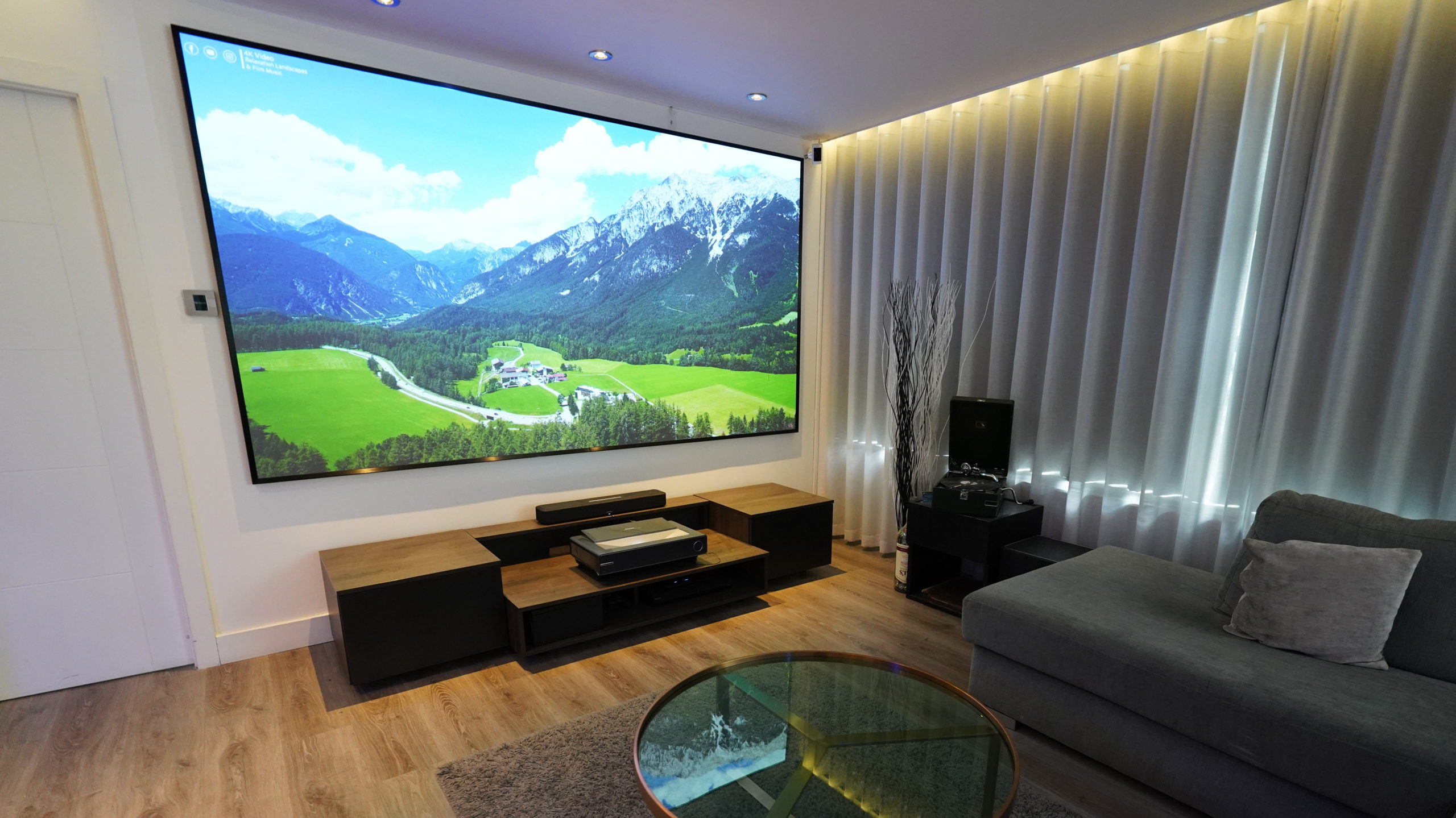 Now Showing, Screen 2
The new Performance Cinema room relates well to a typical UK 'spare' room, being under 4m wide and just over 5m in length. Front of house is a 3.3m wide, 2.40:1 ratio Adeo FramePro screen fitted with VisionAcoustic AT fabric and black velvet border. Not a brand I had heard of, but Adeo are actually the owners of Screen Research and designed to offer a more affordable yet still high-quality screen solution. The fine perforations looked great, and AWE's James Drummie commented it was straightforward to assemble and very solid. The projection is Epson's evergreen EH-LS12000.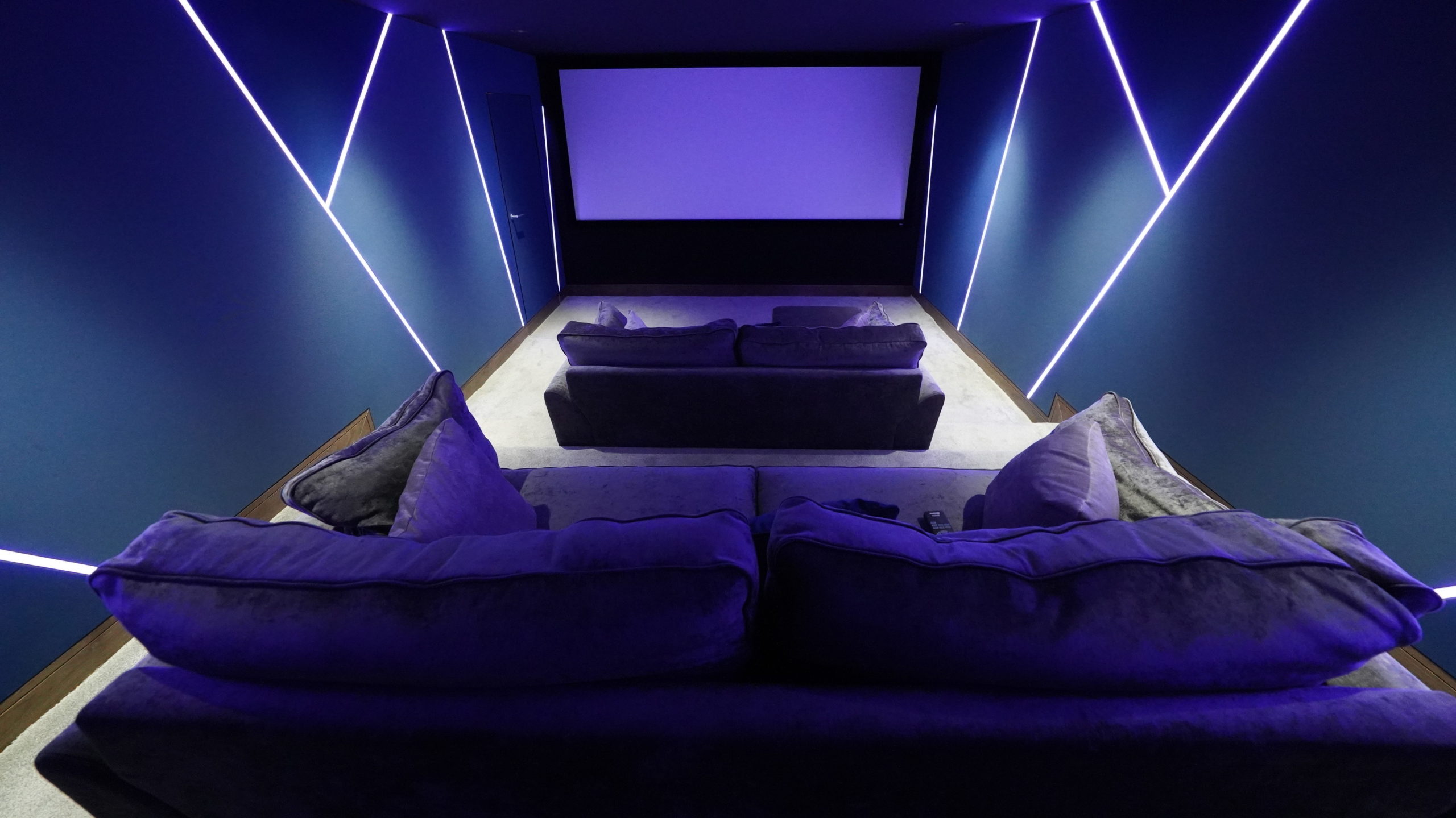 Bowers & Wilkins mid-range custom install in-wall speakers handle core and height duties of the 7.1.4 system, with three CWM7.3 S2 up front behind the screen, four of the smaller CWM7.5 S2 rear and back and four CCM683 in-ceiling units fitted in the dedicated BB6C backboxes. Where things got really interesting was in the sub-woofing department.
Bowers & Wilkins ISW-8 in-wall sub is the most innovative install speaker I have seen for a good long while, with its 12" Aerofoil cone driven by a front-mounted neodymium motor assembly that uses the chunky spider as both a heat-sink for the voice coil and grille for the driver. The movement of air from the bass cone actually cools its own voicecoil! The design is incredibly shallow for a 12-inch sub, allowing it to fit its rubber-mount suspended backbox, itself fitting with a suitable air gap to stop sound transmission into 4″ deep stud wall. Clever. Part of Bowers & Wilkins flagship 8-Series and essentially the custom installed version of the mighty DB1D, the ISW-8 is passive and each driven here by Bowers & Wilkins new CDA-2HD stereo amplifier running at 1000 watts in bridged mono mode.
As the new Marantz Cinema 50 has line level outputs and four subwoofer outputs, AWE has gone 'all in' adding an AMP 10 multichannel power amplifier and four ISW-8s, two front and two in the rear wall. As the ISW-8 plus backbox plus amp together retail at over £5,000, four of these may be a little 'rich' for the 'performance room', but I can safely say the result is spectacularly tight and articulate bass that easily drives the room without over pressurising it.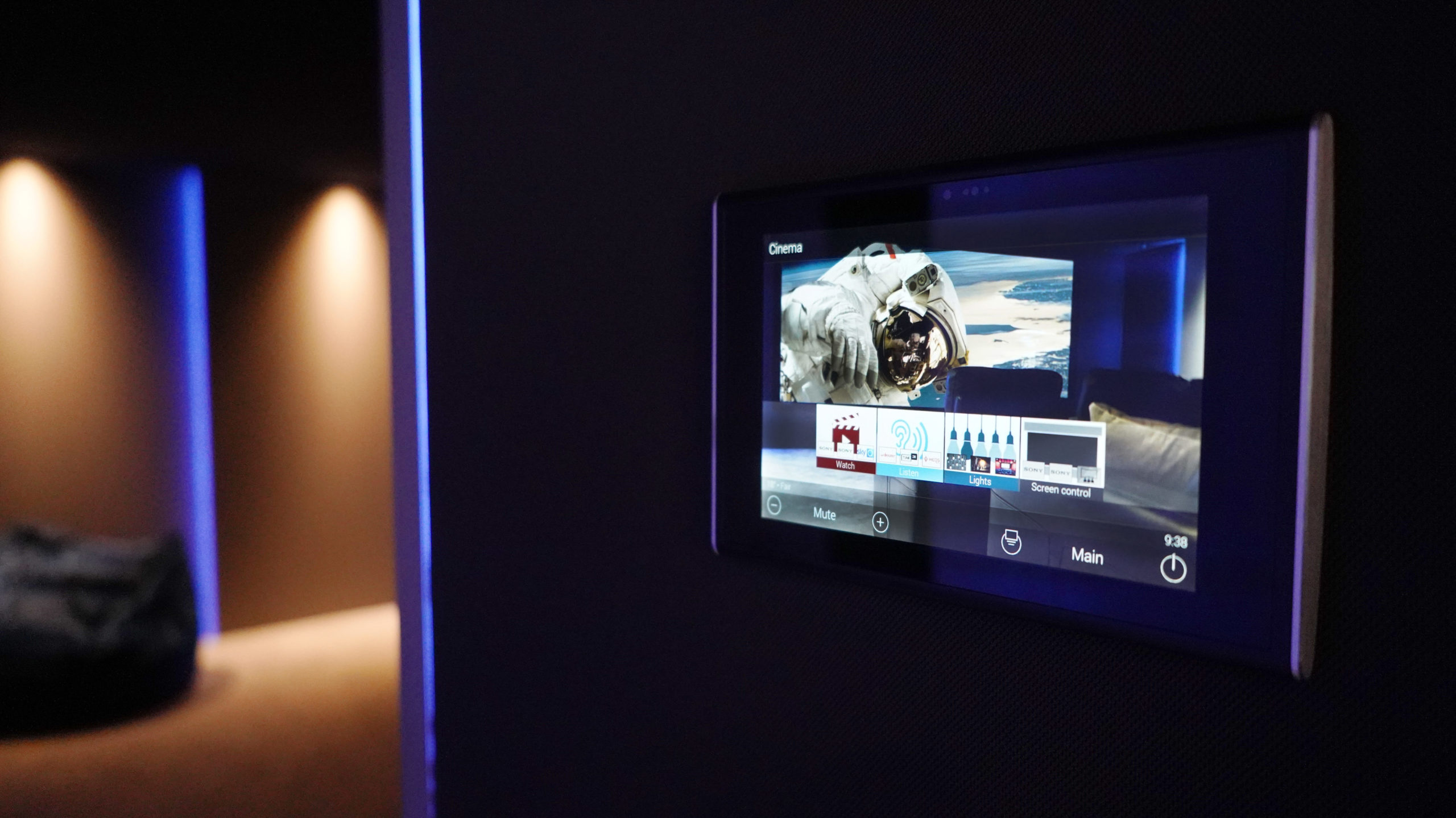 Moreover, AWE's URC control system allows the demonstration to easily scale up or down relative to the customer's budget. James demonstrated the full-fat 7.4.4 configuration and switched to a simpler 5.2.2 setup at the touch of a button. AWE says that a smaller room or budget doesn't automatically mean a lower specification of equipment, so they can demonstrate a more affordable room option of the same high quality, just using a lower channel count. Back and forth using the Blu-ray of A Star is Born shows impressive integration throughout the soundstage and exceptional dynamics and clarity with either configuration. However, a demo of the full 7.4.4 Atmos version with the four subs would be a no-brainer 'here, take my credit card' moment for me… so I can see the reason behind having the 'Reference' level subwoofery in the performance room.
Screen 1, Tickets Please
AWE's larger "Reference" cinema room has also had something of a hardware makeover since I last visited. Most of the renewed layout and architecture is based on improving the directionality of the speakers in the big room (5.5m x 7.5m) and getting the best sound in the multiple seating positions. Mix in the principles of CEDIA's forthcoming RP22 specification and the new Marantz AV 10 processor's ability to process 15 channels, and it was time to step things up.
The front wall is the most noticeable change with the 4m wide Adeo MovieMask LR (non-AT) screen, set back into the front wall. The sloped transitions between wall and screen are neatly angled to 'aim' towards the central seating position. Bowers & Wilkins flagship CCM8.5D speakers are used for the front array, positioned on the angled surfaces to the left and right of the screen and the low-height centre channel set into the gently upward tilting transition beneath the screen.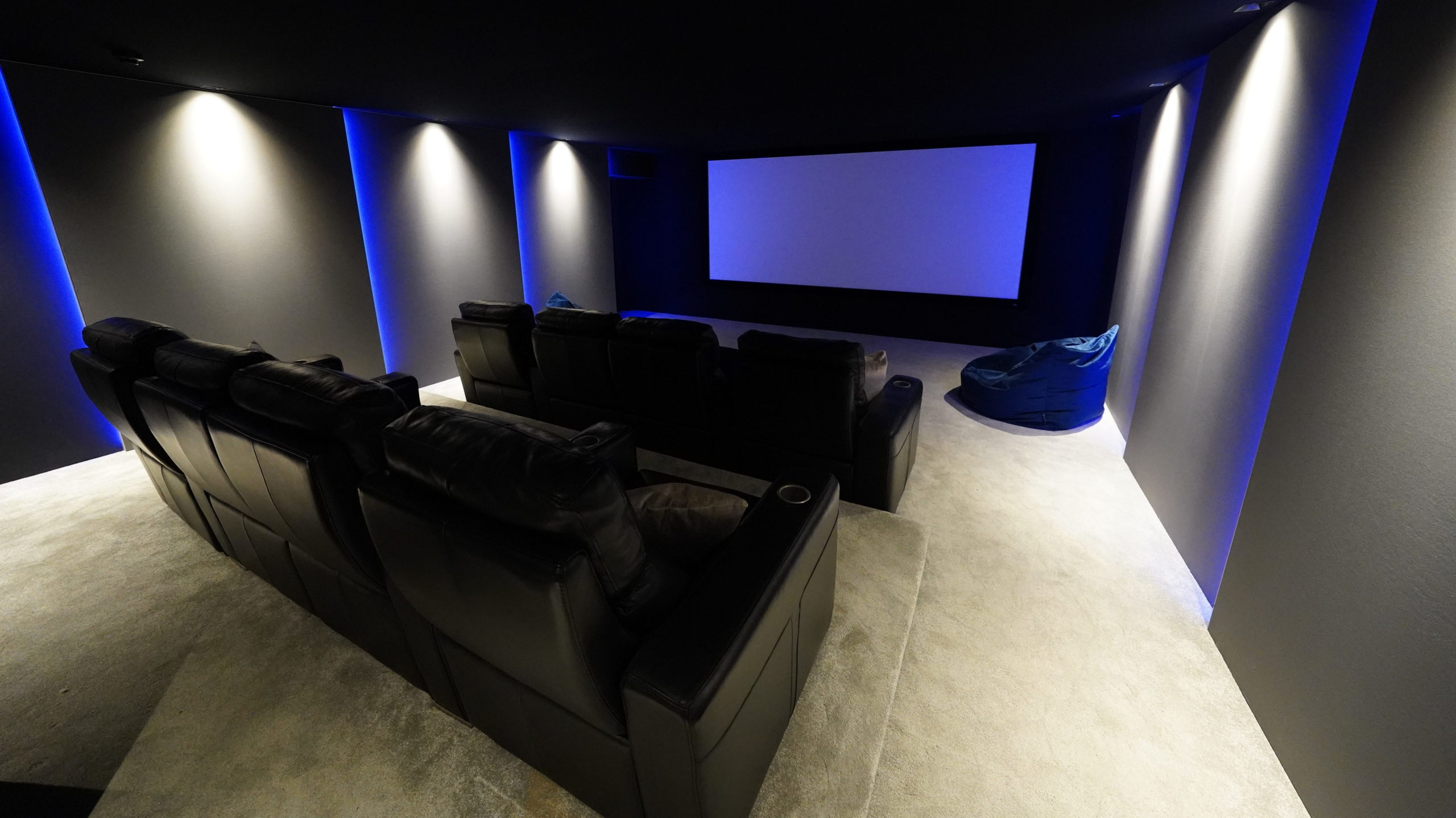 In probably the most effective implementation of front-wide channels I have had the pleasure to hear, two further CCM8.5D are set in the side walls between the screen and front row, installed angled towards the central listening position and concealed behind the fabric wall. Four CWM8.5D handle rear and back duties, with six CCM8.5D set into the ceiling. All installed speakers feature the famed diamond tweeters found in the 800 series component speakers and are fitted into Bowers & Wilkins proprietary braced backboxes. Bass is handled by yet another four-speaker setup using CTSW15 subwoofers, also driven by bridged CDA-2HD DSP amps.
Amplification is quite bonkers, but I love it. The Marantz AV 10 processor would have been an obvious pairing with the Amp10, but oh no. To deliver reference levels in a large room of this size, the flagship processor drives four Rotel RB-1590 stereo power amps and two RMB-1585 five-channel amps, plus the four bridged CDA-2HD amps for the subs. The latter compact units are half rack width and 2U high, making the 'four pack' a neat 4U cluster. That said, the entire 'amp stack' takes up most of a full-height Sanus 19" rack in an aggressive display of heavy metal that will impress friends nearly as much as the actual home cinema!
The Adeo's Reference White 2 screen has multiple motor-driven side masking positions from 16:9 to 2.40:1, which was linked with the projector and control system to mask, zoom and fill according to the material content. The projector de jour is the Sony VPL-XW7000. Not much to say about that other than when I was last at AWE and saw it for the first time… I bought one! Enough said. Oh, they also have the range topping VPL-GTZ380, but that's another story…
Romping through some solid demo content, familiar scenes and well-known soundtracks, the immediate impression is one of immense scale and incredible Atmos steering – possibly the best I am yet to hear outside of Dolby's own London dem room. The angled speakers up front work to create a cohesive front soundstage, and the front-wide channels are a revelation in terms of building an accurate all-room sonic picture.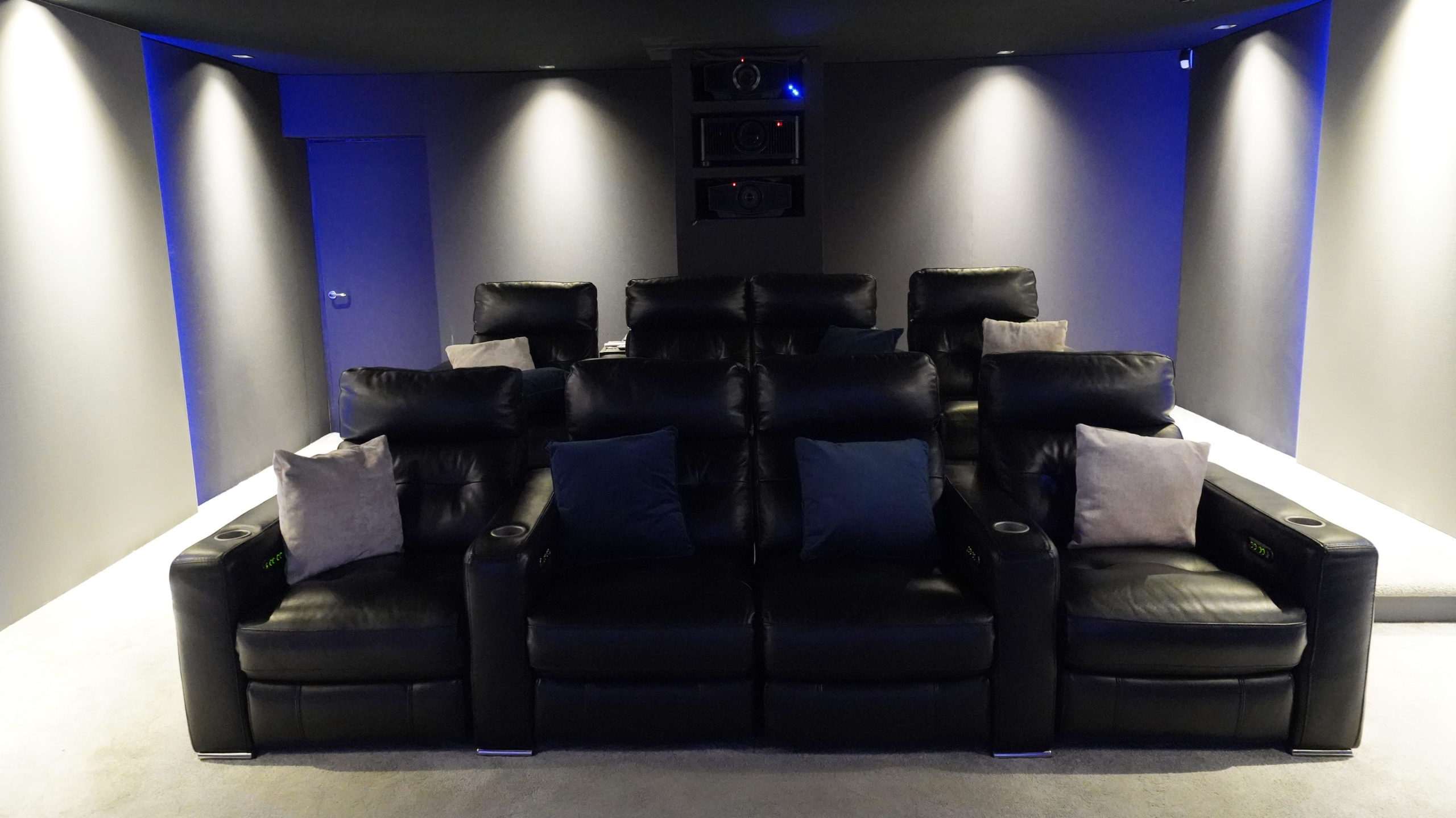 The car-crash scene in The Batman sees the viewer's position in the car as it lifts off the ground, crashes and rolls sideways down the road. The Reference system's acoustic steering and scale are phenomenal, with the entire soundstage rotating across the room's width. Close your eyes, and the sound is ultrarealistic, literally making you feel like you are inside the car rolling down the road – just incredible.
Bass from the four 15s is, needless to say, prodigious, and the four-subwoofer set-up combined with active DSP from the power amps manages to keep room nodes under control, the bass tightly focused and deep rather than boomy. Having been blown away with the ISW-8s in the Performance room, I think those slim-fit bad boys might do an even better job than the 15s in the Reference room. AWE's James wasn't so convinced… but I think that might have been due to the work involved in a four-speaker refit in his 'just-finished' new room.
AWE's demo room refit leverages some of the very best AV equipment on the market, set up to perfection and easy to 'show off'. Both the Performance and Reference cinemas are something to experience if you get the chance, and AWE allowing its integrators and installers to use these facilities to demo to their end-user customers is genius.
For more information about AWE or to book a visit, head to awe-europe.com
More from Home Cinema
---
We travelled to Bristol to take a look inside Owen Maddock's recently opened showroom.The episode explores speaker positioning, the importance of …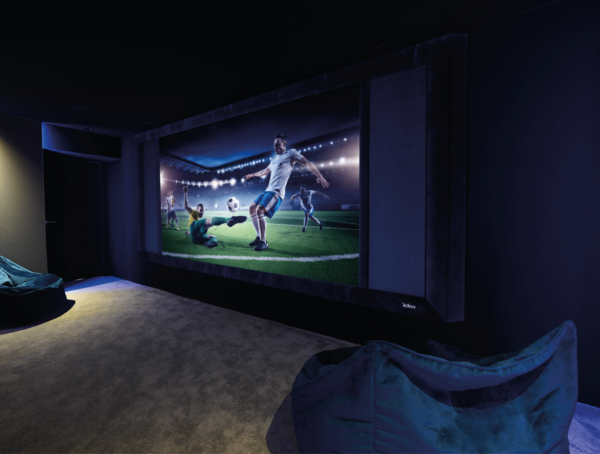 2.1K
AWE and ADEO join forces to elevate installers' home cinema designs with totally customisable screens.Introducing ADEO, the brand who are …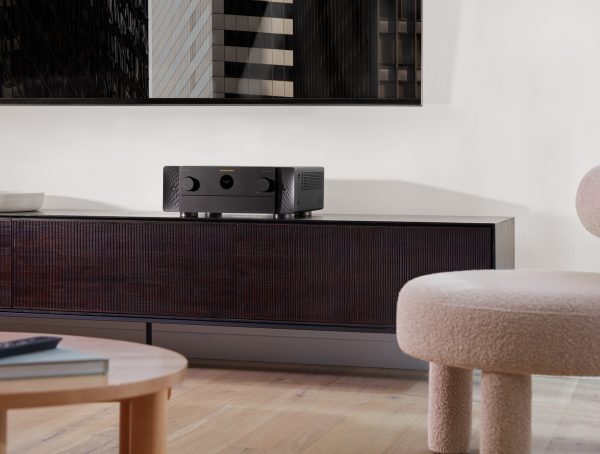 1.8K
Marantz has launched its 2022 range of premium home cinema products that establish new benchmarks for high-end performance at their …
Editor Picks
---